Hans Bader's Selective Statistical Ignorance on SCOTUS Appointments
Topic: CNSNews.com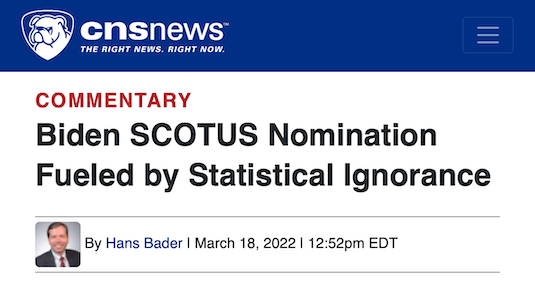 CNSNews.com columnist Hans Bader spent much of the pandemic fretting that non-white people would have the same, and maybe even better, access to COVID ttesting, reatment and vaccines as him, a white man. Now he's fretting there will be too many black people on the Supreme Court. He wrote in his March 18 column, headlined "Biden SCOTUS Nomination Fueled by Statistical Ignorance":
President Biden has nominated Judge Ketanji Brown Jackson to the Supreme Court, following through on his campaign vow to name a black woman. Three-quarters of Americans disagreed with Biden's decision to consider only black women for the Supreme Court vacancy; in an ABC news poll, they wanted Joe Biden to consider "all possible nominees," regardless of their race or gender.

Progressives support this race-based appointment based on the assumption that blacks are underrepresented on the Supreme Court. But Jackson's confirmation would make the Supreme Court 22% black, even though America is only 13% black, and the legal profession is 5% black. One of the nine Supreme Court justices is already black (Clarence Thomas); Jackson will be the second. Two out of nine justices is 22%, well above the percentage of Americans who are black.
Bader omitted a more relevant statistic: Of the 115 people who served on the Supreme Court in all of American history (before Jackson's appointment), 108 have been white men, four have been white women, and only three have been non-white (Thurgood Marshall, Clarence Thomas and Sonia Sotomayor). Historical underrepresentation is at least a valid a statistical metric as current representation, but Bader pleads ignorance of the fact that more than 180 years of American history passed before a non-white man was allowed to serve on the court. He goes on to push his racist-adjacent argment that there are too many black people on the court:
But even if Jackson were not appointed, blacks would still comprise 11% of the Supreme Court, which is similar to their percentage of the population (around 12%). As a Supreme Court Justice, Jackson would not be an "underrepresented member of a marginalized group" (as The Signal's Soorin Kim claimed) or the voice of a "marginalized and underrepresented" group (as NAACP board member Theresa Dear claimed). Her group would have nearly a quarter of all seats on the Supreme Court.

Nor is the federal judiciary as a whole a bastion of white supremacy. Black judges are actually overrepresented compared to the percentage of black lawyers (4.8% of all lawyers are black, and federal judges are drawn from the ranks of experienced lawyers). Under that measure, "African Americans are& overrepresented by a factor of nearly three: They make up 12.7 percent of active federal judges while accounting for only 4.8 percent of lawyers," noted former Justice Department lawyer Ed Whelan in June 2021. Moreover, "black men are overrepresented in the federal judiciary: They account for 7.9 percent of active federal judges but only 6.8 percent of the population," says Whelan.

[...]

Liberal journalists constantly imply that blacks are "underrepresented" in powerful positions, no matter how many blacks hold such positions. That misleads the public into wrongly thinking a big share of the population must be black, when only one-eighth of all Americans are black.

Biden's nomination of judges like Jackson based on their race violates the Constitution. Setting aside positions for a particular race violates Constitutional equal-protection guarantees, unless that race has been subjected to recent, intentional discrimination in access to those positions.
It could be argued that SCOTUS positions were set aside for white men for nearly 200 years of the nation's history. But he invoked a no-takeback clause: "Racial set-asides can't be used to remedy discrimination that occurred long ago. Federal appeals courts have struck down racial preferences designed to remedy discrimination that happened 14 or 17 years earlier, saying that such discrimination in the distant past is irrelevant." Still, he slaved away at his increasingly dubious talking point:
Blacks have not been discriminated against in appointments to the Supreme Court in recent years. Indeed, there has been a black Supreme Court justice ever since 1967, even though blacks have never been more than 13% of the U.S. population during that period, and blacks have usually comprised less than 3% of the legal profession during that period. (It is the black percentage of the legal profession, not the black percentage of the general population, that is legally relevant in assessing whether blacks are "underrepresented" in the judiciary, according to Supreme Court rulings like Wards Cove Packing Co. v. Atonio (1989)).
It would be entertaining to see Bader cling so desperately to his argument if it didn't make him look ridiculous to the point of being more than a little racist.
Posted by Terry K. at 1:03 AM EDT
Updated: Monday, April 18, 2022 5:53 PM EDT