MRC Takes Its War On NewsGuard To Steele Dossier, Planned Parenthood
Topic: Media Research Center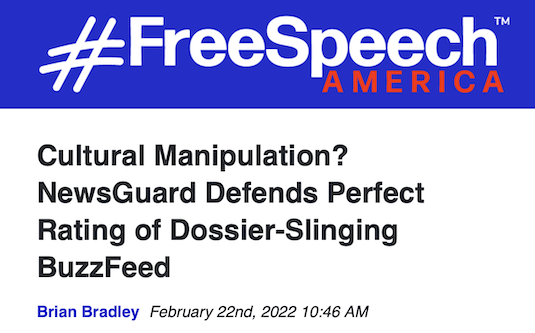 The Media Research Center's ongoing war on website-rating organization NewsGuard continued in a Feb. 22 post by Brian Bradley:
NewsGuard has reaffirmed its perfect rating of BuzzFeed News, even though the outlet continues to host the bogus Steele dossier on its website.

In an email to MRC, NewsGuard General Manager Matt Skibinski justified his company's perfect "100/100" rating for BuzzFeed News by noting the five-year timespan since the dossier's publication and the fact that the dossier article is one "single story."

Members of the U.S. intelligence community and political enemies of former President Donald Trump used the discredited dossier compiled by former British spy Christopher Steele, and paid for by the Hillary Clinton campaign, to help build the case for the appointment of Special Counsel Robert Mueller.

The investigation cost $25.2 million, according to Fox Business, and paralyzed the country for two years. The Mueller probe also aggravated the political environment in the U.S. and across the world, dominating headlines while other, important news took a backseat.

Even liberal media have broadly rejected the accuracy of the dossier, and Special Counsel John Durham charged the primary source of the dossier with lying to the FBI in November.
But Bradley deliberately ignores the fact that BuzzFeed News never represented the dossier as unimpeachable fact and never vouched for its accuracy. The article on the dossier specifically states that the dossier "includes specific, unverified, and potentially unverifiable allegations of contact between Trump aides and Russian operatives, and graphic claims of sexual acts documented by the Russians," adding that it was published because it was being discussed: "BuzzFeed News is publishing the full document so that Americans can make up their own minds about allegations about the president-elect that have circulated at the highest levels of the US government."
By contrast, the MRC repeatedly defends extremist purveyors of actual, documented misinformation so it has some "victims" to use in its parallel war against "big tech." It has no problem with that misinformation spreading.
Bradley then bashed Skibinski for his response, even though Skibinski really deserves a medal for trying to engage with a bad-faith critic:
MRC asked NewsGuard to explain its BuzzFeed rating, pointing out that the Steele dossier was the focal point of the media's misreporting about Trump ties to Russia.

The dossier story "was published in January of 2017, more than five years ago and more than a year and a half before NewsGuard first launched our ratings and Nutrition Labels," Skibinski said. "Moreover, no single story, even one that has recently been published, determines a site's rating."

[...]

Still, though the dossier remains posted on the BuzzFeed News website without any correction or clarification, NewsGuard's nutrition label says the outlet both "Regularly corrects or clarifies errors" and "Gathers and presents information responsibly."
Again, Bradley ignored the fact that BuzzFeed never portrayed the dossier as accurate. After referencing the MRC's previous attacks on NewsGuard, Bradley did quote Skibinski again:
In his most recent email sent Feb. 17, Skibinski complained that MRC was wrong for calling out NewsGuard's flawed scoring system. Then he abruptly pivoted to mention MRC's NewsGuard rating, a topic that had nothing to do with the BuzzFeed News inquiry.

"We hope you will be more fair and accurate in your description of NewsGuard's ratings of the many conservative and conservative-leaning outlets that get perfect or high scores based on our criteria in this story than in previous stories, including noting that your own outlet, NewsBusters, continues to score a 92.5 out of 100 points," Skibinski wrote.
Not gonna happen, Matt. NewsGuard has been declared an enemy of the MRC, and fairness and accuracy no longer matter, if they ever did. Bradley and Co. want NewsGuard destroyed, and they don't particularly care how it gets done.
That fundamental unfairness tried to drag NewsGuard into the right-wing abortion wars, as demonstrated by a Feb. 25 post by Catherine Salgado:
Online "credibility" arbiter NewsGuard strongly favors an organization that kills babies, declaring abortion giant Planned Parenthood credible. Meanwhile, the rating firm gave very negative ratings to three pro-life outlets.

NewsGuard gave abortion giant Planned Parenthood, infamous for killing the unborn, a positive 75/100 rating. It also gave it the green checkmark of credibility. The ratings firm gives green ratings to sites it deems credible and red ratings to sites it considers lacking in "credibility."

Planned Parenthood had performed 9 million abortions as of July 2021, meaning it has caused one of the biggest genocides in history, per Human Life International. Yet, NewsGuard gave pro-life LifeNews and Live Action websites negative red "credibility" ratings of 30/100. The rating firm gave LifeSiteNews a 17.5/100. NewsGuard has not rated a number of other pro-life and pro-abortion sites.
At no point does Salgado cite anything on any Planned Parenthood website that's misleading, let alone wrong -- it's all about attacking Planned Parenthood for performing thing that are legal under U.S. law and not lying about it. She tacitly admits this later in the post; after noting that NewsGuard's rating states that the group "does not repeatedly publish false content," she huffed in response: "NewsGuard does not seem to take into account the fact that abortion kills unborn human children, which alone makes the act condemnable."
What act? The act of existing? That has nothing whatsoever to do with what NewsGuard does.
Again, Salgado is totally cool with the misinformation published by those anti-abortion sites, insisting that their biased and ideological judgment trumps that of medical professionals and legal authorities:
Live Action received a rating of 30/100, and NewsGuard specifically downgraded the pro-life site for reportedly exposing corruption in Planned Parenthood. NewsGuard describes Live Action as "an anti-abortion group that has deceptively edited videos and made unsubstantiated health claims, particularly in articles that target Planned Parenthood." The "nutrition label" from NewsGuard slammed abortion pill reversal practices, which have reportedly saved 2,500 lives as of November 2021.

NewsGuard's label criticized the reversals as "not based on science," citing the American College of Obstetricians and Gynecologists, while simultaneously defending the abortion pill. NewsGuard's "nutrition labels" for Live Action, LifeNews and LifeSiteNews are lengthy arguments against various perspectives published by the pro-life outlets.

In contrast, the "nutrition label" for Planned Parenthood seemingly favors the abortion giant against the evidence of Planned Parenthood's selling of aborted babies' body parts exposed by journalist David Daleiden and his Center for Medical Progress. NewsGuard's Planned Parenthood label cites the organization's claim that Daleiden's videos were "heavily edited."
Daleiden's videos were, in fact, heavily edited. Again, ideology trumps facts at the MRC -- which means more hostile, nonsensical attacks on NewsGuard.
Posted by Terry K. at 12:48 PM EDT