CNS Does Stenography for GOP Rep. Jordan -- But Censors His Alleged Involvement In Sex Abuse Scandal
Topic: CNSNews.com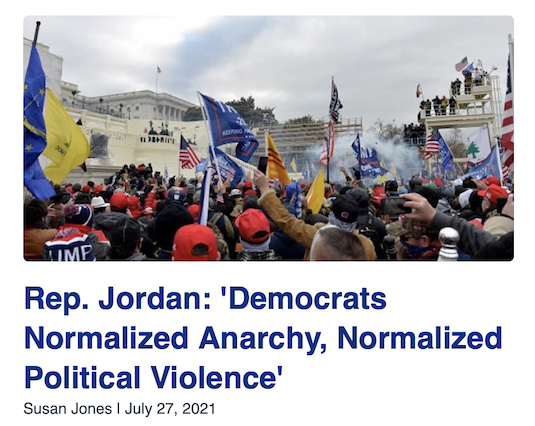 Rand Paul is not the only right-wing congressman to whom CNSNews.com serves as a willing stenographer and PR representative.
Rep. Jim Jordan has been a longtime a favoritte of CNS' parent organization, the Media Research Center -- the MRC (with CNS' help) led a failed campaign in 2018 to try and make him House speaker. Since then, CNS has regularly given Jordan uncritical space to werve up rightiwing talking points on the issues of the day. In 2019, Jordan got 23 stenography articles devoted to him, many of them centered around his kneejerk defending of Donald Trump over his many scandals:
There was also an article from Craig Bannister touting his boss, Brent Bozell, who "posted video on Twitter Wednesday that he says is 'the real game changer' in the Democrat-led impeachment hearings in the House Intelligence Committee" of Jordan asking questions during impeachment hearings.
The stenography continued in 2020, with 22 articles devoted to him:
In 2021, Jordan got 41 stenography articles, including defending Trump against another impeachment and pushing election fraud conspiracy theories:
Jordan also benefited from a March 2021 article by Craig Bannister complaining that Twitter "censored a post of Rep. Jim Jordan (R-Ohio) – in which he criticizes censorship." But it appears the video was not actually "censored"; Bannister admitted the video could still apparently be viewed, though "No information about the title, nature or content of Rep. Jordan's Twitter post is visible, unless the Twitter user clicks on 'View,' completely unaware of what might follow."
It's also worth noting that in none of these 86 articles -- as it also was during CNS and the MRC's campaign to make Jordan speaker -- was there anything mentioned about credible accusations that Jordan, in a previous role as a wrestling coach at Ohio State University, knew that a team doctor had been accused by college wrestlers of sexual abuse and did nothing about it. One wrestler even claimed that Jordan had begged him not to corrobrate those accounts.
If CNS was an actual "news" organization, it would have reported on that. But it's not -- so it serves up servile stenography for Jordan.
Posted by Terry K. at 2:51 PM EDT
Updated: Sunday, March 27, 2022 7:55 PM EDT