CNS' 'Climate Experts' Are Right-Wing Activists
Topic: CNSNews.com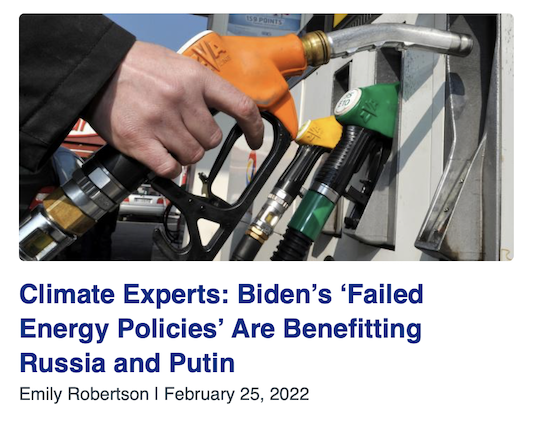 A Feb. 25 CNSNews.com article by intern Emily Robertson carries the headline "Climate Experts: Biden's 'Failed Energy Policies' Are Benefitting Russia and Putin." But none of the people Robertson quoted in her article were "climate experts" -- they are right-wing anti-climate activists who have been funded by fossil fuel interests. Robertson kicked things off this way:
Nearly 40% of the Russian Federation's revenue comes from oil and natural gas production, and because President Joe Biden has strangled U.S. fossil fuel production since he entered office Russia is benefitting from today's higher fuel prices, said James Taylor, president of the Heartland Institute, during a media call on Thursday.

"By having to pay higher energy prices as a cost of doing business, American businesses have been inflicted with a very powerful and unnecessary handicap when trying to compete with businesses in China and elsewhere," he added.
The Heartland Insitute is a right-wing group dedicated denying the existence of manmade climate change to that has received oil industry money in the past. It also once put up a billboard likening those who acknoiwledge global warming to Osama bin Laden and the Unabomber.
Further, Robertson clearly didn't do any fact-checking, or else she wouldhave noted that Taylor's claim that Biden has "strangled U.S. fossil fuel production since he entered office" is highly misleading. The one notable actione he took was to pause the issuance of new oil and gas leases on federal land; the moratorium has since been lifted, and the Biden administration has issued more drilling permits on federal lands than Trump did.
RObertson noted that Taylor cited "ending the Keystone XL pipeline project" as an example of something negative to U.S. energy policy that Biden did. But as we've noted, much of the pipeline's oil products were destined for export.
Robertson went on to note:
In addition to Taylor on the press call were Ben Lieberman, senior fellow at the Competitive Enterprise Institute, and Steve Milloy, founder of Junkscience.com. All three experts spoke about Biden's climate agenda, which included discussion of energy independence, the increase in fuel/energy prices, and their effect on the American people.
CEI has received fossil fuel money in the past, and it's also funded by right-wing dark money as well. Milloy has a past as a shill for a front group founded by a tobacco maker, and his JunkScience.com seems to be run along the same lines, though its funding is murky.
Also, as we pointed out the last time Robertson pulled this stunt, discussion of the Keystone XL pipeline in the context of U.S. "energy independence" is ridiculous because the pipeline's oil would have come from Canada. Indeed, she again falsely stated that "With the cancellation of the keystone [sic] pipeline, the U.S. has not only lost jobs, but gas prices have increased." There's little evidence to support the claim that the pipeline's caccellation had any effect on oil prices.
Posted by Terry K. at 7:08 PM EDT