MRC Frets Over Death, Injury Of Fox News Personnel In Ukraine -- But Effectively Censors Mention Of Non-Fox Correspondent Killed
Topic: Media Research Center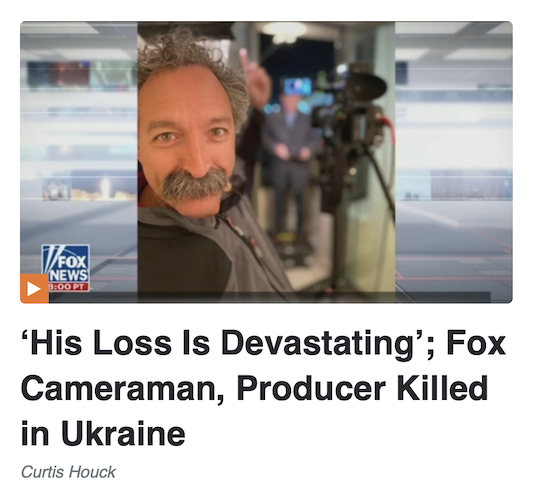 The Media Research Center has long served as the PR division of Fox News, and nowhere was that more apparent when the MRC ostentatiously mourned -- and aggressively defended -- Fox News correspondents injured or killed while covering the unrest in Ukraine. Nichoolas Fondacaro was in full garment-rending mode in a March 14 post:
On Monday, terrible news broke that Fox News State Department correspondent Benjamin Hall was hospitalized while reporting outside Kyiv, Ukraine. And according to accounts, he was in a non-military area and the damage may be in regards to his legs.

A little before 2:00 p.m. Eastern and before Hall's identity was confirmed, Fox News anchor John Roberts broke the news that "we hate to pass along to you, but it's obviously what happens something in the middle of conflict" in that a reporter had sustained injuries while in harm's way.

[...]

There does seem to be some early accounts of Hall condition and they're not pretty.
Fondacaro even added two updates to his post for the latest on Hall's condition.
The next day, it was reported that a Fox News cameraman and another local journalist, both of whom were with hall at the time of the attack, died from their injuries. Cue the literary waterworks from Fondacaro (excessive bolding in original):
Fox News announced Tuesday morning that longtime cameraman Pierre Zakrzewski was killed Monday outside of Kyiv while covering Russia's brutal and unprovoked war against a sovereign Ukraine in an incident that also killed Ukrainian reporter Oleksandra Kuvshynova (who was working as a Fox News producer) and gravely injured Fox State Department correspondent Benjamin Hall.

Coinciding with a memo from Fox News Media CEO Suzanne Scott, America's Newsroom co-host Bill Hemmer broke the news about Zakrzewski to viewers, saying he had "some very difficult news to share with you now" as "Fox News cameraman Pierre Zakrzewski has died in Ukraine" while "working with our Benjamin Hall when incoming fire hit their vehicle outside of Kyiv."

Hemmer called him "an absolute legend at this network" who's "been with us for years covering wars in Iraq and Afghanistan and Syria" and described his passing as "devastating."
Fondacaro added an update with more comment from another Fox News host.
Fondacaro gushed in another tribute post later on March 15:
In a touching and inspiring segment on Tuesday's Special Report, anchor Bret Baier narrated the story of cameraman Pierre "Zak" Zakrzewski; covering his love of journalism and how many of his colleagues and friends remember him. He was killed by Russian artillery fire outside Kyiv, Ukraine on Monday. Fox News producer Oleksandra "Sasha" Kuvshynova was also killed and State Department correspondent Benjamin Hall was hospitalized in the same attack.

"As mentioned, this has been a very difficult day for the Fox News family because two of our co-workers have died in Ukraine: cameraman Pierre Zakrzewski and journalist and translator Oleksandra Kuvshynova," Baier announced. "They were working with correspondent Benjamin hall outside of Kyiv when fire hit their vehicle. Benjamin was seriously wounded and is in the hospital."

[...]

National security correspondent Jennifer Griffin also had words and feelings to share as she concluded her report on the weapons going to Ukraine and a Russian journalist who protested the war on state TV. "The loss and pain we feel is enormous, but if ever there were a time when the world needed journalists, reporters risking their lives to tell these stories, to tell the truth, it's now," she said.

Griffin grew emotional, understandably, as she declared that "[w]ithout a free press the autocrats win. We will redouble our efforts to honor these colleagues and all reporters in harm's way tonight."

Baier likely put it best as he told Griffin: "Your feelings are our feelings, tonight."
But when some weren't as broken up about this as the MRC demanded people should be -- and mentioned certain inconvenient truths in the process -- it was time for Fondacaro to lash out:
On Tuesday, we got more terrible details about the fate of the Fox News crew that came under fire by Russian forces as they were newsgathering outside Kyiv on Monday where one was left hospitalized and at least were two killed, including cameraman Pierre Zakrzewski and local reporter/producer Oleksandra Kuvshynova. Of course, this meant that some of the classless ghouls in the liberal media were eager to crawl out of their holes and use those deaths to strut around and attempt to score political points.

The first to sprint to prove how low they could go was New Yorker staff writer and CNN global affairs analyst, Susan Glasser. "What a tragedy. A cameraman died covering the war for a TV network that airs a pro-Putin propagandist as its top-rated primetime host," she gloated in a tweet.
Fondacaro didn't dispute the existence of the "pro-Putin propagandist" at Fox News or acknowledge the irony; he was too budy demanding that everyone feel the as bad he he did.
Alex Christy similarly whined in a March 16 post:
Tuesday brought the sad news Fox News cameraman Pierre Zakrzewski and local journalist Oleksandra Kuvshynova were killed covering the war in Ukraine. As part of the coverage on MSNBC's Deadline: White House, liberal host Nicolle Wallace and journalist Sebastian Junger covered what they considered an important angle to the story and person who supposedly ties it all together: Donald Trump.

[...]

Wallace followed up by elaborating, "And obviously, he — he — was unnamed by you, I'll — I'll — be the spoiler alert here, Donald Trump famously called journalists the enemy of the people. The editor of The New York Times went to see him and made the case that it endangers not journalists here, exclusively, but to your point, journalists around the world that don't operate in a free society."

War correspondents are incredibly brave and, contrary to media behavior during the Trump years, those reporters actually put their lives on the line to bring the news, but they are absolutely not comparable to the partisan talking heads who appear on MSNBC. Criticizing people who work in the safety of a New York or Washington office does not make one a Putin or ISIS enabler. As despicable as Wallace and Junger's comments were, they were hardly alone in politicizing Zakrzewski and Kuvshynova's deaths.
Of course, if the deceased journalists had worked for, say, CNN, Fondacaro and his MRC buddies would undoubtedly be trashing them the way he's accusing others of doing to Hall and his compadres -- after all. they like Trump believe any journalist who doesn't have a right-wing bias is the "enemy of the people." That is, of course, if their deaths get mentioned at all.
How do we know? The day before the incident that injured or killed the Fox News journalists, journalist and filmmaker Brent Renaud was shot and killed in Ukraine while covering the war. The only mention of his death at the MRC came at the very end of Fondacaro's post on Hall's injury when he added almost as an afterthought: "Hall wasn't the first American journalist to become a victim in the conflict. Over the weekend, an award-winning filmmaker for TIME Studios and former New York Times photographer, Brent Renaud was killed while also reporting on the war outside Kyiv."
Because Renaud didn't work for Fox News or another right-wing outlet, his death meant nothing to the MRC. He wasn't an right-wing ideologue or working in the service of right-wing ideologues, so down the memory hole it goes, as far as the MRC is concerned.
Posted by Terry K. at 10:57 PM EDT
Updated: Wednesday, March 23, 2022 3:17 PM EDT