Newsmax Censors Why People Might Think Rittenhouse Is A White Supremacist
Topic: Newsmax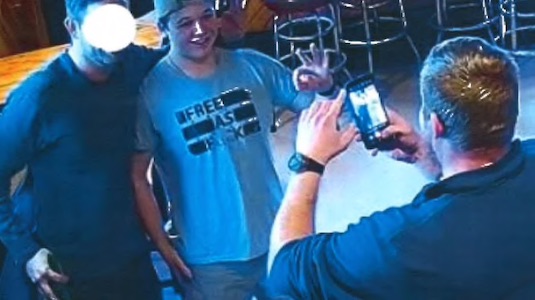 Solange Reyner wrote in a Feb. 25 Newsmax article:
Kyle Rittenhouse says he wants an apology from "cowardly" President Joe Biden.

"Biden called me a white supremacist," Rittenhouse told Newsmax's Eric Bolling: The Balance.

"I tried to reach out to him five times to have an interview but he was too cowardly to sit down and talk to me so we may be sending him a letter. I want him to apologize; what he said was wrong. I want him to sit down with me and learn the facts of what happened to me."

Rittenhouse, who beat homicide charges after killing two people at a Kenosha, Wisconsin, protest, on Wednesday announced plans to sue Biden, along with NBA star LeBron James and actress Whoopi Goldberg for allegedly defaming him.
However, Reyner failed to tell her readers the reason why people might think Rittenhouse could be a white supremacist: He hung out in a bar in Wisconsin with members of the white nationalist Proud Boys, where he allegedly drank three beers -- he was 18 at the time, meaning he committed a crime -- posed for photos with members of Proud Boys and flashed a "white power" hand sign, all while wearing a T-shirt that said "Free As F**k." That seems important and highly relevant to this story.
Rittenhouse is now claiming that the bar visit was set up by his attorney at the time and he didn't know what the "white power" hand sign was. That's relevant as well and also needed to be part of the story. But Reyner's suggestion that Rittenhouse was being called a white supremacist apropos of notihng is dishonest and leaves a false impression.
It's not as if Reyner wasn't aware of this. In a February 2021 article, she wrote that prosecurors, in requesting that Rittenhouse be arrested for violating bail, "wrote in their filing that Rittenhouse 'demonstrated his carefree attitude by going to a bar immediately after his arraignment on Jan. 5, 2021, and drinking 3 beers in the company of known 'Proud Boys' while flashing white supremacist signs and wearing a 'Free as (expletive)' shirt.'" It seems that Reyner is trying to memory-hole this inconvenient little fact.
Posted by Terry K. at 2:22 PM EDT