MRC Tries To Build Right-Wing Narratives On SCOTUS Retirement, Nominee
Topic: Media Research Center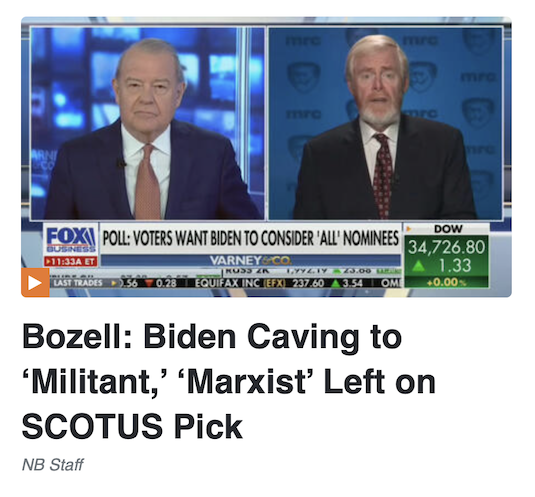 It's not the Media Research Center, it's the Right-Wing Talking Point Manufacturing Center. And the retirement of Supreme Court Justice Stephen Breyer set off another manufacturing operation.
First up was denial that Breyer was any sort of moderate. A Jan. 26 post by Scott Whitlock claimed that Breyer was "far-left" -- of course, the MRC thinks anyone who's not as right-wing as them is "far-left" -- and complained that MSNBC was "pretending that he was a "conservative or moderate" or "pragmatic" at times." Kevin Tober asserted that it was a "liberal narrative" that Bryer was pragmatic -- ironic since Tober is trying to help manufacture a right-wing narrative claiming the opposite, though he offered no evidence to support it.
Similarly, Alex Christy complained the next day that ABC correspondent Terry Moran "reacted to the news by hailing Breyer's "moderate tone" and downplaying his liberal ideology and portraying him as a "pragmatic liberal," adding: "Maybe he was more of a liberal ideologue than ABC and the rest of the media are portraying." Whilock whined further in a Jan. 28 post, arguing that anyone who didn't side with conservative arguemnts could not have been a centrist or pragmatist:
Where did this pragmatism manifest itself? Certainly not on abortion. Breyer was a reliable vote against any pro-life legislation. On guns, he was in the minority on the historic 2008 Heller vs. D.C. decision establishing the Second Amendment as an individual right. On economic issues, the Justice allowed eminent domain to go wild as the key fifth vote in 2005's Kelo v. City of New London.

In reality, according to the New York Timesback in 2014, Breyer agreed with the very liberal Ruth Bader Ginsburg 88 percent of the time. Sonia Sotomayor? They also concurred 88 percent of the time. According to Ballotpedia, he is the second most liberal justice currently on the Court, behind only Sotomayor. Moderate? Centrist? Hardly.
From there, the MRC's job was to denigerate anyone President Biden would nominate to take Breyer's place as irredeemably liberal and radical -- based solely upon Biden's promise to nominate a black woman to fill his first Supreme Court vacancy. That narrative was so important to bet out there, MRC chief Brent Bozell did it himself in an appearance on Fox Business:
Appearing on Fox Business Network's Varney & Co. Monday morning, Media Research Center President Brent Bozell slammed President Biden's Supreme Court nominating process being dictated by "the power of the radical, militant, and in some cases Marxist left." On another topic, he warned that "the woke, radical left wants to make you rethink your belief system."
Bozell went on to argue that any nominee would be just like Kamala Harris, whom he asserted was "a disaster by any measurement. She's a laughingstock." Never mind, of course, that Biden was a month away from actually naming his nominee. Bozell also won't remind you that President Trump caved to anti-abortion extremists by vowing to appoint only justices who would overturn Roe v. Wade, which established a right to abortion.
Tober grumbled that ABC "failed to cover their own poll showing an overwhelming majority of Americans disapprove of President Joe Biden limiting his search for a new Supreme Court Justice to just black women." He then whined that ABC "then decided to go back over forty years and bring up Ronald Reagan's commitment to nominating the first woman Supreme Court Justice as a way to make Republicans seem hypocritical."
That last part is a bit of a sore point for the MRC, not to mention inconvenient to its narrative. Christy tried to argue it away in a Feb. 2 post:
[CNN correspondent Abby Philip] then tried to accuse Republicans of hypocrisy in a desperate attempt to defend Biden: "I also want to just note, what Susan Collins said about Ronald Reagan is just not the case...it's the exact same thing. He's promised, in a campaign, he would put a woman on the Supreme Court and he did that, and that's exactly what Joe Biden is doing here when it comes to black women."

They are not exactly the same thing, the difference between eliminating 50% of qualified candidates versus 94% is significant, but both fail to consider the nominee's actual beliefs, as conservatives found out the hard way with Sandra Day O'Connor.
Christy went on to huff that "it was Biden who made the race-based promise in order to win votes." As if Trump wasn't trying to win votes when he vowed to appoint only justices who would overturn Roe v. Wade.
Christy whined about this talking point again in a Feb. 24
post
:
In an attempt to help himself get elected, President Biden engaged in identity politics by promising to nominate a black woman to the Supreme Court. Despite that fact, for CNN senior political correspondent Abby Phillip and New Day host Brianna Keilar on Wednesday, it was actually Republicans engaging in identity politics for pointing it out.

[...]

For Phillip, it was not just that Republicans were playing identity politics and Biden isn't, but that the GOP is playing white identity politics: "...the Republican Party right now is running against what they call identity politics, but they're doing it by running on white identity politics. Telling white Americans that they are being discriminated against by efforts to level the playing field for non-white people. That's a core -- that's core to the Republican Party's platform right now."
Christy also huffed that "Philip claimed that Biden's pledge is no different than Ronald Reagan or Donald Trump pledging to nominate a woman," though he didn't engage in his percentage comparison this time around.
Posted by Terry K. at 9:44 PM EDT