WND Interviews Another COVID Vaccine Misinformer
Topic: WorldNetDaily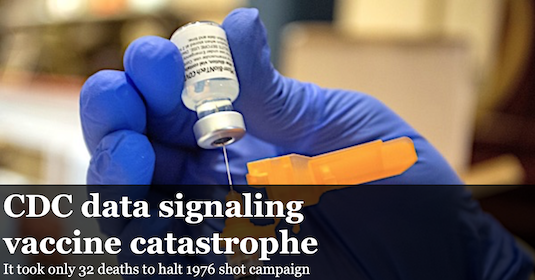 Interviewing COVID misinformers like Robert Malone and Vladimir Zelenko is pretty much the only original "journalism" WorldNetDaily does these days (rewriting press releases and other people's articles doesn't really count). Art Moore served up another one in a Feb. 14 article:
But over the past two years, a data analyst with a PhD in computational biology and postdoctoral degrees in biochemistry and molecular biology has been conducting a thorough analysis of the data in the Vaccine Adverse Events Reporting System website.

In a video interview with WND, Jessica Rose argues that the whole point of the VAERS database is to watch for "safety signals" that may have been missed in clinical trials.

And the data, when interpreted according to a standard method of determining causation used by the World Health Organization, is signaling red alert.

"It's not debatable that something is going on here," she told WND.
Last fall, Rose got busted for pushing (along with a co-writer) dubious statistics claiming that 150,000 people have been killed by the COVID vaccines.Mooregave Rose a platform to try and weasel out of the bad data:
The FDA charged that they "misinterpreted" the data.

"If we made a mistake, tell us what the under reporting factor is," Rose said.

ut the CDC and the FDA won't give a straight answer to that question and many others she has posed.

"It's like tumbleweeds blowing by for months, and probably going on a year now," she said.

Rose emphasizes that she uses raw data rather than "interpretative" data.

"When you're talking about injecting 1 billion people with an experimental product with ... a clear correlation with adverse event arisal, and somebody provides you with strong evidence of causation using certain criteria – for example the Bradford Hill criteria – then it's time to start listening," she said.
Moore added: "The VAERS data is consistent with, among other things, the alarming trend observed in the insurance industry, the spike in sudden deaths and heart attacks in healthy athletes, the testimonies of vaccine-injured people and the more than 1,000 peer-reviewed studies presenting evidence of vaccine-related adverse events. We've already debunked Moore's claim about insurance data claiming that COVID vaccines are killing people; there's also no evidence there's any actual increase of "sudden deaths and heart attacks in healthy athletes." The claim of "more than 1,000 peer-reviewed studies presenting evidence of vaccine-related adverse events" is bogus too -- according to PolitiFact, not only are studies repeated for different adverse reaction catetgories, most of the studies say that the benefits of the vaccines outweigh the small risk.
Moore began his article by comparing the purported massive deaths from COVID vaccinees to the reactino to the swine flu vaccine in the 1970s:
In 1976, after 32 deaths were attributed to the swine flu vaccine, the U.S. government halted the mass vaccination campaign.

But now, despite the VAERS database run by the CDC and the FDA reporting more than 23,000 deaths related to the COVID-19 vaccines, the messaging from establishment media and top health officials such as Dr. Rochelle Walensky and Dr. Anthony Fauci essentially is that no one has died or suffered severe adverse effects from the largest rollout of an experimental vaccine in world history.
As others have pointed out, the swine flu outbreak did not result in a pandemic, and none of those deaths were definitively linked to the vaccine. By contrast, nearly one million people have died from COVID in the U.S. alone.
Posted by Terry K. at 12:55 AM EDT