Another Super Bowl Halftime Show, Another MRC Meltdown
Topic: Media Research Center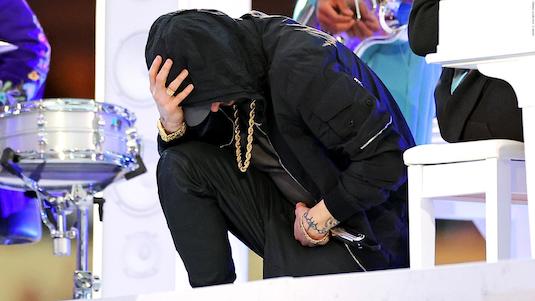 Despite its regular meltdowns over Super Bowl halftime shows, the Media Research Center surprisingly didn't launch a preemptive strike on this year's show, even though it featured rappers it has hated over the years like Eminem, Dr. Dre and Snoop Dogg. However, it found plenty to complain about afterwards. In a Feb. 13 post, Elise Ehrhard groused that Eminem -- who she dismissed as an "aging rapper" -- took a knee during his performance:
This year's Super Bowl halftime show was a late nineties/early aughts throwback featuring a number of rappers whose biggest musical hits are twenty years old. Perhaps to stay relevant, one of those rappers, Eminem, took a knee during his performance.

The rapper who once sang, "All the girls I like to bone have big butts/ No they don't, 'cause I don't like that n—– sh–/ I'm just here to make a bigger hit" and "Blacks and whites, they sometimes mix/ But black girls only want your money, 'cause they're dumb chicks" is now ready to fight for racial justice!

Left-wing media from NPR to Yahoo said Eminem's knee moment was done in solidarity with Colin Kaepernick. I guess saying it was in solidarity with Black Lives Matter (BLM) no longer plays now that the domestic terrorist organization has taken corporate shake-down money and run.
Gotta love how the MRC are suddenly experts on rap lyrics and the N-word when it comes to dismissing opinions they don't like (or to distract from Joe Rogan's use of the word). The MRC has a huge complex about Kaepernick, of course, and it labored mightily to make Black Lives Matter -- but even Ehrhard provided no evidence to back up her wild claim that BLM is a "domestic terrorist organization."
After citing a few right-wing Eminem-bashers, Ehrhard added more of her own:
Eminem did it anyway, but that hardly makes his actions courageous. The middle-aged rapper faces no risks in towing the contemporary left's cultural line. Authentic cultural risk-taking can cause financial and professional loss, such as Enes Kanter Freedom getting cut from the NBA for speaking out against Chinese Communist Party genocide. Kanter, unlike Colin Kaepernick, will receive no multi-million deals from the corporate oligarchy for his actions.

Eminem's most successful days are long behind him. If anything, taking a knee gives the has-been a brief moment of old attention. Sad.
The MRC's chief halftime show-basher, Jay Maxson, joined in on Feb. 15, first by mocking praise for the show in the"left-stream media," whatever that is. When one writer referenced the NFL's purported effort through the halftime show "to connect with fans and artists who felt alienated by the league's stance on Colin Kaepernick's national anthem demonstration against police brutality and racial injustice," Maxson had a performative meltdown over He Who Must Always Be Denigrated:
Fact-checking pause: Kaepernick, who blew off an NFL tryout in 2019, used his disgusting anthem protests in the 2016 season as a springboard to a lucrative career as a professional race-baiter. One who's bank-rolled by a Nike endorsement, Netflix and ESPN documentaries and other sources of big money. Yet he's often portrayed by knuckleheads like Jemele Hill and now, Schiavocampo, as a poor, unemployed cast-off.
Maxson eventually got around to dissing the halftime talent as well:
What to conclude? The NFL is now annually peddling rap at the intermission of its marquee event. It just featured Snoop Dogg, rated No. 2 all-time among hardcore gangsta rappers by one source, and Dr. Dre, ranked No. 6 by another source. Kendrick Lamar, who, in 2013, released a song with lyrics threatening to murder his rap rivals, was also on stage Sunday. It's all so fitting for the National "Felons" League, which saw the former child-beater Adrian Peterson arrested again Sunday, at LAX for yet another episode of domestic violence.

With NFL arrests practically a weekly thing, it's appropriate that Super Bowls also feature questionable talent on the big halftime stage as well.
That;s rich coming from an organization that's apparently cool with Ted Nugent's proclivity for underage girls as long as he keeps spouting right-wing rhetoric.
The next day, Maxson served as stenographer to right-wing sports guy Jason Whitlock, who ranted against the halftime show because "gangsta rappers are not appropriate for Super Bowl halftime" and "Gangsta rap is lyrical pornography. It's to be ingested in the privacy of your headphones." Whitlock also huffed that the Super Bowl was somehow "a stage to promote the Left's vision of equality, a utopia where a handful of powerful elites select winners and losers based on skin color, sexuality, and gender."

Posted by Terry K. at 10:36 AM EDT
Updated: Saturday, March 19, 2022 10:56 AM EDT