MRC Still Defending Joe Rogan, Gushing Over His Crude Insults
Topic: Media Research Center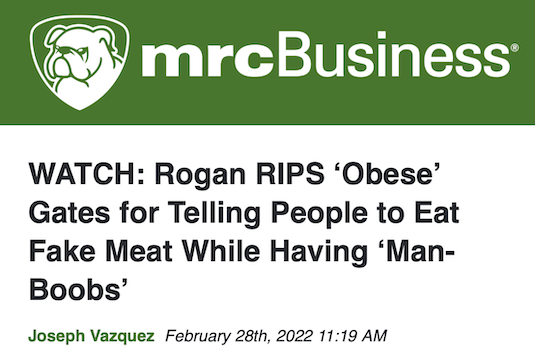 Believe it or not, there's still more to document regarding the Media Research Center's aggressive defense of podcaster Joe Rogan over his promotion of COVID misinformers. Catherine Salgado wrote in a Feb. 11 post:
The leftist group PatriotTakes was part of the release of a controversial video that attacked podcasting star Joe Rogan. PatriotTakes just happens to be reportedly partnered with leftist SuperPAC MeidasTouch, which was funded by actress Bette Midler.

Leftist star Bette Midler donated at least $53,000 to MeidasTouch in 2020, according to Federal Election Commission (FEC) data.

[...]

Midler has collaborated more than once with MeidasTouch to produce brazen propaganda videos, according to MeidasTouch itself. One video from February 2021 with Midler doing vocals claimed (with explicit language) that Sens. Ted Cruz (R-TX) and Josh Hawley (R-MO), among several other Republican lawmakers, encouraged "insurrections" and ought to be locked up. The video ends with a snapshot of America being "great again without" the Republicans with a person waving a Biden 2020 flag. Another video that MeidasTouch proudly touted on its website, produced "in collaboration with Bette Midler," was a petty and vindictive attack on then-President Donald Trump, from his hair to his tweets. It ends with the phrase, "Vote For Joe Biden." MeidasTouch's article called Trump "the most dangerous threat facing the country." [Emphasis added.]
Salgado curiously didn't mention the content of that "controversial" Rogan video -- that's because it was a compilation of Rogan repeatedly using the N-word on his podcast, which the MRC considered damaging enough that it played whataboutism to try and deflect from. Salgado was in whataboutism mode here too, complaining that "MeidasTouch reportedly has skeletons in its closet, which makes the PatriotTakes hit job on Rogan hypocritical."
(Also, it's strange how the MRC continues to obsess over what Midler does despite insisting she's not relevant.)
It was not until the second-to-last paragraph of her post that Salgado finally told readers that "PatriotTakes put up clips of Rogan supposedly defending or using the N-word slur." But she weirdly tried to soften the damage by claiming the clip packages "supposedly" show that -- in fact, they indisputably demonstrate that Rogan is doing so by using actual clips of Rogan, and Salgado made no attempt to prove otherwise.
Christian Toto used his Feb. 26 column to gush that "Joe Rogan continues to share his Spotify podcast far and wide despite one of the most aggressive Cancel Culture campaigns in recent memory":
Rogan made some missteps along the way. He apologized to critics who weren't open to apologies. He agreed to remove dozens of "Joe Rogan Experience" episodes to appease the mob.

Said mob wasn't appeased, but Spotify stood by him. Maybe it's because we just learned the podcaster's $100 million deal with the audio platform is actually worth double that amount?
Meanwhile, the MRC continues to gush over Rogan's grossness to their shared poiitical enemies. Joseph Vazquez cheered in a Feb. 28 post:
Podcaster and comedian Joe Rogan is clearly fed up with uber-liberal mega-billionaire Bill Gates and his incessant claims that meat-eating is sinful and unhealthy, while at the same time allegedly not being in the best shape himself.

[...]

Rogan didn't mince words and called out Gates for looking "like shit" physically while lecturing the rest of the world to change its diet. Rogan also suggested Gates could be profiting off of his alternative-meat push. Gates reportedly "invested in [a] range of 'synthetic meat' startups including Impossible Foods, Beyond Meat, Memphis Meats and Hampton Creek Foods," according to Australia-based Beef Central.

"If you're eating those, those plant-based burgers or whatever the f*ck you're doing — like, you're obese," Rogan snarked. The podcaster didn't let up in slamming Gates' hypocrisy: "A guy like that telling people about– he's got these breasts and this gut — and I'm like, this is crazy." After pointing out that Gates' billions allow him access to some of the best nutrients available, Rogan said Gates' behavior was "literally like a non-athlete trying to coach professionals. Like, what the f*ck are you talking about?"

He continued: "How are you giving any health advice when you look like that? Your health is piss-poor. I'm not a doctor, but when you've got man-boobs and a gut and you're walking around — you have these, like, toothpick arms — I'm like, 'Hey buddy, you're not healthy.'"
Hey, at least Rogan managed to restrain himself from calling Gates a "motherfucker" -- then again, Vazquez would've been giddy about that too.
Posted by Terry K. at 9:53 PM EDT
Updated: Monday, March 21, 2022 3:47 PM EDT