CNS Unemployment Coverage Distortion Watch
Topic: CNSNews.com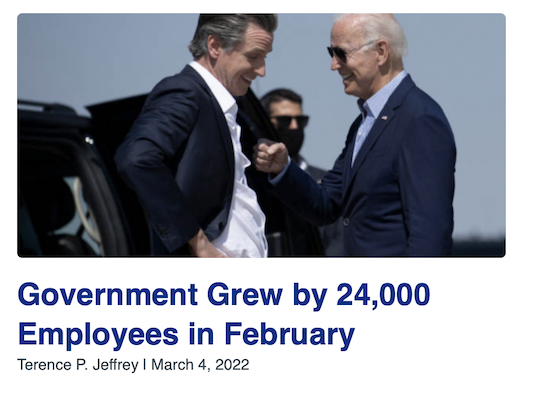 As with the previous month, the unemployement numbers for February were so good that CNSNews.com had trouble trying to find a negative spin to put on them. So for her lead story, Susan Jones went to an old standby: they're still not as good as they were under Trump before COVID:
Non-farm payrolls added a whopping 678,000 jobs in February, well above the consensus estimate of 400,000; and the unemployment rate dropped two-tenths of a point to 3.8 percent, the lowest of Biden's presidency, the U.S. Bureau of Labor statistics reported Friday.

The unemployment rate dropped as low as 3.5 percent during the Trump administration, before COVID hit.

The number of Americans counted as employed increased by 598,000 in February, to 157,722,000, the highest it's been since the record 158,866,000 people counted as employed in February 2020.

The labor force participation rate also moved in the right direction, reaching 62.3 percent.

[...]

The participation rates was 61.4 percent when Biden took office. Today's number is the highest since he became president.

(The labor force participation rate reached a seven-year high of 63.4 percent in January 2020, the final year of Trump's presidency and just before the onset of COVID.)
The only sidebar this time around was, again, editor Terry Jeffrey's complaint about government jobs, this time that "Government in the United States grew by 24,000 employees in February." He went on to note that "Government employment hit an all-time peak of 22,879,000 in February 2020" -- but he didn't mention who was the president at that time.
Since this was the somewhat scarey number -- and since CNS doesn't like to publish good news about the Biden administration -- Jeffrey's story was the one given the most prominence on CNS' front page on March 4, the day employmeent statistics came out.
Posted by Terry K. at 2:12 AM EDT
Updated: Friday, March 18, 2022 1:20 PM EDT