The MRC's Hypocritical Tolerance Of Trucker Convoy
Topic: Media Research Center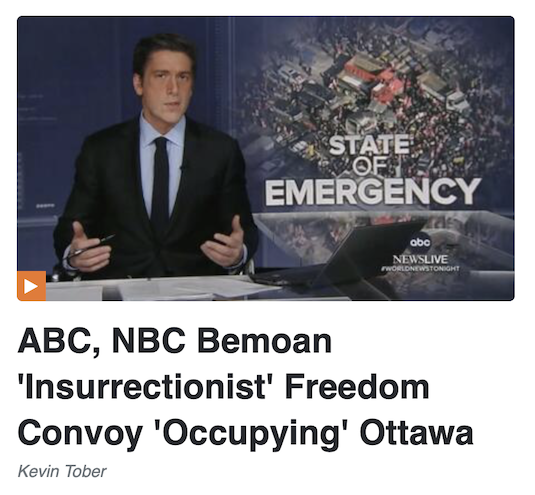 The Media Reserach Center was enthusiastic supporters of the trucker protest in Canada last month. A Feb. 1 post by Curtis Houck cheered the "massive resistance"and downplay reports of violence and disruption:
Despite warnings of violence and claims from the likes of Toronto's Global and Mail that "calling the Ottawa protests 'peaceful' downplays non-violent danger" and the presence of some repugnant images such as the Confederate flag and Nazi symbols, the BBC said Monday it was "mostly peaceful" aside from "the behaviour of some members of the crowd," which The Guardian said includes desecrating the National War Memorial.
We remember when the MRC used to make fun of people who called protests "mostly peaceful." Also note Houck's weird wording of "repugnant images," seemingly absolving the actual people involved in the protest of waving those Confederate flags and Nazi symbols. All the better to protect that "mostly peaceful" narrative, eh?
As the truckers' violent behavior became more apparent, Clay Waters went into whataboutism mode in a Feb. 4 post when the New York Times reported taht protesters were "desecrating war memorials, wielding Nazi symbols and stealing food from the homeless":
The racial protests toppled statues, blocked streets and freeways and caused massive property damage and looted Nike stores and Targets and high-end stores in New York City, set fires and burned flags and smashed police cars, not to mention stabbings and shootings. The Times covered it all neutrally, with no social distancing lectures at a time when outdoor weddings and funerals were limited or banned. Meanwhile, protestors danced in the streets.

[...]

(There was plenty of "desecration of monuments and other threatening behavior" in major U.S. cities during the BLM-linked riots, and radical marauders roamed the streets intimidating people eating at restaurants, without Times condemnation.)
But we thought the MRC wanted neutral coverage from the Times, as opposed to all that "liberal bias" it supposedly pumps out.
Waters did the same whataboutism in a Feb. 6 post as he complained about the Times using "second-hand anecdotes" to criticize the truckers using air horns and other tactics:
If these second-hand anecdotes are indeed part of the picture of the protest, one is vividly reminded of similar, though much worse, incidents from the George Floyd racial protests of the summer of 2020 in multiple major U.S. cities.

But there weren't just air horns in Minneapolis, New York City, and Portland (among dozens of other cities) but actual killings. The riots that grew out of some of the U.S. protests featured massive looting, vandalism, arsons, adding up to $2 billion in insurance claims and multiple arrests. Meanwhile, the Ottawa police, for all their insults, have yet to make a single arrest at the truckers' protest.
Houck returned on Feb. 7 post to bash media coverage of the protest for having "dismissed them as standing in the way of Canada's "efforts to control" the virus and making life difficult and violent for those in the capital city of Ottawa," lamenting, "So, instead of trying to understand them, the media have decided to condemn them."We don't recall the MRC ever trying to "understand" any of the protesters against police brutality.
Nicholas Fondacaro also chimed in by falsely claiming the convoy protest was "peaceful " and complaining that CNN was "being sure to pick some of the most incendiary quotes." He also complained that it was pointed out that Prime Minister Justin Trudeau's life was threatened and thatCNN "chose to parrot talking points from the petty authoritarians in the Ottawa Police Department and the Liberal Canadian government." He too played whataboutism: "Meanwhile, in 2020, CNN supported the Black Lives Matter and Antifa riots that destroyed people's livelihoods and homes and resulted in deaths."
The same day, Kevin Tober cheered the "massive crowds" allegedly greeting the protest and how the truckers were disrupting international commerce by blocking a bridge between Detroit and Canada, then complained that one reporter "tried to smear the protesters by citing outlier instances of 'national monuments desecrated, and some protesters displaying symbols of hate,' as if that justified a 'state of emergency.'" He too played whataboutism on reports of violence and disruption:
It's a safe bet you didn't hear this type of language in the summer of 2020 during the networks' coverage of the actual occupation in downtown Seattle, Washington in the form of the Capitol Hill Autonomous Zone (CHAZ/CHOP) where multiple people were killed and businesses were being extorted. NBC highlighted the Ottawa businesses annoyed with the truckers but they didn't care about those Seattle residents.
As if that justifies Tober praising violence and disruption in Canada.
Needless to say, the MRC frowned on the truckers' protest tactics when they were used by non-right-wingers. In an October 2020 post, Alexander Hall was alarmed that "Fox News warned in a report yesterday that 'Shut Down D.C.' is 'setting the stage for mass gatherings in D.C.,' amid the election. Fox news added that Shut Down DC, according to the Federalist, is reportedly calling for 'potentially blockading the White House, blocking traffic, shutting down government office buildings and even Amazon fulfillment centers.'" Hall repeated his manufactured concern a few days later. And a week after that, Kayla Sargent cited another news report claiming the group "plans civil action that may include stopping traffic in the U.S. capital, with dozens of other groups" in complaining that Facebook hadn't taken down the group's page.
In a November 2020 post, Jay Maxson defended police breaking up a pre-election march with pepper spray because "marchers disobeyed police orders and impeded traffic by blocking a road and driving vehicles in the wrong direction on that road. Police ordered the unlawful assembly to disperse, but the warning went unheeded." Brad Wilmouth similarly defended the crackdown because "they were blocking traffic and refused commands to move."
In July, Kyle Drennen grumbled that "MSNBC on Thursday complained that Cuban-American protesters who blocked traffic in Miami were not arrested," noting a new Florida law that permits the arrest of protesters who block traffic. Drennen conceded the point, then tried to change the subject:
Obviously no lawful protest should ever block traffic or endanger public safety and the local authorities would have had every right to arrest the few dozen demonstrators who shut down the intersection shown on screen. However, rather than go talk to the Miami Police Department about how the situation was handled, MSNBC immediately rushed to blame Florida Republican Governor and potential 2024 presidential candidate Ron DeSantis instead.

[Correspondent Kerry] Sanders read a statement from the Governor's office: "Under preexisting Florida law, blocking or obstructing a roadway without a proper permit has long been illegal. It's puzzling that some media outlets are attempting to claim otherwise." In response, the reporter feigned ignorance of anyone in press having an agenda: "Of course, this is us as reporters reporting what others are saying. This is not an agenda of any reporter, at least that I can see here."
There's plenty more convoy hypocrisy from the MRC where that came from. Stay tuned.
Posted by Terry K. at 7:56 PM EDT
Updated: Monday, March 14, 2022 8:03 PM EDT