Yet Again, Chuck Norris Turns His Column Into A Paid Gold Commercial
Topic: WorldNetDaily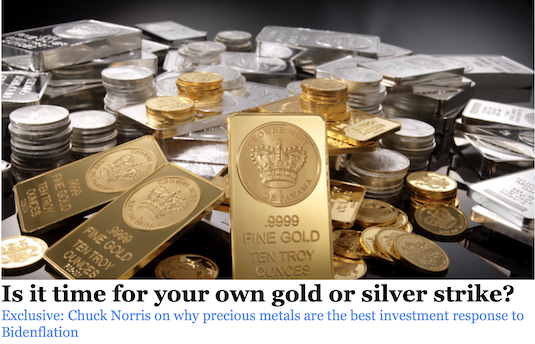 Chuck Norris has an unethically bad habit of turning his WorldNetDaily column into a commercial for the gold-selling company that hired him as a spokesman -- and he did it again in his Jan. 24 column. He started the column with the discovery of gold in California, then quickly moved to the hard sell with lots of fearmongering about inflation:
But discovery of and investment in precious metals doesn't have to be a point of distant history and another man's treasure trove story. It can be a part of your current events – a building enterprise in your own financial portfolio, especially with the massive increase in inflation and the instabilities in the dollar and other financial markets.

Can you believe how much inflation has increased this past year under a Biden administration? Wow! It truly has skyrocketed!

[...]

When my wife, Gena, and I decided that I would become a spokesperson for GOLDCO, it wasn't a hard decision at all. We've been a big fan of gold and other precious metals for over 40 years. Gold has always been a part of our financial portfolio. Our gold's return has helped us make future investments and even bailed us out of tough economic times.

During the economic recession in the late 2000s, most people were struggling to make ends meet let alone able to make donations to organizations like Kickstart Kids, which is our nonprofit charity that teaches students character through karate in middle schools across Texas. When donations were down, we were able to cash in some of our gold to help support our nonprofit life mission and those employed by it.

When I first surveyed the value of gold through the years, I was pleasantly surprised to learn that the universally prized yellow metal was the one commodity that kept soaring in value. In 1973, its average value was $97 an ounce, according to Macrotrends. By 1980, an ounce was valued at $614. Today, an ounce of gold is valued at $1835, climbing 80% of the time since 2000.

[...]

GOLDCO's specialists can also help you roll over or transfer assets from a 401(k), IRA, TSP, or pension account into a gold IRA. They work with mints around the world to source precious metals and ensure that what you're buying is guaranteed to be 100% authentic. And they can even help you take a distribution in cash or gold.

With the beginning of this new year, the time for action and change is now! It's time for you to look beyond the dollar for your ongoing financial security and future. Investing in precious metals is your way through and out of the next three years of inflation under Mr. Biden.

It's your life, family, future and finances. Take action now before it's too late. Contact a Goldco representative ASAP. At very least, go to their website with a single click and ask for the next edition of my FREE Goldco Chuck Norris Special Report and Bonus Newsletter. And tell them Chuck sent you!
It's almost cute how Norris is pretending he's doing all this research when, in fact, he's being paid to pass it along in his column and rope his readers into trying to buy gold because he told them to. Also note that he snuck in a plug for his own charity as well (which he's done before) -- the money-grubbing never ends!
Posted by Terry K. at 12:08 AM EST
Updated: Saturday, March 12, 2022 12:10 AM EST