MRC's Double Standard On Politicians' Social Security Numbers
Topic: Media Research Center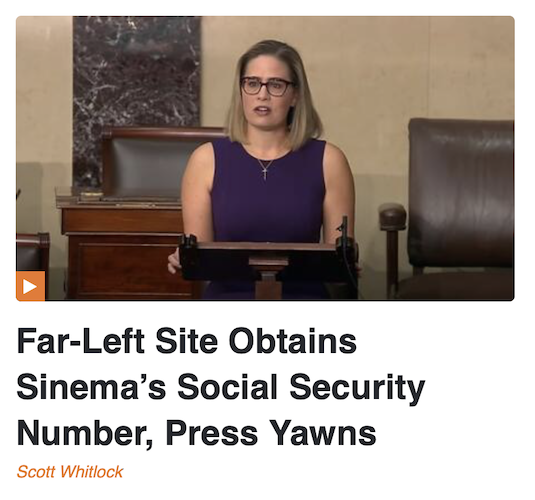 The Media Research Center's Scott Whitlock huffed in a Feb. 8 post:
The bullying of moderate Democrat Kyrsten Sinema ratcheted up to a new level on Monday as a far-left media site obtained the Senator's Social Security Number. This warranted no objection from the network morning and evening newscasts on Monday and Tuesday.

And it comes after similar collective yawns by ABC, CBS and NBC after Congresswoman Alexandria Ocasio-Cortez called for "brass tacks" to be used against Sinema, later demanding that Sinema's life be made "as difficult as possible."

The Gawker article trumpeted the SSN with this excited headline "WE HAVE KYRSTEN SINEMA'S SOCIAL SECURITY NUMBER." The number was given to Gawker because a change made in Arizona to protect privacy didn't go into effect until the 2000s. Writer Tarpley Hitt bragged, "The records also included some other intriguing information. Specifically, they included Sinema's social security number, bank account information, and drivers' license number."

Gawker even disgustingly included a fake SSN at the top of the article so as to provide click bait for the angry, leftist base. Here's the phony number:

[...]

Later in the article, Hitt pranked, "For the record, out of respect for Sinema and because we like our jobs, we won't be publishing her [real] number."
By contrast, we don't recall anyone at the MRC being bothered that its fellow right-wing activists obtained what it claimed was Barack Obama's Social Security number in an attempt to claim either that he stole the number from a dead person or that he otherwise was not an American citizen -- let alone refer to those activist as "vile," as Whitlock did in his headline. The closest it apparently came was a 2010 post by Tim Graham complaining that the New York Times referenced a tabloid article claiming that Obama "uses a phony Social Security number as 'part of an elaborate scheme to conceal that he is not a natural-born U.S. citizen'"in order to "illustrate how the president is bedeviled by lies." While Graham dismissed the claim as a "tabloid concoction," he certainly didn't criticize the Globe or any other anti-Obama activist for obaining the number in the first place.
Whitlock went on to rant:
One could say that Gawker even doing this article is a blueprint for any nefarious individual or organization who wants to obtain her Social Security Number. And after all, this is the same Gawker was forced to pay wrestler Hulk Hogan $31 million after obtaining and publishing his sex tape. Not exactly a bastion of journalistic integrity.
One could more accurately say that this is not the same Gawker: Gawker Media Group filed for bankruptcy after the verdict in 2016, and Gawker itself remained dormant after that until being revived in July 2021.
Whitlock complained further: "Last December, I wrote about instances of bullying or harassment that Sinema and fellow moderate Democrat Joe Manchin suffered. " As we've noted, the tactics the MRC criticized are largely the same ones that anti-abortion activists use against clinic doctors and other employees, and the MRC has never expressed any concern about that. Call that another big yawn.
Nevertheless, Whitlock concluded by ranting: "Obtaining Sinema's Social Security Number, Reich joking about violence against her, the harassment and bullying of the last two moderates in the Democratic Party is escalating rapidly. But journalists don't seem to care. Do the ends of ends justify the means?" If you didn't care when these same tactics were used against your political enemies, Scott -- meaning that you clearly thought right-wing ends justified the means -- you've given us no reason to care now.
Posted by Terry K. at 2:55 PM EST
Updated: Monday, March 7, 2022 3:00 PM EST