MRC Tried To Give Republicans A Pass For Being Putin-Curious
Topic: Media Research Center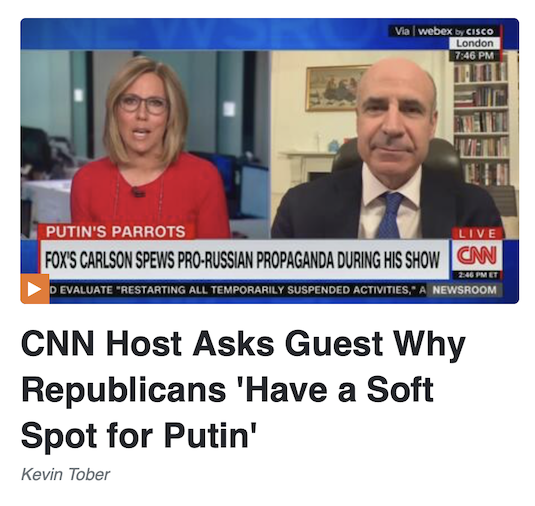 The Media Research Center may be gung-ho against Vladimir Putin and Russia now that it has invaded Ukraine, but it has been Putin-friendly in the past. As we've documented, Putin was one of the right-wing authoritarian leaders the MRC has praised for spouting its anti-"bi tech"narrative; a March 2021 post by Alexander Hall praised Putin for "fight[ing] back against Silicon Valley, suing five companies to force removal of posts supporting anti-Putin protests." That's right -- the MRC was cheering Putin for trying to censor his critics, which would seem to be the opposite of what it claims to do with its "free speech" initiative.
The MRC even tried to defend Fox News host Tucker Carlson's pro-Putin leanings before thte invasion. Kevin Tober did this in a Jan. 25 post:
On CNN Newsroom during their coverage of the ongoing border dispute between Russia and Ukraine Tuesday, they quickly switched gears and slimed Fox News star Tucker Carlson and the entire Republican Party as having a "soft spot for Russia".

CNN Newsroom co-host Alisyn Camerota kicked off the slime fest by lying about Fox host Tucker Carlson claiming "one of the primetime hosts doesn't see the difference between Vladimir Putin and the leader in Ukraine, doesn't see the difference between an autocracy and a fledgling democracy." Camerota then aired a soundbite of Carlson arguing it is not in America's national interest to get in the middle of the Russia-Ukraine conflict:

[...]

After displaying a small dose of common sense, Browder decided to join Camerota in knocking Carlson by wailing that he "is clearly an ignorant man, he doesn't understand what Putin is up to."

Browder then listed a litany of crimes and murders Putin had committed and then ended with another broadside shot at Carlson demanding that he "keep his mouth shut when it comes to Vladimir Putin."

After that unhinged rant, Camerota brought up an unsubstantiated allegation Democrat Congressman Tom Malinowski made blaming Carlson for his constituents calling his office to request that the United States side with Russia.
Tober then tried to distance Republicans a little from Carlson -- but he also insisted there was nuance in Carlson's argument:
It's typical of CNN to slime conservatives as having "a soft spot for Putin." While NewsBusters does not take a position on the Ukraine conflict, it is fair to say that conservatives like Tucker Carlson who believe we should not get involved in another conflict in a foreign country is not having "a soft spot for Putin."

But of course, those nuances don't compute with the simpletons like Alison Camerota and the other leftists at CNN.
Of course, Carlson did much more than argue against getting involved in "another conflict in a foreign country" -- he was a cheerleader for Putin, complaining that "Democrats want you to hate Putin" and argued that Putin was doing nothing wrong in his aggression toward Ukraine. There really wasn't a lot of nuance there, and certainly not as much as Tober wants you to believe there was.
That wasn't a smart take then, and it has definitely not aged well since.
Posted by Terry K. at 9:18 PM EST