WND Magazine's Issue Of Whataboutism
Topic: WorldNetDaily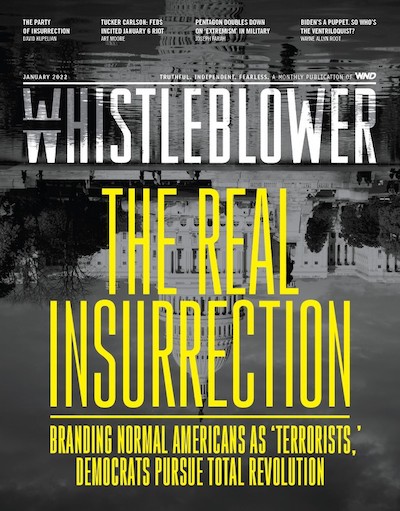 Last month's edition of WorldNetDaily's sparsely read Whistleblower magazine was called "The Real Insurrection," which insists that Democrats are the ones trying to overthrow the country:
Of course, the Left is always trying to "reset," "reform" or "transform" the world, as it holds a fundamentally revolutionary worldview. Barack Obama, just prior to being elected president in 2008, famously boasted, "We are five days away from fundamentally transforming the United States of America." Echoed Joe Biden, before he was elected president in 2020, "[We] won't just rebuild this nation – we'll transform it." And Senate Minority Leader Chuck Schumer, breathlessly anticipating the Georgia runoff races that would give control of the U.S. Senate to the Democrats, announced with a flourish: "Now we take Georgia, and then we change America!"

[...]

Under the banner of the "Great Reset," progressive-Left elites in America, as well as globally, are totally obsessed with leveraging every crisis – whether real (COVID-19) or fake (the earth will be totally unhabitable in 10 years due to man-caused "climate change") – into the establishment of a completely new authoritarian system. With them in charge.

Now, there's an insurrection for you.
As if right-wingers like WND wouldn't be unhappy with Donald Trump as an authoritarian ruler.
Managing editor David Kupelian's introductory essay is, unsuprisingly, filled with distortions and lies to further the theme. He started with being butthurt about what President Biden and Vice President Kamala Harris said on the anniversary of the Capitol insurrection:
One year after the Jan. 6 Capitol riot, President Joe Biden gravely informed the nation that the incident, during which exactly one person, an unarmed female pro-Trump protester, was killed – unnecessarily shot to death at close range, without warning, by a Capitol Hill policeman – was "the most significant test of our democracy since the Civil War."

Biden delivered this extraordinary assessment immediately after Vice President Kamala Harris solemnly equated the out-of-control D.C. protest to both the Dec. 7, 1941 attack on Pearl Harbor that killed 2,403 Americans and injured 1,178, and the Sept. 11, 2001 terror attacks that killed 2,977 Americans and injured over 6,000. The Civil War killed an estimated 750,000 Americans.

How, wonder normal Americans, is it possible that the nation's top political leaders could make such obviously insane statements? More important, what do such bizarre pronouncements say about where the progressive elites are secretly leading the nation?
Of course, Babbitt was in the midst of committing a crime inside the seat of government, and the officer who killed her had every right to stand his ground.
The projectionist Kupelian, also unsurprisingly, accused liberals of projection: "But first, understand that those on the revolutionary Left are, and always have been, slaves of projection: the compulsion to accuse others of the very sins and crimes of which they themselves are guilty. It's in their nature, they can't help it, it's reflexive and automatic." Yet to this day, Kupelian and his boss, Joseph Farah, cling to the Big Lie that Trump actually won the election, and they would be perfectly happy to see the government overthrown to re-install Trump in the White House.
Another Kupelian whataboutism bullet point is built on a lie:
The Biden administration daily refers to regular Americans – say, parents who attend school board meetings to protest the Marxist indoctrination of their own children, or citizens who object to Biden's tyrannical and dangerous COVID mandates – as "violent extremists." But when actual violent extremists – virtually all on the Left, including Black Lives Matter and Antifa – were on full display during the summer of 2020, destroying, looting and burning down dozens of major American cities, killing dozens, wounding over 2,000 police officers and causing 1,300 times the damage as the Jan. 6 riot, Democrats and the major media blithely praised the massive, destructive riots as "mostly peaceful," noble and historic civil rights protests.
In fact, nobody ever portrayed parents who merely speak out at school board meetings as "violent extremists." Does Kupelian think that parents who advocated violence or issue threats against school board members should be punished for their extremism? Probably not.
Kupelian also whined: "The Democrats then endeavored relentlessly, throughout the entire Trump presidency, to wrest control of the government from America's elected leaders – including two fraudulent impeachment trials, in addition to the fraudulent Mueller investigation. Yet today, Democrats claim Republicans, conservatives and Trump supporters are trying to mount a multifaceted "insurrection" to illegally take control of the government." In fact, both impeachments were legitimate, as was the Mueller investigation -- which, despite Kupelian's insistence that it found no evidence of collusion, actually did find evidence suggesting collusion between Trump and Russia.
Kupelian further complained:
Historically, from Stalin to Mao to Chavez, Marxist/socialist leaders have never been truly interested in everyone being equal. That's just happy talk to seduce the masses. First and foremost, these sociopaths crave power over other people, they want to be the arbiters of reality, they want wealth and privilege for themselves, they want glory, they want revenge on their enemies, and they want worship.

In a word, what they really want is to be gods.
As if Trump doesn't want to be a god, to rule by fiat, to have power over people? The fact that Kupelian can't breeak out of his Trump delusion to see that everything he's accusing liberals of applies at least as much to right-wingers like Trump, Farah and himself makes his commentary utterly partisan and unreliable -- and another reason why WND is going down the tubes.
Posted by Terry K. at 5:18 PM EST