The Softest Of Softballs: CNS Editor Interviews Boss To Plug His New Book
Topic: CNSNews.com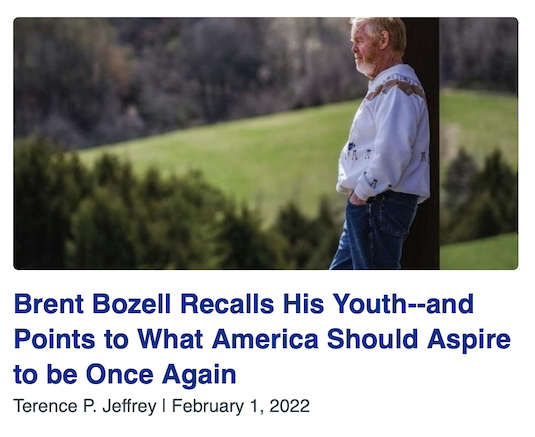 As much as the Media Research Center loves to complain about "liberal media" figures giving softball interviews to people, it has no problem when the softballs are coming from its fellow right-wing media sources. And of course, the softest of softballs are gently tossed from inside MRC headquarters.
Thus, we have a Feb. 1 CNSNews.com article in which editor Terry Jeffrey interview his boss, Brent Bozell, in a blatant plug for Bozell's new memoir -- you know the one for which Bozell has been using the MRC to promote, in possible violation of nonprofit rules that govern use of those resources for personal purposes. The unchallenging gushiness is there from the beginning:
L. Brent Bozell III, the founder and president of the Media Research Center, has published a memoir in which he recalls the days of his youth and points to the direction in which he believes America should go now.

"We have to tell a story to the next generation about not just the good old days, but an aspirational story about what society could be if we so chose," Bozell said in an interview about "Stops Along the Way: A Catholic Soul, A Conservative Heart, An Irish Temper, And a Love of Life."

"And the more I thought about this book on airplanes, the more I thought: Time to tell the story," he said.

Parts of this story take place in the Virginia countryside, where Bozell's family moved when he was a boy. Others take place in El Escorial, Spain, where he and his brother attended a high school run by Augustinian monks. Yet another takes place in Washington, D.C. as the Reagan Revolution unfolded—and still another takes place in Sandinista-controlled Nicaragua.
Jeffrey never explicitly states that Bozell is his boss, outside of noting that CNS "is a part" of the MRC.As Bozell spins his tales unchallenged, Jeffrey is reduced to obsequiously saying things like "wow" and "my gosh."
Because this is both a trip down memory lane and a paid ad for Bozell, Jeffrey has no reason to ask -- or perhaps has been forbidden from asking -- challenging questions of his boss. Thus, you will find no mention, for instance, of the ghostwriting scandal in which Bozell slapped his name on syndicated columns that were actually written by Tim Graham. There will also be no discussion of the MRC's unseemly aggressive defense of Rush Limbaugh after he got into serious trouble for calling Sandra Fluke a "slut," or a discussion of Bozell's smearing of President Obama as a "skinny ghetto crackhead." And there will definitely be no mention of Bozell's son getting arrested for particpating in the Capitol riot.
No, only the softest of softballs for Jeffrey's boss. And they want us to think CNS is a real "news" organization.
Posted by Terry K. at 12:17 AM EST
Updated: Friday, February 25, 2022 12:25 AM EST