MRC Stands With Rogan -- And COVID Misinformation
Topic: Media Research Center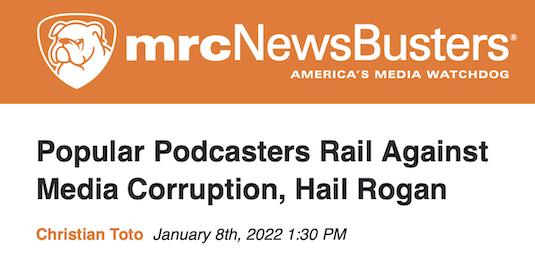 When noted COVID misinformers Peter McCullough and Robert Malone appeared on Joe Rogan's podcast in December, the Media Research Center rushed to defend both Rogan and the misinformers, while censoring the fact that misinformation was spread. That defense mode continued well into January.
In a Jan. 8 post, Christian Toto gushed over how Malone, during his Rogan appearance, talked about "mass formation psychosis" (which isn't actually a thing), adding; "Twitter subsequently banned Dr. Malone, forcing him to move to GETTR. YouTube similarly yanked Dr. Malone's recent interview with Rogan, heard by the podcaster's massive Spotify audience. Toto then approvingly quoted right-leaning podcaster Dr. Drew Pinsky gushing, "The Fourth Estate needs a revolution … and it might be Joe Rogan. He might end up the head of the Fourth Estate."
It took both Autumn Johnson and Gabriela Pariseau to complain in another Jan. 8 post that Malone "has been banned from LinkedIn reportedly because of his controversial views on COVID-19 vaccines." They touted how "Malone told Joe Rogan that he believes the government is conspiring against him because of his dissenting views" but didn't mention that what they're referring to as "dissent" is actually misinformation.
Alexander Hall huffed in a Jan. 13 post that "President Joe Biden called for social media companies to censor American citizens online during a speech Jan. 13, amidst a presidency marked by censorship and government crackdowns" -- actually, he asked them to deal with "misinformation and disinformation" -- going on to huff further: "It may be hard for some to even imagine Big Tech censoring more on behalf of Biden and the COVID-19 narrative. YouTube recently made headlines when it purged an interview between world famous podcaster Joe Rogan and Texas-based cardiologist Dr. Peter McCullough about the COVID-19 pandemic." He censored the fact that McCullough was also called out for spreading misinformation.
Johnson complained in a Jan. 14 post that numerious actual medical experts called out Malone's information, though she insisted on putting the word in scare quotes:
Hundreds of doctors called on Spotify to target Joe Rogan's podcast because of alleged Covid-19 "misinformation."

Rogan was criticized for hosting Dr. Robert Malone on his podcast. Malone, a vaccine scientist, was banned from Twitter for his tweets that questioned the efficacy of the COVID-19 vaccines. Now physicians want Spotify to remove the episode.

In an open letter, 270 doctors asked the audio streaming service to remove Rogan's podcast to stop so-called "misinformation" about the virus. Rogan has also been censored because of his views on treatments for COVID-19.

Infectious disease epidemiologist Jessica Malaty Rivera warned people not to believe Malone simply because of his medical credentials.
Johnson did note that "A fact-check in the letter rated the veracity of the claims Malone made in the interview," but she did not dispute any of the claims in it, meaning she has no factual basis to justify putting "misinformation" in scare quotes.
Johnson returned to put misinformation in scare quotes again for a Jan. 16 post to deny that Rogan was spreading it, even though it's documented that he was:
Leftists are calling for platforms to ban famous podcast host Joe Rogan and political and social commentator Jordan Peterson to prevent the spread of so-called "misinformation."

[...]

Rogan is also in the left's crosshairs after he challenged the narrative on COVID-19. Rogan has hosted COVID-19 skeptics on his show and has opposed government mandates regarding the virus.
Clay Waters used a Jan. 18 post to whine that the New York Times was criticizing actual media censorship in Serbia, while "The Times has long embraced Big Tech squelching supposedly offensive viewpoints cross the pond, with their reporters taking the role of self-appointed hall monitor of internet speech." He cited as an example of the latter "Calls for media personalities that offer independent viewpoints on Covid, like uber-popular podcaster Joe Rogan, to be squelched in the name of public health." Waters didn't epxlain why Rogan deserves to be exempt from consequences merely because he's "uber-popular."
Hall complained in a Jan. 19 post that YouTube pulled another podcast featuring McCullough, huffing that "Censors now appear to nix videos before they are even published." He added: "McCullough had told host Joe Rogan there was a 'suppression of early treatment' in order to "create acceptance for, and then promote, mass vaccination.'" Hall failed to tell his readers that a fact-check of McCullough found that he offered no evidence whatsoever to support this claim.
Toto returned to lie in a Jan. 22 post: "Liberals also want to silence Joe Rogan. He's not a journalist but someone eager to let multiple sides of a story be heard." Toto censored any mention of the misinformation spread on Rogan's podcast -- he apparently believes that's just a legitimate side of a story.
Posted by Terry K. at 10:10 PM EST
Updated: Tuesday, February 8, 2022 9:28 PM EST