WND's Root Wants Trump To Hate COVID Vaccines More Than He Does
Topic: WorldNetDaily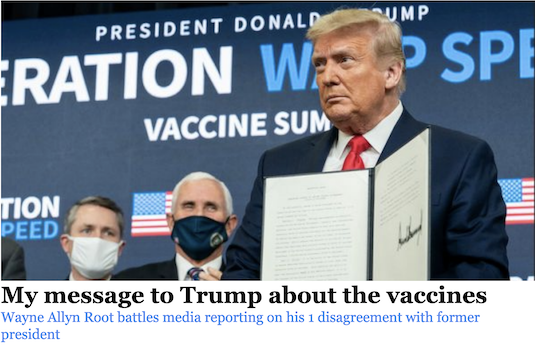 Wayne Allyn Root is a ridiculously huge Trump fan, as well as a prolific COVID misinformer. He spent a couple of his WorldNetDaily columns dabbling in both. His Dec. 24 column was dedicated to the former:
Guess what? I already scored big for Christmas. I got my No. 1 gift. Actually, 80 million Trump warriors (aka "deplorables") scored big for Christmas. Because we all asked Santa for a Trump comeback.

Well, we got more than we hoped for. Because Trump has made perhaps the biggest comeback in history. And he did it far faster than anyone imagined possible.

I call it "The Donald Trump Christmas Miracle."

[...]

But that's only Trump's remarkable political comeback. His financial comeback is even bigger. Have you heard about that? Of course not.

In only one year's time, after losing the election, nonstop slander by the media and the Jan. 6 debacle, Trump is now richer than ever before.

Trump's new social media venture turned public company Digital World Acquisition Corp. (DWAC) has tripled his net worth. According to Bloomberg, Trump was worth $2.5 billion before. But he now owns a 58% stake in DWAC. Bloomberg says that stake is worth as much as $4.8 billion.

Trump just sold his stake in his Washington, D.C., hotel. The Washington Post reports Trump could profit over $100 million from the transaction.

Trump is also selling books like hotcakes. Trump's new book sold 100,000 copies in just 10 days, at $74.99 a copy and $229.99 for signed copies. That means Trump grossed over $10 million in 10 days. Signed copies of Trump's book are reselling on eBay for $1,600.

His speaking tour with Bill O'Reilly is selling out sports stadiums and grossing over $2 million per day. Not a bad day's work!

[...]

The title of my book perfectly describes this man: "Trump Rules"!

What lies ahead? Remember, I'm the national radio and television host who suggested to Trump that he should become speaker of the House in 2022, as a springboard to his presidential victory in 2024. Stay tuned.

So, I say to all Trump warriors, "Merry Christmas to all and to all a good night."
Root's Dec. 31 column, however, was dedicated to the one issue he disagrees with Trump about. After complaining that the above fanboying was ignored, he lamented:
Then during that same weekend, Trump made some comments about the COVID-19 vaccine that I strongly disagreed with. It is the first issue we have ever disagreed on. I made several national television appearances to make my case. I believe he is a huge favorite to regain the White House in 2024, but the way Trump is speaking about the vaccine could turn off his base and therefore damage his prospects.

Of course, the media took this as a negative. They couldn't wait to scream in headlines about a rift between a high-profile supporter and Trump. That couldn't be further from the truth.

A journalist for Reuters contacted me today. Here was my response:

[...]

"This is the first issue I've ever disagreed with him on. It doesn't dampen my enthusiasm for having him back as president one bit.

"He was a great president. He has made one of the greatest political comebacks in history as of right now. A huge majority of the country wants him back. A huge number of voters wish they could have their vote back. Biden is a disaster. I believe Trump is the prohibitive favorite to be back in the White House in 2024. I pray that happens.

"But we do disagree on this one issue: the COVID-19 vaccine. The 'intervention' I spoke of was simply a chance to convince Trump that he should alter his message. He deserves full credit for being a four-star general and coordinating the amazing response to COVID-19. Trump was fantastic. But he should now stress:

"No. 1: The vaccine and booster after booster for everyone was not what was intended. The vaccine was only to fight a holding pattern until therapeutics could be developed. Trump had put therapeutic development on a fast track. Biden and the Dems stopped that.

"No. 2: The vaccine was never intended for those who had already had COVID-19 and have therefore acquired natural immunity. It was only intended for those at high risk and certainly NEVER for children.

"No. 3: He should stress his strong opposition to vaccine mandates, vaccine passports, mask mandates and lockdowns.

"No. 4: And, Trump would never have allowed power-crazed, control-freak politicians to use the vaccine as an excuse to destroy your business or steal your job.

[...]

Trump should take credit for making the vaccine available in record time, but also point out that America is about freedom and choice. Those who want it can get it because of his efforts. Those who don't want it are free to never get it. And he must stress he will fight for our rights to freedom and choice.

Here's perhaps the most crucial point of all for Trump to make: If "science" won't respect or allow discussion or debate, then it's no longer science; it's just propaganda.
Root has offered no evidence he's open to any science that disagrees with his conspiratorial propaganda, let alone admit that the COVID conspiracy theories he has peddled have largely been proven wrong.
Posted by Terry K. at 1:01 AM EST