Newsmax Film On Capitol Riot Pushes Right-Wing Narratives, Conspiracy Theories
Topic: Newsmax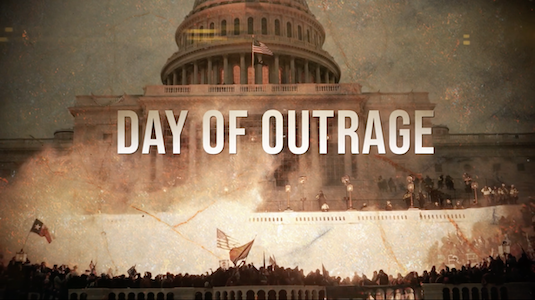 WorldNetDaily wasn't the only ConWeb outlet pushing a dubious "documentary" on the Jan. 6 riot. Newsmax made its own -- and it appears to be just as biased. A Jan. 7 article promoting it starts off by insisting that the film is fair and accurate, the devolves into demonstrating at it's ... not:
"Day of Outrage" was produced by Newsmax to accurately and fairly detail the events related to the Capitol siege of Jan. 6.

The film includes powerful video footage of the protests and riots that took place on that fateful day, as well as a careful examination of events that led up to it.

The program includes exclusive interviews with Greg Kelly, who is the host of "Greg Kelly Reports"; Sebastian Gorka, former strategist to President Donald Trump; Rep. Marjorie Taylor Greene, R-Ga.; Rep. Louie Gohmert, R-Texas; retired Marine gunnery Sgt. Jessie Jane Duff; senior analyst for strategy at at the Center for Security Policy J. Michael Waller; Ashli Babbitt's mom Micki Witthoeft; Babbitt's husband, Aaron; Jan. 6 detainee Kenneth Harrelson's wife, Angel; former detainee Chris Worrell's fiancée, Trish Priller, and business owner Roberto Minuta.
Any film climing to depict the riot "accurately and fairly" would have included people who are not angry right-wingers with axes to grind; none are listed above. The article went on to hype that the film was made by "award-winning filmmaker Jack Thomas Smith," whose actual filmmaking expertise is in horror movies.
The article -- and the film, apparently -- gets more conspiratorial from there:
Unbridled violence across the nation, a disputed election, distrust of the mainstream media, and a sense that hypocrisy was everywhere among elected officials — all helped set in motion the events of Jan. 6, 2021.

In the aftermath of this day — when laws were clearly broken and behavior was at best uncivil and at worst violent — the media and Democrat politicians have advanced a disputed narrative of "insurrection."

"Jan. 6 started as a peaceful protest that became unruly and at times violent," says Jack Thomas Smith. "But it was not an insurrection. The protesters didn't seek to overthrow the government and did not bring firearms into the Capitol."

Smith notes that acts of violence did occur and says the film makes clear that the people who committed crimes that day "should be held accountable for their actions."

But he also adds that these protesters are entitled to due process. "The mistreatment of the Jan. 6 detainees is outrageous," he said.

"Day of Outrage" reveals what some have described as cruel and unusual punishment against some protesters following their arrests. "They are being treated worse than terrorists in Gitmo," Smith said.
Newsmax has not made "Day of Outrage" available for streaming, so we have to read some tea leaves from the article and the film trailer attached to it. It appears that the film will hype violence in protests over racial justice in an attempt to downplay the riot; indeed, the film trailer begins with footage from those protests, and there's much less footage of riot footage inside the Capitol. A clip of an unidentified talking head makes this tactic more apparent: "What BLM/Antifa did was actually much more akin to insurrection. January 6 was a trespassing incident that got out of hand." The film apparently also pushes the right-wing martyrdom narrative of domestic terrorist Ashli Babbitt, with footage of Babbitt's widower declaring that she was "executed ... assassinated ... murdered," followed by another clip of Newsmax host Sebastian Gorka declaring, "This is an attempt to criminalize conservatives."
Smith did an interview with Gateway Pundit -- another sign that the film should not be trusted -- and made that excuse-making even more explicit:
I sat on my couch watching it on TV, just like a lot of people, most people. Initially, I thought, 'They shouldn't be doing this.' But then, the media kept that narrative going to calling them, insurrectionists. We have the footage of the police officers, allowing people in the Capitol building, footage of protesters walking peacefully through the rotunda who were just looking around and taking selfies. They were a praying in the Capitol building — they certainly were not insurrectionists.

If these were insurrectionists, don't you think someone would have brought a firearm into the building? When you see the mainstream media claim these people were trying to overthrow our government – I mean, that's absolutely ridiculous. They weren't not trying to overthrow our government. They were upset with the results of an election.

[...]

If we compare what's happening here to how socialism and communism started and ultimately destroy other countries –Venezuela, Cuba, China, and the Soviet Union — the similarities are striking. If you look at the cultural revolution in China during the 1960s and 70s, you see what's happening today in the United States. Then, if you look at how socialism infiltrated Venezuela, the similarities are really uncanny.
The article concludes: "It is noteworthy that Gateway Pundit contributor Cara Castronuova has been credited as a "consultant" on this documentary." Duly noted.
The film's trailer concludes with someone saying, "Just because some talking head calls it an insurrection doesn't mean it's one ... unless there's a campaign to make it look like one." Similarly, just because someone made a highly biased film claiming that it wasn't an insurrection doesn't mean it isn't one -- and that film is part of the campaign to pretend it isn't one.
Posted by Terry K. at 2:25 PM EST