Is WND 'News' Article An Ad In Disguise? Sure Looks That Way!
Topic: WorldNetDaily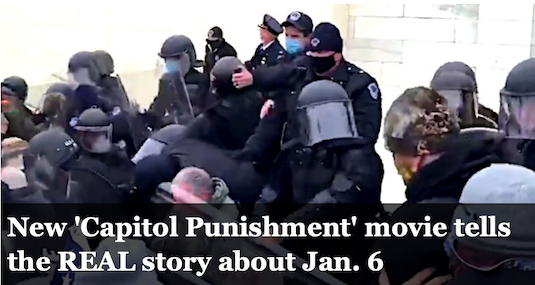 An anonymously written Nov. 24 WorldNetDaily "news" article claimed:
You've seen the legacy media and network reporting on Jan. 6 at the U.S. Capitol: those hordes of sword-waving, window-smashing (likely drooling) President Trump supporters who assaulted not just the entire nation but democracy itself.

Democrats have said, maybe 10,000 times, it was an "insurrection."

A new movie, "Capitol Punishment," is being released on Thanksgiving Day that reveals first-person accounts of what looked, on that day at that location, like "a trap."

The plain facts of what happened support suspicion. There were tens of thousands at a rally with Trump that day, and hundreds then went to the Capitol. Many protested peacefully about Congress' adoption of those still-suspect 2020 presidential election results that gave the White House to Joe Biden.

Since then, an analysis has confirmed that the legacy media suppressed damaging information about Joe Biden and son Hunter enough that the actions likely changed the results from a Trump victory to a Biden win.

[...]

Filmmakers Nick Searcy and Burgard said they wanted to expose the truth – and the government's politically driven tactics, in the movie.

Searcy told the Western Journal, "As shooting progressed, it became more evident that our real story had to be about the people who were being persecuted for nothing, for just going to Washington, basically for just saying out loud that they believe the election is stolen."
There is no "analysis" of Hunter Biden's purported lack of impact on the election, though there is a bogus poll the Media Research Center bought from Trump's election pollster making that claim. But that shoddiness is expected. More interesting is the fact that on the same day this article was published, WND sent a "sponsorship" email to its mailing list that sounds not unlike that article:
The establishment media tells the story of Jan. 6 as one of domestic terrorists threatening American democracy. They hope you will believe them and not look too closely at the man behind the curtain because it could foil their plans for America.

There is another side to the events of Jan. 6 and people need to know what happened. The stakes have never been higher! Award-winning TV star and unashamed conservative Nick Searcy and filmmaker Chris Burgard set out on a deep investigation to determine what really happened on Jan. 6 and what is still happening. Their finds will shock you!!!

The film Capitol Punishment: Everything They Told You Is A Lie is a riveting documentary told through the eyes of the people who were there on the ground in our nation's Capital on Jan. 6, 2021. Jan. 6 was years in the making and the threat to the survival of America as we know it has never been greater.
In pother words: If that WND article reads like an ad, it appears that's because that's what it is. WND has a long history of runnings ads in the form of thinly disguised "news" articles, and it does nothing whatsoever to inspire confidence in the journalistic integrity of its "news" product.
It should also be noted that the movie, made by right-wing filmmaker Nick Searcy, is little more than pro-insurrectionist claptrap. As the Daily Beast noted in highlighting Will Sommer's podcast aboiut it: "The film really wanted to feature the Twisted Sisters song 'We're Not Gonna Take It,' but since they couldn't get permission to use it, they had to settle for pleading with viewers to sing along at home. Sommer's professional review: 'I mean, it really is the lowest budget operation I've ever seen.'"
Posted by Terry K. at 5:08 PM EST
Updated: Thursday, January 13, 2022 5:12 PM EST