MRC Responds To Criticism Of Biased Texas Redistricting With Lame Whataboutism
Topic: Media Research Center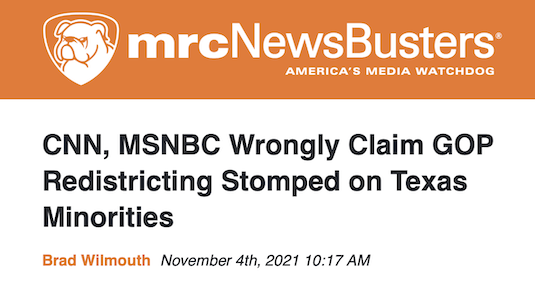 The Media Research Center's defense of Republican-controlled redistricting plans that disproportionately favor Republicans is a lame one, featuring a massive dose of whataboutism. Lydia Switzer showed off this non-argument in an Oct. 22 post:
The liberals at CNN want you to believe that they care about upholding democracy, but the evidence shows that they turn a blind eye when it's the Democrats rigging the system.

On Thursday's "Reality Check" on New Day, John Avlon dramatically proclaimed: "Defending democracy doesn't take a day off." He then went on to complain about Republican congressional redistricting while ignoring the blatant gerrymandering happening in states run by Democrats.

Texas, which gained two congressional seats after the most recent census, was Avlon's main target: "[Republicans] weren't about to make the congressional districts more representative of the actual electorate. No. So they went to work drawing districts that artificially increased their own advantage, connecting suburban districts with sprawling, rural communities, consolidating minority-heavy areas and generally painting Texas red."

[...]

Unsurprisingly, neither Avlon nor New Day co-host John Berman brought up the obviously partisan redistricting proposals in states like liberal Illinois, which will lose a congressional seat. The proposed new congressional map for Illinois was so unfairly partisan, benefiting Democrats, that it received criticism from both sides of the political aisle.

Avlon accused Texas of being "a textbook case of politicians choosing their voters rather than voters choosing their politicians," but didn't have a single word on the transparent attempts of Illinois Democrats to slash Republican power.
Brad Wilmouth served up a combination of irrelevant whataboutism and reflexive defense of anything Republican in atatcking criticism of Texas' congressional redistricting in a Nov. 4 post:
In the past couple of weeks, CNN and MSNBC have shown multiple double standards by peddling misinformation about Texas's congressional redistricting plan to accuse Republicans of cutting minority representation in the state while ignoring aggressive gerrymandering by Illinois Democrats. It was even wrongly suggested that Republicans would prevent any black members of Congress from being elected in Texas.

Additionally, the liberal networks -- each of which only has one Hispanic host anchoring on weekdays (and until recently had zero) -- pushed for racial quotas to guarantee more representation for Latinos, and even understated the number of minority majority districts.

Contrary to reports that Texas Republicans hoarded both of the state's new congressional districts, the GOP legislature handed one new seat to Democrats by drawing the 37th district in the Austin area where Joe Biden received 75.2 percent (according to data recently released by the Texas Tribune).

CNN's Ed Lavandera, jumping to the conclusion that white voters equal Republicans, claimed both districts would likely elect Republicans while coverage did not acknowledge Democrats would get a new seat, sometimes emphasizing the total number of white majority districts.

And without informing viewers that the GOP increased the number of minority majority districts (based on eligible voters) from 14 to 15, both networks seized on the solidly Democratic 35th district having its Hispanic percentage trimmed from 53 to 48 percent to claim that a Hispanic district had been eliminated.

In total, in 10 districts (or 26 percent) Hispanics would be the most numerous group, although only a majority in seven. In five other districts, a majority would be nonwhite without any particular group holding a majority.

It is noteworthy that, while CNN cited U.S. Census reports that 39.3 percent of Texas residents are Hispanic, CNN's exit polling found that, on Election Day 2020, only 23 percent of voters in the state were Hispanic.
Wilmouth conveniently didn't mention the fact that the Republican-controlled redistricting process exploited that low number of active Hispanic voters in rejiggering things -- which later drew the ire of the Department of Justice, who sued Texas over the redistricting. Politico reported on the DOJ's concerns:
The suit takes particular issue with the 23rd Congressional District — a sprawling West Texas seat now held by GOP Rep. Tony Gonzales — accusing Texas Republicans of intentionally eliminating its status as a district where Latinos could elect their candidate of choice.

More than 50 percent of the voting age population in the new 23rd District is Latino, but the Department of Justice claims — as it has in previous litigation against other iterations of this seat — that GOP mapmakers swapped out Latinos who vote regularly with low-propensity Latino voters.

The end result, the suit says, is "an effort to strengthen the voting power of Anglo citizens while preserving the superficial appearance of Latino control."

The suit also noted the lack of a new Latino opportunity seat in Houston's Harris County and accused the legislature of having "surgically excised minority communities from the core of the Dallas-Fort Worth Metroplex (DFW) by attaching them to heavily Anglo rural counties, some more than a hundred miles away."

The suit also singles out the new 24th Congressional District, held by freshman GOP Rep. Beth Van Duyne. By reducing the district's swath of northwest Dallas County, the mapmakers dropped the Latino citizen voting age population from 40 percent to 23 percent. The suit says the map again strengthens the Anglo voting bloc.

GOP mapmakers created three new deep blue seats — in Austin, Houston and Dallas — to accommodate a growing number of left-leaning voters and keep them from overwhelming the red-leaning districts surrounding them. None of those seats have a Latino-majority. Republicans will likely control at least two dozen of the state's 38 seats under this new map.
Wilmouth returned for a Nov. 22 post complaining that CNN's John Avlon was "condemning the Republican-backed redistricting plan in Ohio which improves the GOP's strength in the state's congressional delegation." Wilmouth admitted that the GOP plan would allow Republicans to "hold 13 out of 15 districts in the state," but he buried in atranscript the fact that Trump won only 53 percent of the 2020 vote in Ohio, which makes this look an awful lot like gerrymandering. He then played the whatboutism card on Avlon, rehashing his Texas criticism and addint: "So Avlon seems to want racial gerrymandering, which often means oddly shaped districts, if it results in a minimum quota of minority-majority districts, but voices opposition to gerrymandering at the same time.
When the DOJ announced its action against Texas, Kyle Drennen used a Dec. 7 post to absurdly frame it as the DOJ "trying to bully Texas into changing its electoral map to benefit Democrats" -- as if the GOP plan benefited all Texans instead of just Republicans. He then a sserted that an NBC reporter "was indistinguishable from the liberal partisans" ... for stating facts like "The state was allocated two more congressional seats after the 2020 census, but did not draw a single new district with a majority of black or Hispanic voters" and that the Texas plan is "part of a national wave of states redrawing their voting maps, many controlled by Republican lawmakers, that could impact next year's midterm elections and those for years to come."
Drennen once again proved Steven Colbert right when he stated at the 2006 White House Correspondents' Association dinner that "reality has a well-known liberal bias."
Posted by Terry K. at 1:33 PM EST