MRC Falsely Claims Social Media 'Censored' Tucker Carlson's Jan. 6 Conspiracy Film
Topic: Media Research Center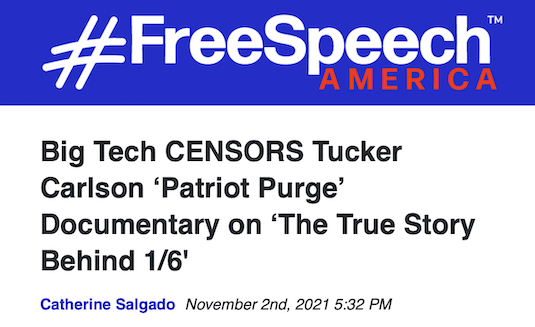 The Media Research Center's Catherine Salgado complained in a Nov. 2 post:
Big Tech platforms censored Fox News host Tucker Carlson's documentary series on the events of January 6th even before it was fully released, and media leftists have called for more.

Carlson, his show, and supporters posted and tweeted a preview trailer of the documentary series, "Patriot Purge," last week. The stated aim of "Patriot Purge" is to uncover the "true story behind 1/6." Facebook censored the preview with a "sensitive content" label. YouTube imposed age restrictions and a warning that the content "may be inappropriate for some users."
Earth to Salgado: None of those things are "censorship." The preview trailer can still be viewed, and there was nothing stopping Carlson from airing it on the widely viewed channel of his employer. Salgado could also argue that Fox News has "censored" Carlson's documentary because it's available only on the Fox Nation subscription streaming service instead of Fox News proper, but she won't -- that doesn't advance her narrative.
Salgado went on to complain that a Washington Post reporter "pushed the narrative that Carlson's documentary was a 'conspiracy theory' using 'baseless claims,'" and that a Post reporter alerted Facebook to the video being posted there. As if Carlson isn't pushing a narrative? Besides, it's not a "narrative" if it's true; as Poynter found in its review, the show "not only whitewashed what happened on Jan. 6, as supporters of former President Donald Trump stormed the Capitol, clashed with police and halted congressional proceedings in an effort to overturn the 2020 election. It also conjured a dystopian, alternative explanation for the insurrection, centered on a mix of conspiracy theories, including that the violence outside the Capitol was spurred on by left-wing instigators and agents provacateurs, and that the siege may have been a trap orchestrated by the FBI." Poynter went on to discredit numerous claims the show makes.
Salgado's response to all this was not to do any fact-checking on her own but, rather, to simply regurgitate what the preview claims and tout how many times it's been seen (which would seem to blow a hole in her claim that the video was being "censored":
The "Patriot Purge" preview said that the documentary series provides "the true story behind 1/6, the war on terror 2.0 and the plot against the People," suggesting the alleged Capitol "insurrection" may have been a "false flag." The Twitter preview has over 3 million views as of publication. The first part of the documentary series was released on Nov. 1.
From there, Salgado started repeating the MRC's boilerplate attacks on anyone who would dare fact-check a conservative:
Big Tech and its so-called fact-checkers have proven to be unfairly biased in the past. PolitiFact, which was cited by Lima against Carlson's documentary, is a Facebook fact-checking partner. The fact-checker has relied on communist Chinese information in the past and is part of liberal Poynter Institute's International Fact Checking Network (IFCN), which received over a million dollars from liberal billionaires George Soros and Pierre Omidyar.
She also repeated an oft-repeated MRC falsehood that "Trump was also banned from at least 10 platforms after he called for 'peace' following the Capitol 'riot.'"
This complaint was rehashed in the Nov. 17 podcast from the MRC's Tierin-Rose Mandelburg, in which she praised "Patriot Purge" without bothering to fact-check anything in it (or, apparently, to even watch it before issuing her judgment):
The video is clearly an attack on the leftist ideology ther everything pro-Trump is bad, if you're white you're racist, and if you don't consider Jan. 6 an insurrection, you're someho w terrorist. Facebook added a "sensitive content" filter to his video after the Washington Post whined about it. So: Half-naked girls online don't get a "sensitive content" filter, insane violence at a BLM or Antifa riot don't get a "sensitive content" filter, and neither does the viral image of Kathy Griffin holding a bloody Trump head. But Carlson's pro-America video did.
Yeah, the MRC would think that spreading right-wing conspiracy theories is "pro-America." Pretending that what happened on Jan. 6 wasn't an "insurrection" is another active MRC narrative designed to downplay those events.
Posted by Terry K. at 8:34 PM EST