CNS Again Touts Right-Wing Business Group, Hides That They Share A Funder
Topic: CNSNews.com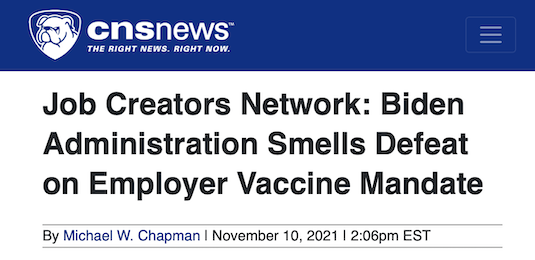 We've noted how CNSNews.com loves to quote the right-wing Job Creators Network -- just as much as it loves to refuse to disclose the conflict of interest that JCN is funded by the Mercer family, which also happens to be the largest individual donor to CNS' parent, the Media Research Center. Well, JCN got some more love from CNS in a Nov. 8 article by Megan Wlliams:
One of the nation's leading small business advocacy groups filed a lawsuit against the Biden administration's vaccine mandate last Thursday, citing an unnecessary exacerbation of the worst labor shortage the U.S. has experienced in decades.

The Job Creators Network (JCN) is suing the Occupational Safety and Health Administration (OSHA) for their emergency temporary standard requiring all businesses with 100 or more employees to mandate COVID-19 vaccinations and enforce the regular mask-wearing and testing of unvaccinated employees.

JCN's President and CEO Alfredo Ortiz said in a press release that OSHA does not have the authority, nor a big enough threat posed by COVID-19, to create or enforce such a mandate.
This was followed by a Nov. 10 article by managing editor Michael W. Chapman hyping JCN some more:
The Biden administration apparently is concerned that its COVID vaccine mandate for private-sector employers could lose in court, according to the Job Creators Network (JCN), and this is why it is urging companies to proceed with the vaccinations despite a federal court's ruling to halt the mandate pending a review.

"The Biden administration signals that it smells defeat on its illegal vaccine mandate by urging businesses to comply with it despite a federal court freeze," said JCN President and CEO Alfredo Ortiz in a statement.

"By encouraging businesses to continue implementing vaccine rules for their employees, the Biden administration must be worried about losing and is trying to get as many employers to comply before its ultimate demise," he added.

[...]

JCN's Ortiz said, "We encourage the courts to listen to small business plaintiffs like us and turn this vaccine mandate temporary stay into a permanent block, freeing small businesses and their employees to get back to work bringing the economy back."

"President Biden is completely out of touch with reality and is under the misguided impression that this unconstitutional mandate will not have a detrimental impact on the small business community," Ortiz said. "We know better and we will continue to fight until it is completely eliminated."
Neither Williams nor Chapman acted in a journalistically responsible manner by disclosing to readers that CNS and JCN share a major source of funding.
Posted by Terry K. at 2:49 PM EST