CNS Complains About Biden Security Upgrades, Censors Trump's
Topic: CNSNews.com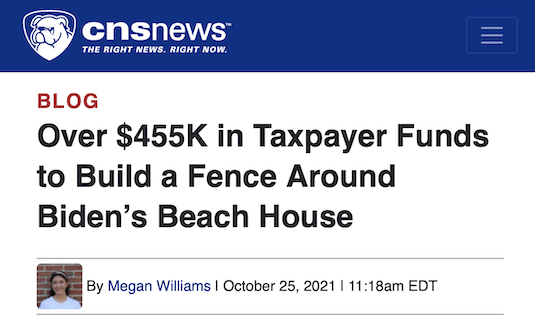 Megan Williams tried to work up some outrage over work at a beach house owned by President Biden in an Oct. 25 CNSNews.com article -- while also parroting a right-wing newspaper's doxxing the president in the process:
Despite the ongoing crisis at the southern border, the Department of Homeland Security (DHS) allocated $456,548 to a Delaware construction company to build a fence around President Joe Biden's beach house in Rehoboth, Delaware, the New York Post reported.

The Bidens purchased the beach house in 2017 for $2,744,001, according to Long & Foster Real estate. The Biden's main home is in Wilmington, Del., in a neighborhood called Greenville.

In September, the DHS contracted Turnstone Holdings LLC for the "Purchase and installation of security fencing at 32 Farview [Road], Rehoboth, Delaware," USAspending.gov published. The contract runs from Sept. 21 to Dec. 31.

[...]

The surge of illegal immigrants comes after Biden reversed several of former President Donald Trump's border security rules, particularly construction for the border wall.

"Building a massive wall that spans the entire southern border is not a serious policy solution," Biden's Jan. 20, 2021 proclamation read. "It is a waste of money that diverts attention from genuine threats to our homeland security."
In fact, experts have stated that a border wall does little to enhance U.S. security or to stop immigrants from entering the country-- something that Williams didn't see fit to report to her readers.
Note that Williams is irrelevantly comparing work at the Biden house to "the ongoing crisis at the southern border" -- a cheap and easy political shot -- when a more direct apples-to-apples comparison would be to security work done at Donald Trump's properties during his presidency. And as it so happens, a contract was recently awarded to spend $580,600 -- bigger than on Biden's security measures -- on security upgrades at Trump's Mar-a-Lago resort. (And Trump isn't even president anymore!) Williams didn't see fit to report that either.
Instead, Williams went on to further blame issues at the border on Biden:
CPB seized 10,586 pounds of fentanyl in the 2021 fiscal year, over four times the amount found during the last year of the Trump Administration.

According to the Drug Enforcement Administration, a lethal dose of fentanyl is 2 milligrams. The amount of fentanyl confiscated by the CPB could kill over 4 billion people.

Yet President Biden plans to use the border wall's unspent funds on environmental projects like "biological, cultural, and natural resource surveys," at the southern border, instead of addressing this crisis.
But doesn't the fact that the fentanyl was seized indicate that the "crisis" is being "addressed"? Also, Williams' numbers are misleading. An actual fact-checker looked into them:
"The stuff that's seized at the southwest border is highly impure," Bryce Pardo, a drug policy researcher at the RAND Corporation, told FactCheck.org in an interview. If they are seizing 10,000 pounds, the amount of pure fentanyl is a small fraction of that, he said.

More important, if stopping large amounts of fentanyl from being distributed to Americans is indicative of a "crisis" at the southwest border, as those tweets imply, it's a problem that Biden largely inherited from his predecessor. Border officials seized nearly as much fentanyl in the last nine full months of Trump's presidency as had been seized during the first nine full months of Biden's.
It should also be noted that Williams is CNS' fall intern. It appears that CNS is teaching her how to spin right-wing narratives instead of fairly and accurately reporting the news.
Posted by Terry K. at 1:04 AM EST