CNS Columnist Joins The MRC's Misinformation Scare-Quote Army
Topic: CNSNews.com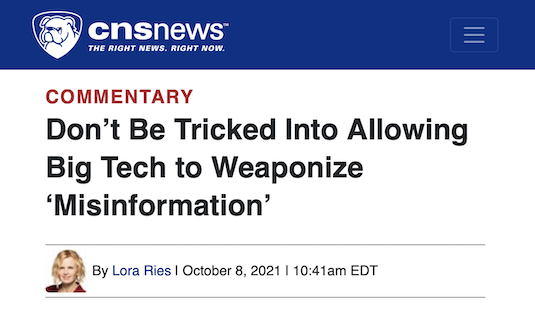 The Media Reserarch Center's disdain for Facebook whistleblower Frances Haugen for not being the kind of whistleblower they prefer -- that is, a right-winger like them -- spilled over to its "news" division, CNSNews.com. The Heritage Foundation's Lora Ries huffed in a Oct. 8 column:
Tuesday's Senate hearing with Facebook "whistleblower" Frances Haugen was part of a slick, well-produced rollout of a former Facebook employee, complete with a prerecorded and well-timed "expose" on CBS' "60 Minutes," harmonious media cheerleading, and paid Democratic consultants.

With this razzle-dazzle, the witness and her handlers want the audience to use the pretext of child protection to increase government power over Facebook, resulting in increased censorship, which likely will inure to the detriment of conservatives in the long run.

To identify—and avoid—the key takeaway of the hearing, members of Congress and the American public need to see through the glossy performance and focus on Haugen's former role at Facebook and what she advocated for in the hearing; namely, more censorship of "misinformation."
Note those scare quotes around the word "misinformation," which indicates that she has bought into the MRC's narrative that there is no objective definition of the word and that lies are free speech. Indeed, she goes off on that later in her column:
But government should not encourage or expand the current favorite tool of the left, companies such as Facebook, and Haugen herself; namely, identifying and removing "misinformation.

[...]

Sen. Amy Klobuchar (D-MN) advocated for her legislation to hold digital platforms accountable for health misinformation posted online. Haugen lamented that Facebook does not have the capability to prevent COVID-19 misinformation because it overrelies on artificial intelligence to catch such content, and AI only catches a small fraction of it.

Americans should have visceral reactions against efforts to label and censor "misinformation." COVID-19 and the 2020 election have shown that such labels are often proven wrong and that "misinformation" is a euphemism for content the left does not like or want shared.

Two prime examples were the Wuhan, China lab being the source of COVID-19 and the Hunter Biden laptop. News of the latter was likely suppressed by Haugen's own team.
Actually, the "Wuhan lab leak" hypothesis has not yet proven to be true and the idea that it originated in a Wuhan food market remains quite viable, and the Hunter Biden laptop story remains murky.
Ries concluded with a reinforcement of thenarrative: "Americans need to see through this setup of a 'whistleblower' hearing and avoid being tricked into weaponizing so-called 'misinformation' labeling and censorship." She didn't explain why dubious stories that advance right-wing narratives must be trusted without question and shouldn't correctly be described as misinformation.
Posted by Terry K. at 3:45 PM EST