MRC Aghast That Superman Is No Longer A Straight White American
Topic: Media Research Center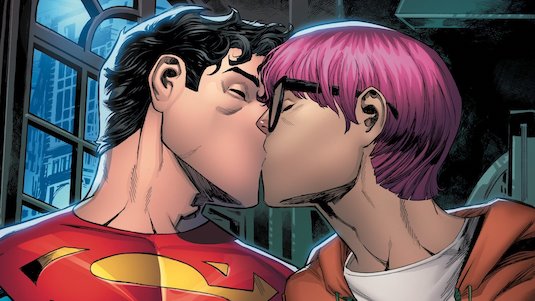 The Media Research Center has made it clear that the only allowable depiction of Superman is one of a straight white American (even though he's an illegal alien from Krypton). Gabriel Hays called in his favorite right-wing ex-Superman to help him sling some hate at the idea of a bisexual Superman in an Oct. 12 post:
Take it from a real man of steel, this new bisexual Superman that has generated controversy in recent days is in no way brave or heroic, but conformist. The fact that DC Comics has decided to make a bisexual Superman shows that comic book creators aren't pushing the envelope but just hopping onto the general cultural "bandwagon."

That's former Superman Dean Cain's assessment of the latest update to the beloved caped crusader.

The new bisexual Superman, named Jon Kent, is actually the son of the original Superman, or Clark Kent's (Kal-El) son. The first issue involving the son of Superman showing off his bisexual preferences will hit store shelves on November 9 and is titled Superman: Son of Kal-El.

Of course, Cain, who played the comic book legend in the popular nineties TV show Lois & Clark: The New Adventures of Superman, was not impressed. In fact, he told the hosts of Fox News Channel's Fox and Friends: First that this bisexual Superman is lame and most definitely not a "bold and new direction" for the character, as the media hailed the comic.

"They said it's a bold new direction, I say they're bandwagoning," the 55-year-old actor and Hollywood conservative said on the FNC program.

Yeah, it's bandwagoning. For the last several years, practically every piece of Hollywood or entertainment media has promoted a non-heterosexual theme. Even DC Comics has broken this ground before, announcing that their current rendition of Batman's trusty sidekick Robin is bisexual as well.
Yes, Hays freaked out about that too. And Cain is no "real man of steel" -- he's the actual conformist by insisting on viewing the franchise through his biased right-wing lens. If he didn't, he wouldn't be given any more of those Fox News hits that make up the bulk of what's left of his acting career these days.
Even worse, Superman's tagline is being altered, with "the American way" being switched to "a better tomorrow." Lydia Switzer had the outrage honors in an Oct. 20 post, centered on a CNN conversation between Brian Stelter and John Berman:
The conversation then turned to the new Superman, the son of original Superman Clark Kent. Jon Kent is bisexual and reportedly cares about the climate crisis and refugees. The Superman motto, "Truth, justice, and the American way," has also received a rewrite: "Truth, justice, and a better tomorrow."

"That's days of programming on Fox News," mocked Berman.
Switzer didn't dispute that characterization of Fox News' handling of the story -- which is, in fact, pretty much what happened. She continued:
According to Stelter, "the American way" as an ideal is ethno-nationalistic – defining America in terms of ethnicity. Even American values are racist. Of course he would prefer something "vague and simple" for the woke reimagining of a superhero "messiah figure."

Berman and Stelter then continued to demean those who dislike this change. "Are you against a better tomorrow?...Tonight at 9:00 P.M," Berman joked.

The message is clear: the leftist hosts on CNN couldn't be happier about the liberal takeover of culture, even at the expense of the values of one of America's most treasured heroes.
But as Wonkette pointed out, Superman's motto in the original comic did not mention "the American way," and even the late 1940s Superman film serial referenced only "Truth, Tolerance and Justice." The "American way" phrase didn't appear until the 1950s TV series.
Hays returned in an Oct. 21 post to parrot the whining of a DC Comics colorist -- not even a writer or story creator, just a colorist -- qutting in manufactured disgust:
Perhaps DC Comics' woke agenda will be its own kryptonite. One can only hope.

In the latest chapter of the comic book company's Marxist rehabilitation of Superman, a gentleman who actually works on the comic book illustrations for the Man of Steel is quitting the company. He can't take the woke BS anymore, in his own words saying the company is "ruining these characters."

Well, that's an understatement.

[...]

Anyways, one brave man decided he couldn't put up with this anymore. DC Comics Colorist Gabe Eltaeb said he will not be renewing his contract with DC Comics.

Eltaeb announced his decision during a YouTube livestream video with comic book creator Ethan Van Sciver, a former DC Comics employee. Eltaeb told his co-host and the audience, "I'm finishing out my contract with DC. I'm tired of this shit, I'm tired of them ruining these characters; they don't have a right to do this."

Geez, we're sorry to hear that. But we're also grateful that Eltaeb is open about this. It's nice to hear that some people who work in these pop culture labs aren't mindless proggies.

[...]

Eltaeb mentioned that the last straw was when they changed the motto. "What really pissed me off was saying truth, justice, and a better world. F–k that, it was Truth, Justice, and the American way," he said.

He explained that changing the line was a sign of disrespect and ingratitude towards great Americans, men like his grandfather who served in World War II. "My Grandpa almost died in World War II; we don't have a right to destroy shit that people died for to give us," he said. "It's a bunch of fucking nonsense."
Hays had to further enshrine Eltaeb's victimhood by transcribing his profane rant:
They call us bigots and racist and shit. I would ask them, find me in the fucking mainstream, not on the fringes, one fucking book, one fucking t-shirt, one movie that says that leftism is bad and conservatism is good, find it for me. They fucking won't. They're not letting people have a voice, they're the fucking bigots.
Yep, Eltaeb is definitely not a writer. But he is the kind of self-made victim that the MRC loves.
Hays then signed off: "Geez, clearly that's a man who's extremely frustrated with today's media landscape. Hopefully, there are more like him who will push back before they start cancelling things that are even more important to Americans than Superman."
Apparently, Eltaeb and Hays believe that right-wing self-victimhood is "the American way" too.
Posted by Terry K. at 8:48 PM EST
Updated: Friday, February 18, 2022 10:14 PM EST