Flip-Flop: MRC Hypes Murdoch Scandal It Once Tried To Hide
Topic: Media Research Center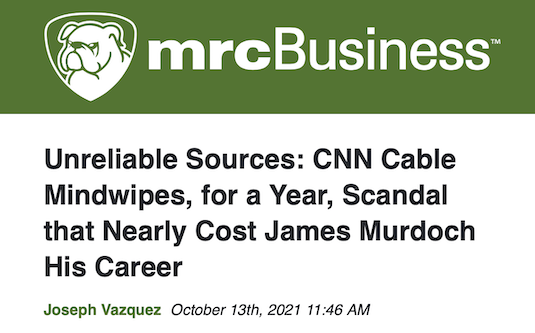 Media Research Center writer Joseph Vazquez has been lashing out of late against James Murdoch, son of Fox News chief Rupert Murdoch, for ceasing to be as right-wing as his father and other siblings and donating money to -- gasp! -- environmental causes and non-Fox media ventures. Vazquez tried to serve up a lame "non-conservative media ignored thing that advances right-wing narratives" gotcha in an Oct. 13 post:
CNN's cable shows have salivated at least seven times over climate activist James Murdoch's virtue-signaling against Fox News in the past year, all while ignoring any mention of an atrocious media scandal that nearly nuked his career.

News blew up in 2011 on how the now-defunct U.K. newspaper News of the World< was set to publish its last issue following a massive phone-hacking scandal that occurred in the mid-2000s, which ultimately led to its demise. News Corporation Executive Chairman Rupert Murdoch's estranged son James was executive chairman for News International — then-parent company of News of the World — at the time. James Murdoch would later resign. The newspaper "presided over a large-scale policy of hacking cell phones and computers belonging to celebrities, politicians, and private citizens," according to the Carnegie Council for Ethics in International Affairs. The scandal even involved hacking the communications of Prince Harry.

But CNN has all but ignored the phone-hacking scandal while propping up Murdoch's attacks against Fox News. A Nexis search of CNN transcripts mentioning James Murdoch between September 30, 2020, and September 30, 2021, found that none of the CNN cable shows mentioned the phone-hacking scandal whenever they cited Murdoch's anti-Fox News stances.
But as we reported at the time, the MRC did its best to downplay the News of the World scandal in order to protect Fox News. When the scandal first broke, MRC executive Tim Graham dismissed a British paper that reported on it as "socialist" and NPR's reporting as suspect because of alleged ties to George Soros. When the scandal exploded later that year, the MRC spent days ignoring it, then tried to deflect from it.
First, it tried to play whataboutism by arguing that far lesser actions in the so-called "liberal media" were just as bad as hacking cell phones. Then, it insisted that the investigation into the scandal was being driven by "politics ... not rational detective work." Graham later got himself quoted by the Washington Post claiming that "It's blatantly obvious that this pile-on . . . is all about Murdoch and his perceived noxious effect on American politics and media."
From there, the MRC went into full protect-Fox News mode, defending Fox News' paltry, late-to-the-game coverage of the scandal -- it averaged three segments a day, actually not a lot for a 24-hour "news" channel -- even though Fox's then-Sunday morning media watch program explicitly stated it would not cover the story when it broke (though it eventually did).The MRC's "news" division, CNSNews.com, weighed in as well, complaining the scandal was being used to target Fox News, which "is pegged as a conservative news outlet (perhaps because it is, in fact, a conservatrive news outlet?).
Rather than admit that his employer once labored to downplay the scandal he's now trying to exploit because it can be used to bash a new MRC enemy, Vazquez spent the rest of his post grumbling about "pro-James Murdoch fanboying" on CNN over him ceasing to be rabid right-winger. But it's the MRC's job to protect Fox News at all costs -- even when it involves flip-flopping on a major story.
Posted by Terry K. at 2:25 PM EST