Pope Spur CNS Intern To Pester Senators About Whether They Think Abortion Is Murder
Topic: CNSNews.com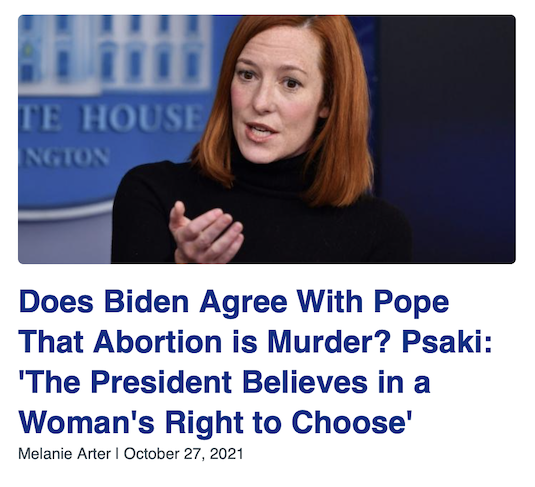 When CNSNews.com was beating up on President Biden for his meeting with Pope Francis, it was pushing a parallel storyline. Editor Terry Jeffrey used an Oct. 19 article to highlight how "Pope Francis said in an address given to the Pontifical Academy for Life at the Vatican on Sept. 27 that abortions 'is truly murder,'" going on to reproduce the pope's remarks in both Italian and English, even though CNS has no Italian readership of note and even though the pope's native language is Spanish (though he also speaks Italian).
That was all the impetus CNS needed to send its fall intern out to pester members of Congress -- as is the CNS intern's job -- with the question "Pope Francis recently said that abortion is 'truly murder,' do you agree with him?" That came with another gotcha follow-up: "Is the unborn child killed by an abortion a human being?" The intern harangued the following senators:
The point is to allow the Republican-heavy roster of senators to virtue-signal to CNS' right-wing audience about how much they oppose abortion, while trying to catch Democratic senators if they choose to answer at all; for example, the headline on the article about Kaine reads "Sen. Kaine Affirms His Support for Legalized Abortion."
The intern also made sure to get CNS' anti-Biden and anti-Pelosi talking points in the boilerplate of most of those articles:
Because of the Catholic Church's immutable teaching on abortion, when a Catholic politician, especially President Joe Biden, publicly endorses and votes for pro-abortion legislation, it causes widespread scandal in the church and among the faithful.

[...]

The Archbishop of San Francisco, Salvatore Cordileone, encouraged Catholics to pray the rosary for the conversion of House Speaker Nancy Pelosi (D-Calif.), a pro-abortion Catholic, who is seeking to codify Roe v. Wade in federal law.
CNS has repeatedly touted Cordileone's attacks on Pelosi.
CNS even did a non-intern example of the question, in a Oct. 27 article by Melanie Arter highlighting that "When White House Press Secretary Jen Psaki was asked at her briefing on Wednesday whether President Joe Biden agrees with Pope Francis that abortion is murder, she responded that Biden 'believes in a woman's right to choose.'" Arter refused to name the reporter for some reason, but it was Owen Jensen of the biased anti-abortion Catholilc channel EWTN.
Posted by Terry K. at 12:22 AM EST
Updated: Tuesday, November 30, 2021 12:23 AM EST