CNS Hyped Herschel Walker For Years -- Then Suddenly Stopped
Topic: CNSNews.com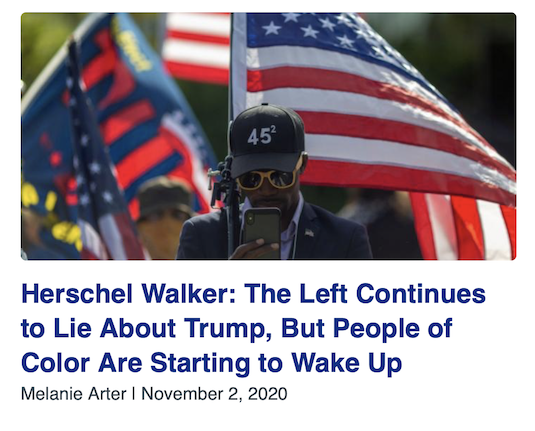 CNSNews.com has long been a fan of former college and pro football star Herschel Walker for his right-wing views (even though right-wingers tend to rage at athletes when they express liberal political views). It began way back: In 2017, Craig Bannister was touting how Walker said that "NFL players, and all Americans, should never protest the country that has given them all that they have," and an October 2018 post by managing editor Michael W. Chapman hyped Walker's criticism of CNN anchor Don Lemon for criticizing Kanye West's fealty of Donald Trump.
As Walker ramped up his political activism in 2020, CNS devoted numerous articles to his right-wing pontifications in the runup to the presidential election:
Not only was Walker sounding like a Trump campaign surrogate, he was sounding like a political candidate. CNS didn't point that out, of course; it was happy to serve as Walker's -- and Trump's -- PR division.
CNS' first post-election article on Walker was not until a February article by Susan Jones, in which he "told a House Judiciary subcommittee on Wednesday he opposes reparations for slavery on a number of grounds, including his religion." Jones did not explain what made Walker an expert witness on reparations.A March 11 article by Craig Bannister -- who wrote many of the 2020 Walker-touting articles -- showed someWalker love from his (and CNS') favorite president:
Former President Donald Trump wants Herschel Walker to run for the Senate in the state where Walker won a Heisman Trophy playing for the Georgia Bulldogs in college.

Trump said Walker would be just as unstoppable as a candidate as he was as a star running back at Georgia and for the NFL's Dallas Cowboys, The Washington Times reported Wednesday:

[...]

Trump and Walker have been friends and mutual supporters ever since 1983 when Walker played for Trump's team in the now-defunct United States Football League. Walker has long been a vocal supporter of Trump's political policies, often voicing his praise on social media.
That was the result Walker and CNS seemed to be gunning for. Strangely, though, the only article referencing Walker since then is a July 27 piece by Jones that cited another prominent Republican, Sen. Lindsey Graham, touting a potential Walker Senate bid: ""I hope Herschel Walker runs. Herschel Walker is talking like the average Georgian. He wants his mom to be able to go to the store without being hurt."
But when Walker actually did announce his Senate campaign in August, CNS reported nothing. And when Walker racked up key Republican endorsements, CNS was silent about that too. Why? It could be because of disturbing revelations about Walker's past.
The Associated Press reported that Walker's ex-wife cited "physically abusive and extremely threatening behavior" in filing from divorce from him in 2001 and later sought a protective order from him in court. He has also been caught falsely exaggerating the size of his chicken-products business and has a history of unpredictable behavior. Walker has admitted a long struggle with mental illness, but has claimed that therapy and his Christian faith has turned things around.
CNS hasn't told its readers anything about this, of course -- it simply stopped reporting on him at all. But CNS is nothing if not a loyal pro-Trump Republican booster, so look for it to clamber back onto the bandwagon as the 2022 midterms start to get closer.
Posted by Terry K. at 1:02 AM EST