CNS Keeps Pushing Narrative That Biden Is Going Senile
Topic: CNSNews.com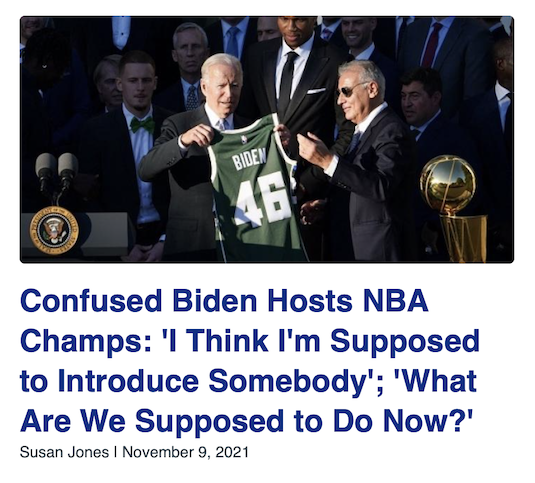 CNSNews.com loves to take incidents out of context to make President Biden look senile and out of touch -- "four second mental meltdown," anyone? -- and it hasn't really stopped, even though that right-wing-driven narrative isn't really going anywhere and despite its own objections to anyone questioning Donald Trump's mental faculties even though his continued insistence against all legitimate evidence that he won the election and everyone else cheated can been seen as evidence of a mental disorder of some kind. By contrast, every verbal misstep by Biden -- no matter how minor -- is copiously documented and presented as implicit evidence of Biden's purported "cognitive decline."
Here's what CNS has been doing in recent months to push this narrative:
We don't recall CNS publishing article after article about Trump's many verbal gaffes, let alone portray them as evidence of his failing mental health.
CNS got help from across the hall at Media Research Center headquarters in pushing this narrative. Tim Graham wrote a March column:
At a March 8 White House event to announce the nomination of two female generals to lead U.S. military combatant commands, President Joe Biden seemed to forget the name of Defense Secretary Lloyd Austin and where Austin works. Since the theme of the president's mental acuity is still associated with memes of former President Donald Trump, the media desperately wanted to forget this happened.
Just like CNS and the MRC desperately wants you to forget about all those Trump gaffes and his continued cloudcuckooland insistence that he won the election (a delusion the MRC has helped Trump maintain)?
CNS also gives uncritical free reign to Republican politicians to smear Biden and his purported "cognitive decline":
That would seem to demonstrate all one needs to know about CNS' partisan motivation.
CNS tried to push questions about Biden's supposedly failing physical health as well. Melanie Arter leaned hard into that in a Sept. 16 article:
President Joe Biden's frequent coughing during public speeches recently, including Thursday during a speech about his economic proposals, prompted NBC News White House Correspondent Kelly O'Donnell to ask about the president's health.

"Many of us were in the East Room watching the president. We've seen him on many occasions where he has a repeated cough. What is the situation with that cough, and is that a concern?" O'Donnell asked.

"It's not a concern. He has a doctor that travels with him obviously who checks in if it is ever warranted, and certainly, that continues to be the case as it has been since the beginning of his presidency," White House Press Secretary Jen Psaki said.

"Is there an explanation for why he coughs so frequently in situations like that? I'm sure you saw it," O'Donnell said.
By contrast, CNS touted Trump's purported manliness and perfect health, his cavalierness in associating with people know to be infected with COVID and uncrirtically repeating his lackeys' insistence that Trump was wonderfully healthy even as he because infected with COVID himself (which we now know was not the case, though CNS has yet to tell its readers).
Posted by Terry K. at 11:18 AM EST
Updated: Sunday, November 14, 2021 3:38 PM EST