MRC Psaki-Bashing, Doocy-Fluffing Watch
Topic: Media Research Center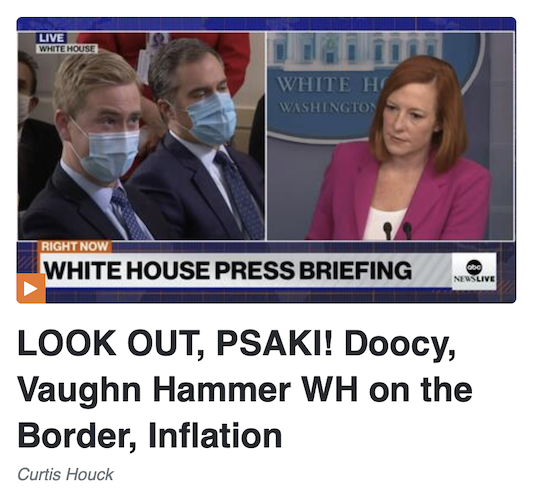 Curtis Houck was a Doocy-gasm mood for his summary of the Oct. 18 White House press briefing with a round of mask gotcha:
On Monday's Psaki Show, Fox News's Peter Doocy returned to the Briefing Room (after colleague Jacqui Heinrich took a turn last week) and, as usual, he didn't make it easy on Press Secretary Jen Psaki as they went toe-to-toe over President Joe Biden and First Lady Jill Biden walking maskless in a Washington D.C. restaurant despite a citywide mandate and the President's hypocrisy in calling for prosecution of those who defy January 6-related subpoenas.

As always, Doocy immediately cut to the chase with a short but biting question "There is mask requirement inside D.C. restaurants, yet President Biden and the First Lady were not wearing masks while walking around a D.C. restaurant on Saturday. Why?"

Psaki brushed it off as images from when they were "walking out of a restaurant after they had eaten, masks in hand where they had not yet put them back on yet, so I would say, of course, there are moments when we all don't put mask back on as quickly as we should."

She added that people shouldn't "lose the forest through the trees here" when the real focus should be on both vaccinating people and instituting mass vaccine mandates.

Given the level of mask hypocrisy over the past year and a half, Doocy wasn't having it:
Needless to say, Doocy (and Houck) would never have treated Kayleigh McEnany the same way or played a similar gotcha game with Donald Trump, and Houck would never concede that a hated "liberal media" reporter "wasn't having it" regarding anything McEnany ever said. But Houck devoted his entire post to fawning over Doocy, going on to gush over his badgering Psaki aboutthe idea of prosecutingTrump administration officials and various hangers-on who are defying subpoenas from the congressional committee invesigating the Jan. 6 Capitol riot.
On Oct. 19, Houck cheered that Doocy was pushing more right-wing talking points:
On Tuesday, it was a spicy day inside the White House Briefing Room as Fox's Peter Doocy brought the heat against Press Secretary Jen Psaki on coronavirus vaccine mandates, flights for illegal immigrants, and the Treasury Department monitoring our bank accounts. And as we've seen plenty of times, Doocy received help as other reporters tackling Biden's influence on the Justice Department, his Build Back Better plan, and the supply chain crisis.

Doocy started with new reporting from the New York Post that government flights of illegal immigrants were landing in places like Westchester County, New York in the dead of night: "Why is the administration flying thousands of migrants from the border to Florida and New York in the middle of the night?"

Psaki went the condescending route, quipping that she's "not sure that it's in the middle of the night, but let me tell you what's happening here."
Did Houck ever criticize McEnany for being "condescending"? Not that we recall -- heck, he probably loved her condescension.
Houck quicky added at the end: "At the back end of the briefing, the penultimate exchange featured Newsmax's Emerald Robinson talking about Buttigieg's unannounced paternity leave, but instead of engaging, Psaki made clear that she, at best, loathes her. But as a less biased reporter pointed out, the reason Psaki didn't "engage" with Robinson was that she continued to shout questions after her allotted time had ended while Psaki moved on to another reporter. And, really, Robinson has amply earned the contempt of people by spewing COVID conspiracy theories, which means she has never earned the respect Houck demands she receive simply for being a right-wing reporter.
For the Oct. 21 hearing, Houck had a different target in deputy press secretary Karine Jean-Pierre, but was having the same old Doocy-gasms over his slavish recitation of right-0wing talking points -- mixed in with praise for Doocy's wife, also a biased Fox News reporter, which sounds a bit awkward:
With The Psaki Show off on Thursday, White House Principal Deputy Press Secretary and former MSNBCer Karine Jean-Pierre filled in, but it wasn't an easy day as she faced incoming fire from not only Fox's Peter Doocy, but Doocy's other half in wife Hillary Vaughn of the Fox Business Network as the two brought the heat with hardballs on inflation, the supply chain crisis, and our country's overall economic malaise.

Doocy began with immigration and wanted to know whether it's that "the year Joe Biden was sworn in as President promising more a humane immigration system is the same year that an all-time record 1.7 million migrants have been detained at the southern border."
Houck gave Doocy and Vaughn more cookies for spouting right-wing narratives in the Oct. 22 briefing:
After a day off and a guest appearance by Principal Deputy Press Secretary Karine Jean-Pierre, The Psaki Show was back with a new episode on Friday and, for the second day in a row, the Fox News Channel's Peter Doocy and wife Hillary Vaughn of the Fox Business Network applied the heat to the Briefing Room podium.

Other reporters asked insightful questions about Biden's poll numbers, the DHS investigation into the fake whips story, gas prices, press access, but it was Doocy who battled Psaki over vaccine mandates and President Biden not having visited the U.S. southern border while Vaughn focused on the economic pinch Americans have found themselves in ahead of the holiday season.

Most of Doocy's time focused on immigration, but he led off with news that "[t]he leader of the union representing FedEx, UPS, and DHL is saying that supply chain problems are going to get worse with labor shortages right before the holidays unless the President postpones the requirement to get vaccinated by December 8."

With that said, Doocy wanted to know: "[W]hat is more important to this President: The vaccine mandates or fixing the supply chain as fast as possible?"

Psaki deflected, arguing that's "not actually what we've seen at companies that have implemented these vaccine requirements" and instead the labor market would be in worse shape if the Covid vaccine wasn't mandated.
Houck did cheer other right-wing messaging as well: "In two other notable moments, the New York Post's Steven Nelson called out the White House's ongoing curtailing of press access for Biden events in the East Room and the Daily Caller's Shelby Talcott inquired about the Department of Homeland Security investigation into the (fake) whips story that's now a month late." Cookies all around for staying on message!
Posted by Terry K. at 9:51 PM EDT