The Fall Intern Congressman-Pestering Season Has Arrived At CNS
Topic: CNSNews.com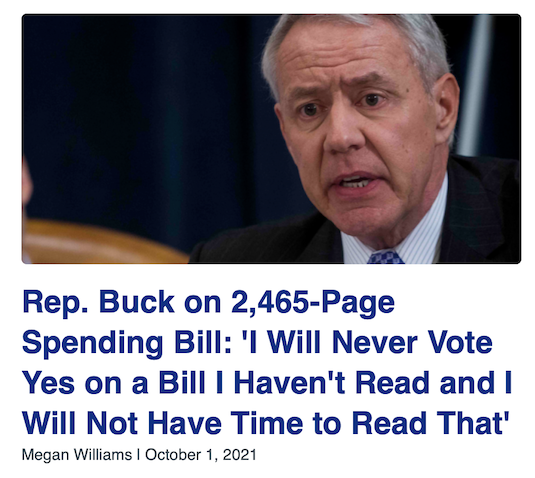 We've noted that CNSNews.com fall intern Megan Williams asking some congressmen with questions about refugees from Afghanistan, but that was just the her initiation into CNS' tradition of pester members of Congress with leading, biased questions designed to forward the "news" organization's right-wing agenda.
That beginning was followed with another leading question: "The federal deficit through the first 11 months of this fiscal year was $2.7 trillion and the federal debt is now $28 trillion. Will the Biden administration do anything to balance the budget?" That came with a follow-up: "Do you believe they will take any action to?" That's a setup designed to let Repubicans virtue-signal about the evils of deficit spending -- and it omits the fact that deficit spending has grown even under a Republican president. Those questions snared the following senators:
Not that all but three of the 12 senators queried are Republicans, which gave ample space for them to virtue-signal. However, both Booker and Casey made sure to point out in their answer how deficits increased under President Trump.
Williams' next round of gotcha was a reprise of a question asked over the summer: ""The 'Build Back Better Act' the House Budget Committee approved is 2,465 pages long, will you read the entire bill before you vote on it?" These members of Congress got ambushed with it:
Yes, another biased, Republican-heavy lineup. The next round served up more virtue-signaling opportunities under the qestion "Should Facebook be allowed to restrict speech on its platform?" Here's who got stuck this time:
Williams' boilerplate claims in each article claimed that "Leading up to the 2020 elections, Facebook was placed in the spotlight for its apparent mishandling of information, specifically its push to censor conservative voices on its platform" -- a statement that advances CNS owner Media Research Center's fraudulent narrative about conservatives and only conservatives being "censored" on Facebook and ignores the fact that as a private business, Facebook has the right to run things as it pleases, a privilege conservatives normally grant to other private companies.
Posted by Terry K. at 1:52 PM EDT
Updated: Sunday, October 31, 2021 3:38 PM EDT