CNS Can't Quite Back GOP Governor Candidate In Va., But It Will Attack the Democrat
Topic: CNSNews.com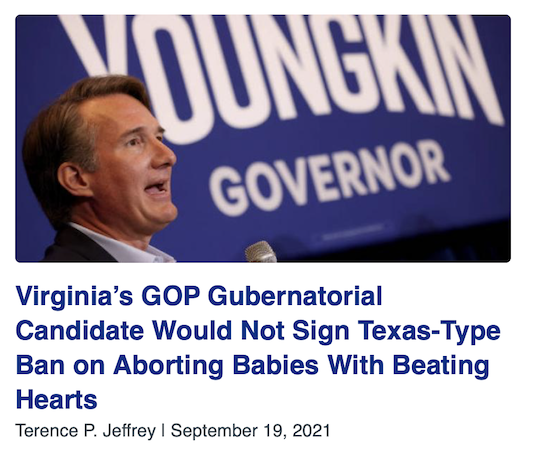 Earlier this year, CNSNews.com did a horribly botched hit job on eventual Republican Virginia gubernatorial candidate Glenn Youngkin, falsely claiming that he personally donated to "several left-wing groups" when, in fact, the donations were made by the private-equity group he headed. Even though Youngkin is running as a Republican in the state CNS (and its Media Research Center parent) is headquartered in, it has had trouble embracing him even though he's unmistakably Trump-adjacent.
In a Sept. 19 article, editor Terry Jeffrey was upset that Youngkin wouldn't go fullTexas extremist on abortion:
Glenn Youngkin, the Republican gubernatorial candidate in Virginia, said in a debate on Friday with Democratic candidate Terry McAuliffe that he would not sign an abortion ban like the one enacted in Texas law.

That law bans abortion when a baby has a detectable heartbeat, which occurs at about six weeks.

Youngkin indicated that he would sign a bill that banned abortion when an unborn baby feels pain, which occurs at about 20 weeks.
An Oct. 19 article by Susan Jones was devoted to recounting the eduction policy of Winsome Sears, "the black Republican candidate for Virginia lieutenant governor." Youngkin wasn't even mention until the end, when Jones complained that Youngkin's Democratic opponent, former Gov. Terry McAuliffe, "is taking every opportunity to tie Youngkin to Trump, who has not campaigned for Youngkin, although Trump did endorse him.Youngkin didn't get an article from Jones on his own eduation policy until the next day.
With that tepid support for Youngkin, CNS is taking the passive-aggressive way out: by attacking McAuliffe.
Jeffrey spent his Oct. 6 column attacking McAuliffe for supporting "government schools" even though he attened Catholic schools as a child: "McAuliffe's own parents did not send him to government schools. But now he not only wants to keep other people's children in government schools; he wants to prevent parents from telling those government institutions what they should teach."
Jones served up her own attack on McAuliffe in an Oct. 11 article:
Democrat Terry McAuliffe, hoping to serve a second term as Virginia governor, made it clear on Sunday he's running against Donald Trump, who isn't on the ballot and hasn't actively campaigned for McAuliffe's challenger, Republican Glenn Youngkin.

Yet in the course of his 12-minute interview with CNN's "State of the Union," McAuliffe mentioned Trump's name 18 times -- so often, in fact, that host Dana Bash joked, "I'm glad I have two cups here, so I can keep drinking when you mention Donald Trump's name."

McAuliffe said several times that he's "running against a Donald Trump wannabee." He accused his opponent Youngkin of wanting to do a "Donald Trump-Betsy DeVos education system," whatever that is.
Um, isn't it a reporter's job to explain what terms mean instead of blithely dismissing things by saying, "whatever that is"? Jones clearly sucks at her job.
In another Oct. 11 article, Jones tried to make a big deal out of McAuliffe endorsing representative government, which Republicans tell us is the greatest form of government by insisting that we're a republic and not a democracy:
"I don't think parents should be telling schools what they should teach," Democrat Terry McAuliffe said in his last debate with his Republican challenger Glenn Youngkin. The two men are running a tight race for Virginia governor.

On Sunday, CNN's Dana Bash noted that McAuliffe is "getting pummeled" for the remark: "So, the question is -- the fact that you are getting pummeled by Republicans, who say it shows that you don't think parents should have a say in their children's education. So, my question is, do you think parents should have a say in their children's education?"

"Of course," McAuliffe said. "And they do. First of all, they get to elect school boards, and if you don't like them, then you get rid of them. But let's talk education," he said, changing the subject and talking about his "very serious plan" to invest $2 billion to raise teacher pay, provide universal broadband and educate at-risk 3- and 4-year-olds.
CNS even published a published an Oct. 14 column by R. Emmett Tyrrell calling McAuliffe a liar for calling out (in 2007) the factually dubious Clinton scandal-mongering Tyrrell's American Spectator magazine churned out in the 1990s.
Posted by Terry K. at 12:18 AM EDT