MRC Still Won't Admit That COVID Misinformation Objectively Exists
Topic: Media Research Center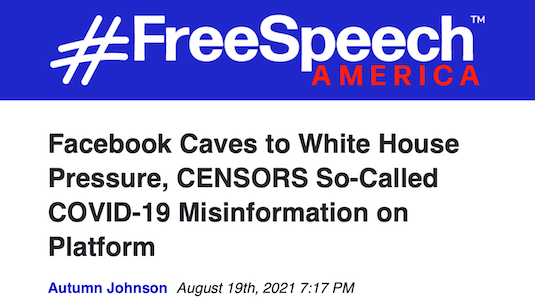 The Media Research Center wants you to believe that misinformation about COVID and its vaccines isn't really misinformation -- it's just someone's opinion, man, and nobody should be "censoring" it even though it could be so dangerous that it gets people killed. Because it furthers the MRC's victimhood narrative, it is clinging to that belief. Autumn Johnson complained in an Aug. 19 post:
Facebook is taking action after pressure from the White House. The Biden administration blamed the platform for the majority of coronavirus "misinformation."

The news comes after the White House blamed accounts on the platform for spreading misinformation.

"There's about 12 people who are producing 65% of anti-vaccine misinformation on social media platforms," White House Press Secretary Jen Psaki said.

[...]

Still, Facebook has not removed every account linked to the original 12 accounts, saying that "the remaining accounts associated with these individuals are not posting content that breaks our rules, have only posted a small amount of violating content, which we've removed, or are simply inactive."

Some argue pressure from the federal government should classify Big Tech social media platforms as "state actors."
But public health and politics are two very different things. The MRC was a loyal pro-Trump defender during his presidency; did that make it a "state actor"? Note also that Johnson won't admit there's COVID misinformaton on Facebook -- she uses scare quotes and refers to "so-called COVID-19 misinformation."
Alexander Hall repeated that narrative in an Aug. 23 post:
U.S. Surgeon General Dr. Vivek Murthy nagged social media companies for not doing more to censor so-called misinformation about the COVID-19 pandemic.

According to Murthy in an August 22 appearance of CNN's State of the Union, the American people are so-called "superspreaders" of misinformation by questioning the government narrative, according to the Biden administration. America's current surgeon general responded to Facebook's most recent transparency report by scourging social media

Murthy commented on the "profound cost of health misinformation," observing that "we've been seeing the health misinformation as a problem for years, but the speed, scale and sophistication with which it is spreading and impacting our health is really unprecedented."
But rather than why he's ranting about "so-called misinformation" instead of admitting that misinformation objectively exists, Hall played victim: "In contrast to Murthy's claims, Facebook has been notoriously sloppy and all too quick to censor conservatives and narratives with which it disagrees. Facebook fact-checker PolitiFact came after the Media Research Center (MRC) for citing a graphic first released by the Centers for Disease Control and Prevention." As we documented, that was an inaccurate graphic that the MRC used to create a false meme that the Delta variant was nothing to worry about -- meaning that the MRC got busted for pushing misinformation.
Gabriela Parseau continued the denial/victimhood narrative in an Aug. 27 post:
YouTube Chief Product Officer Neal Mohan said in a recent blog post that the platform has "removed over 1M videos" with information on COVID-19 since February 2020. He justified censorship in favor of "accountability" and "balance" on the platform.

Mohan downplayed the censorship when he said that YouTube removed allegedly "dangerous coronavirus information." He claimed that YouTube attempts to "strike a sensible balance between freedom of speech and freedom of reach" and implied that censorship on an "open platform" offers "greater accountability to connect people with quality information."

The YouTube executive also cited that the platform removes "nearly 10 million videos a quarter." He admitted, however, that removing too much content can be dangerous. "An overly aggressive approach towards removals would also have a chilling effect on free speech," said Mohan. "Removals are a blunt instrument, and if used too widely, can send a message that controversial ideas are unacceptable." [Emphasis added.]

He ignored the fact that YouTube seemingly sends that exact message every time it censors users and health care professionals.

Mohan all but conceded that people define misinformation in different ways but stopped short of admitting that YouTube subjectively defines misinformation and acceptable conversation for its users. "One person's misinfo is often another person's deeply held belief, including perspectives that are provocative, potentially offensive, or even in some cases, include information that may not pass a fact checker's scrutiny," he said. [Emphasis added.]
Of course, Pariseau and the rest of the MRC believe that any idea that doesn't advance right-wing agendas are "unaccepable," and Parseau won't admit that she's subjectively defining misinformation to advance that very agenda.
Jiohnson wrote in another Aug. 27 post:
In a blow to Big Tech, Reddit is refusing to censor so-called "misinformation" about COVID-19, instead choosing to allow "debate, dissent, and protest."

The online platform is well-known for its users who have anonymous usernames to discuss a wide range of topics, such as politics, sports, video games and more.

Reddit has previously faced criticism for >caving to the left and censoring content, including banning "r/The_Donald, r/ChapoTrapHouse, and about 2,000 other communities," according to The Verge June 29, 2020. The platform also suspended over 7,000 subreddits for alleged "hate" content, despite Reddit's acknowledgement that it is not always able to identify precisely what "hate" means.

Now, Reddit is going against the recent social media platform trends that censor alleged misinformation about COVID-19 and its vaccines.

Actually, the r/The_Donald was notorious for its hate and incitement to violence, and one did not need to "identify precisely what 'hate' means" in order to determine that. Or is Pariseau so morally compromised that she doesn't see anti-liberal hate as "hate"?
The talking point was rehashed again in a Sept. 14 post by Catherine Salgado:
Senator Elizabeth Warren wrote a letter to Amazon last week demanding that the company more stringently censor so-called COVID-19 "misinformation."

Warren (D-MA) wrote her letter on Sept. 7 to Amazon CEO Andy Jassy warning about the spread of "misinformation about COVID-19." She suggested Amazon enables misinformation by promoting books which the senator claimed contain "falsehoods about COVID-19 vaccines and cures," even going so far as including such books on the website's best-seller list. She accused Amazon of "an unethical, unacceptable, and potentially unlawful course of action."

Warren stated that when her staff searched the Amazon site with terms such as "COVID-19" and "vaccine," they discovered that books like The Truth About Covid-19: Exposing the Great Reset, Lockdowns, Vaccine Passports, and the New Normal were included in the top results. The book, written by Dr. Joseph Mercola, is listed as the #1 best-seller in both the "Censorship & Politics" and "Political Freedom" book categories.

The senator asked Amazon to prevent "misinformation" books from becoming best-sellers or showing as top results.
Salgado failed to tell her readers that Mercola is an indisputable quack and his book has been utterly discredited as, yes, misinformation. But because and the rest of the MRC she believes there's no objective definition of misinformation -- except, of couse, when non-conservatives do it -- a dangerous quack gets a pass.
Posted by Terry K. at 8:40 PM EDT