CNS Parrots GOP Congressman's Factually Deficient Claim About Waiting 'Months' For A Microwave
Topic: CNSNews.com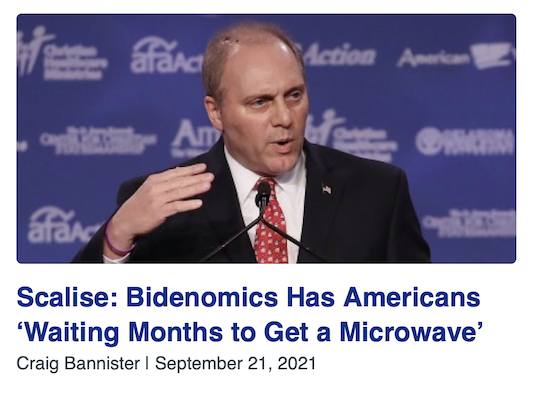 Craig Bannister gave a right-wing senator space to rant in a Sept. 21 article:
President Joe Biden's "$5 trillion tax-and-spend bill masquerading as an infrastructure bill" will worsen the rampant inflation he's already inflicting on American families, House GOP Whip Steve Scalise (R-La.) warned Tuesday.

Americans are already paying more for everything they're buying – even having to hold off for months before buying microwaves – Scalise said at a press event, explaining how Biden's plan to raise and create taxes will hurt low-income families:
Scalise did not offer any proof to back up his claim that microwave ovens are in such short supply that one must wait "months" to buy one, and Bannister clearly did not ask for any. In fact, while chip shortages and supply chain issues are affecting supplies many appliances, there's no evidence microwaves are particulartly affected -- or that anyone is being forced to wait "months" to buy one. Indeed, for instance, Walmart appears to have dozens of microwave models in stock and ready to ship.And neither Bannister nor Scalise identify how President Biden is supposed to fix this nonexistent problem.
This claim is simply too good to fact-check -- but applying simple logic causes to to crumble. Is that the way to run a "news" organization?
Posted by Terry K. at 4:54 PM EDT