MRC Suggests There Isn't Enough Anti-Abortion Violence
Topic: Media Research Center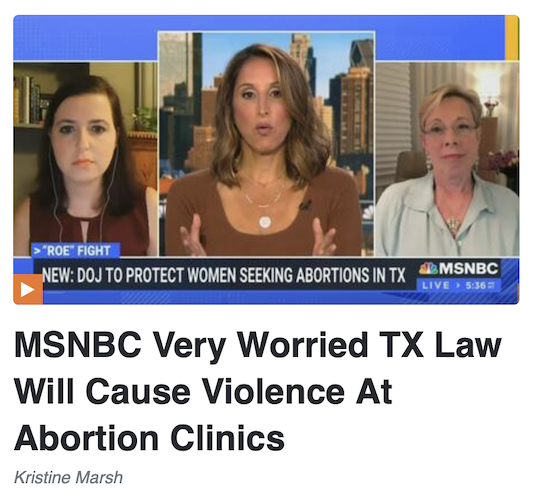 The Media Research Center's Kristine Marsh wrote in a Sept. 6 post:
In the mixed up world of far-left MSNBC, the real threat of violence at an abortion clinic is not from the doctor performing the gruesome killing, but from pro-life activists picketing or praying outside. During at least two shows on Monday, MSNBC hosts and guests had full blown meltdowns over Texas's new law restricting abortions and smeared pro-life activists as violent extremists terrorizing vulnerable women.

On Deadline:White House always rational host Nicolle Wallace whined like a teenager who just got grounded. "There are women in Texas today who feel like their lives are over," Wallace wailed. "I just think we can't lose sight in our political analysis of the daily hell now that is any woman who doesn't have this choice available to her," she moaned, adding that every woman is Texas is now "a victim."

Her guest, MSNBC legal analyst Matthew Miller, hailed the Department of Justice touting how they would not "tolerate violence" against anyone seeking an abortion in Texas. He insisted that this was a routine occurrence: "And it's important that the department said that because every time this issue is in the news, the threat of violence does unfortunately rise at clinics and the department has an obligation to police that."

This "threat" is overstated, to put it mildly. According to the pro-abortion National Abortion Federation's latest report, there have only been 11 people that have been killed in attacks at abortion clinics since 1977. Contrast that with the 600,000+ babies killed in abortion in this country, every year.
Marsh's comparison of the amount of people killed in "attacks at abortion clinics" -- note that she doesn't admit that anti-abortion protesters are responsible for those murders -- to "the 600,000+ babies killed in abortion in this country, every year" comes off as a challenge: She seems to be saying that her fellow anti-abortion zealots need to kill more "killers."
(Also, note how Marsh denigrated Wallace's concerns, claiming she "wailed," "moaned" and "whined like a teenager who just got grounded." That's highly unprofessional behavior and is not likely to make anyone take the MRC's "media criticism" serious.)
Lest you think we're exaggerating here, Marsh concludes by furthering the point: "The media is constantly trying to tarnish anyone on the right as a violent extremist, without any basis, while they ignore blatant violence from the left. Not to mention, the irony of worrying about violence outside a murder clinic is lost on them." First: Who does Marsh think killed those 11 people in "attacks at abortion clinics"? Second: By calling abortion clinics "murder clinics," she's making it clear there isn't nearly enough violence happening outside the clinics to providers and others. After all, if abortion is "murder," and conservatives believe murderers deserve the death penalty, there is no reason whatsoever to do what a person deems necessary to stop it, including murder. Life for a life, right?
Marsh didn't mention that her employer has been spending the past year and a half trying to tarnish anyone on the left as a "violent extremist," a Marxist or an member of Antifa simply for speaking out about police brutality and social justice.
In other words, Wallace's concerns seem quite valid. Marsh ably proved that.
Posted by Terry K. at 9:39 PM EDT