CNS Hypes Bishop's Attacks On Pelosi
Topic: CNSNews.com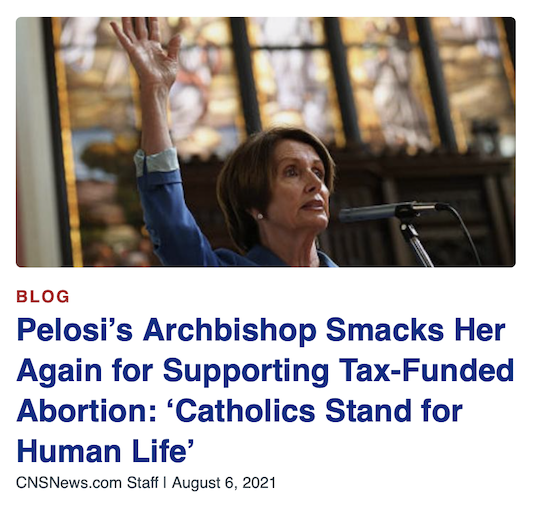 Part of the multi-pronged war CNSNews.com has waged against Nancy Pelosi is a holy war -- bashing her for being insufficiently Catholic because she won't support the outlawing of abortion. CNS has ramped things up by serving as a stenographer to the archbishop of her San Francisco diocese, dutifully repeating his partisan attacks on her. Editor Terry Jeffrey wrote in a July 23 article:
San Francisco Archbishop Salvatore Cordileone, whose archdiocese includes all of House Speaker Nancy Pelosi's congressional district, issued a statement on Thursday rebuking Pelosi for a statement she made at her press briefing that day explaining why she is pushing for federal funding of abortion.

At her briefing, Pelosi had an exchange with a reporter about the Labor, Health and Human Services, Education and Related Agencies appropriations bill for fiscal 2022 that is moving through the House and that, as the Appropriations Committee puts it, includes "repealing the discriminatory Hyde Amendment."

[...]

Later that day, Archbishop Cordileone put out a statement. It was headlined: "Statement of San Francisco Archbishop Salvatore J. Cordileone in response to House Speaker Nancy Pelosi defending efforts to permit federal funding of elective abortions."

"Let me repeat: no one can claim to be a devout Catholic and condone the killing of innocent human life, let alone have the government pay for it," said the archbishop.
An anonymously written Aug. 6 article hyped Cordileone's attacks again under the hype-laden headline "Pelosi's Archbishop Smacks Her Again for Supporting Tax-Funded Abortion: 'Catholics Stand for Human Life'":
Archbishop Salvatore J. Cordileone of San Francisco, who presides over the archdiocese where House Speaker Nancy Pelosi (D.-Calif.) lives, sent out a tweet on Sunday of a story in LifeNews.com that was headlined: "Nancy Pelosi Blocks Vote on Bill to Ban Taxpayer-Funded Abortions for the 55th< Time."

"The Hyde Amendment saved 2.4 million innocent babies," Archbishop Cordileone said in his tweet. "Catholics stand for human life and core human rights."
A Sept. 6 article -- also anonymously written -- started to sound repititious in parroting Cordileone again:
Catholic Archbishop Salvatore Cordileone of San Francisco, the diocese where House Speaker Nancy Pelosi (D.-Calif.) resides, published a commentary in the Washington Post on Sunday stating that you cannot be a good Catholic and support the killing of unborn children through abortion.

"You cannot be a good Catholic and support expanding a government-approved right to kill innocent human beings," said Cordileone. "The answer to crisis pregnancies is not violence but love, for both mother and child."

Cordileone specifically addressed the response of both Pelosi and President Biden—both of who profess to be Catholics—to Supreme Court's refusal to issue an injunction against a Texas law that bans the abortion of babies who have a detectable heartbeat.
CNS cranked up the biased attacks with a pair of Oct. 18 articles, both by managing editor Michael W. Chapman. The first hyped an anti-Pelosi prayer campaign the archbishop was promoting:
San Francisco Archbishop Salvatore Cordileone, who has repeatedly implored pro-abortion Catholic politicians, especially House Speaker Nancy Pelosi (D-Calif.), to accept the pro-life teaching of the Church, recently called on all Catholics to say some special prayers (and fast) every Friday for Pelosi to have a conversion of heart.

[...]

"Speaker Pelosi speaks fondly of her children," he added. "She clearly has a maternal heart. Pope Francis has called abortion murder, the equivalent of hiring a hitman to solve a problem. The solution to a woman in a crisis pregnancy is not violence but love."

"Please join me in praying the rosary and fasting for a conversion of Speaker Pelosi's maternal heart to embracing the goodness and dignity of human life not only after birth, but in the womb as well," said the archbishop.
The second promoted Cordileone saying that "While discussing his prayer and fasting for the conversion of House Speaker Nancy Pelosi," he called abotion a "Satanic practice."
This being a highly biased right-wing "news" outlet, CNS gave Pelosi no opportunity to respond to Cordileone's attacks. It did, however, publish a Sept. 23 article by Craig Bannister featuring Pelosi responding to the bishop:
House Speaker Nancy Pelosi (D-Calif.) said Thursday that she and San Francisco's archbishop "have a disagreement about who should decide this," when a reporter asked her to react to Archbishop Salvatore Cordileone's declaration that her abortion bill constitutes "child sacrifice."

"This proposed legislation is nothing short of child sacrifice," Archbishop Salvatore Cordileone said in a Tuesday statement regarding the Women's Health Protection Act (H.R. 3755).

[...]

Pelosi replied that "it's none of our business" to tell others they can't have abortions, that no one has the right to talk about the issue unless they've given birth – and that she and Archbishop Cordileone disagree about who should decide whether or not an unborn child is aborted:
Bannister featured several other anti-Pelosi quotes from Cordileone, even though none of the Cordileone-promoting articles permitted a rtesponse from Pelosi.
CNS' mission statement states that it will "fairly present all legitimate sides of a story." It has failed to do so yet again.
Posted by Terry K. at 12:19 AM EDT
Updated: Sunday, October 24, 2021 12:27 AM EDT