MRC Tries To Hype Minor Durham Indictment As A 'Massive Development'
Topic: Media Research Center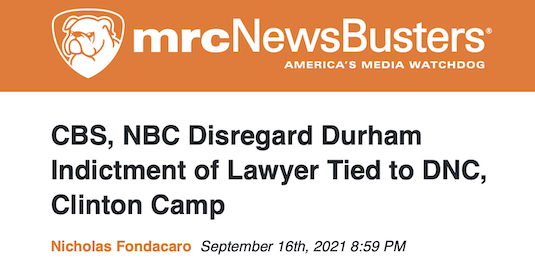 The Media Research Center's Nicholas Fondacaro hyperbolically declared in a Sept. 16 post:
On Thursday, Special Counsel John Durham convinced a grand jury to indict Michael Sussmann, a lawyer with deep ties to both the Democratic National Committee and the Clinton campaign. Sussmann was accused of providing the FBI with false information and lying to investigators about who he was working for. But despite this massive development, neither CBS nor NBC decided to give it airtime that evening, effectively obfuscating it from their viewers.

Instead of reporting on Durham's indictment of a second person accused of lying to trump up false connections between Russia and former President Trump, the CBS Evening News spent over two minutes (2:01) on a protest to support January 6 rioters (a protest that was two days away). NBC Nightly News didn't report on either the indictment or the protest.

CBS's omission was especially heinous considering their senior investigative correspondent, Catherine Herridge (formerly of Fox News), was all over the story on Twitter[,]
Fondacaro went on to gush that "Fox News Channel's Special Report was sure to drill down on the important details ABC omitted. In their over-three-minute (3:06) segment on the Durham indictment, correspondent David Spunt noted that Sussmann's involvement was hinted a year ago."
Because Fondacaro is so ideologically invested in building Sussmann's indictment on relatively minor charges into a "massive development" -- to the point of portraying notorioiusly biased Fox News as a voice of reason -- he's not going to tell you what other legal observers have said about it. One observer noted that "Durham struggles in the text of the indictment itself to explain why Sussman's lie mattered—which is important in a false statement case because the false statement's materiality is an element of the offense," and he points out that "the evidence that Sussmann lied at all is weak." He added that Durham's apparent mission to "pressure Sussmann to cooperate with a broader effort to prosecute Clinton-world operatives for an attempt to defraud the FBI on Trump-Russia matters" has two big flaws: that "digging dirt on political opponents and trying to interest law enforcement in that dirt is not presumptively a crime," and that "the Russia investigation in the main did not turn on these efforts or flow from them."
(Indeed, Tim Graham lashed out in his Sept. 20 podcast at CNN's Brian Stelter for making a similar argument: "Stelter complained the charge of false statements was just 'peripheral characters flubbing details.' He ignored that many of Robert Mueller's indictments were for false statements under oath.")
Fondacaro went on to complain that "Muir falsely claimed Durham was "appointed by former President Trump" when in reality it was then-Attorney General William Barr." But given the closeness at the time between Trump and Barr, isn't that a distinction without a difference?
When Durham did something else minor, Fondacaro ramped up his hype machine again in a Sept. 30 post:
On Thursday, Special Counsel John Durham made more moves in the investigation into the origin of the Russia collusion hoax. Again, the person in question is a tech executive with ties to Hillary Clinton, plus ties to the man charged with feeding the FBI false information about then-candidate Donald Trump having a secret server to communicate with Russia. Of course, this latest development went right into the newsroom wastebasket of the broadcast networks who ignored it that evening.

Only the highest priorities and news judgment from the liberal media were on full display Thursday evening.

Instead of covering how another person in the Clinton orbit was under the legal microscope, ABC's World News Tonight chose to try to boast about President Biden supposedly leading negotiations with his party to save his agenda. On CBS Evening News, they were busy touting how Biden would arrest and deport fewer illegal immigrants. Meanwhile, NBC Nightly News was hyping the lineup for the Super Bowl Half Time Show next February.

Then there was Fox News Channel's Special Report, where anchor Bret Baier made the story a priority.

Of course, Fondacaro isn't going totell you that Baier, like himself, "made the story a priority" because he's paid to push right-wing agendas and it might adversely afffect his job if he did not make his news report Trump-friendly and Hillary-hostile. Also, the story of a Trump Organization server linked to Russia's Alfa Bank is far from "false" as Fondacaro claimed; and the server mystery is far from settled.
But, again, Fondacaro is not a "media researcher" -- he's a right-wing shill who prioritizes manufacturing narratives over telling the truth.
His fellow co-worker Brad Wilmouth is as well, which is why he spent an Oct. 3 post touting how, "picking up on recent reporting by NewsBusters, Fox News host Laura Ingraham lambasted the liberal media for downplaying the most recent developments in the investigation of wrongdoing by those involved in the anti-Donald Trump Russia collusion probe." So a partisan organization constructing right-wing narratives is "reporting" now?
Posted by Terry K. at 9:54 PM EDT
Updated: Tuesday, October 19, 2021 10:05 PM EDT