Newsmax Touts Noem -- But Censored Affair Accusation
Topic: Newsmax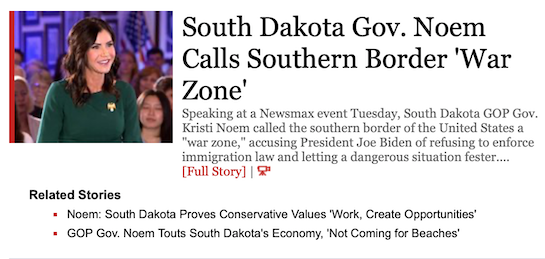 On Sept. 28, Newsmax partnered with the conservative Young America's Foundation at the Reagan Ranch in California, and the star speaker was Republican South Dakota Gov. Kristi Noem. Needless to say, it cranked out the coverage of her spinning right-wing talking points and self-promotion:
That was followed with an article the next day from a interview Noem did with Newsmax at the event, under the headline "Gov. Kristi Noem to Newsmax: COVID Shows 'Leadership Has Consequences'." The article didn't mention the most recent direct consequence of her "leadership" -- a surge in COVID cases in the state following the big motorcycle rally in Sturgis, S.D., the previous month. Noem even got a Sept. 29 article from Charlie McCarthy on how her administration "has applied for a special-use permit to hold fireworks at Mount Rushmore on the Fourth of July next year," though "The Biden administration denied Noem's permit request for fireworks in 2021."
One thing you won't read about at Newsmax, though: accusations of an extramarital affair she had with former Trump adviser Corey Lewandowski, for whome he had been an adviser. INteresting, the accusation came from a conservative website. Noem has denied the accusation, and she more definitively broke ties with Lewandowski a couple days after that accusation surfaced, when it was revealed he made sleazy sexual advances to the wife of a prominent Republican donor.
But you will read nothing at all about this at Newsmax.
It, did, however, note another burgeoning Noem scandal that erupted around the same time. Another excerpt from Newsmax's Noem interview with host Rob Schmitt, written by Eric Mack, allowed her to frame the scandal as a political attack by a "disgruntled" ex-employee:
Striking back at a report by The Associated Press claiming the daughter of South Dakota Gov. Kristi Noem received special treatment in receiving a real estate appraiser license, Noem dismissed the claim as baseless and a "political attack."

"The real story is that my daughter received no special treatment," Noem told Newsmax on Tuesday in an exclusive interview from the Ronald Reagan ranch outside Santa Barbara, California, which aired Wednesday on "Rob Schmitt Tonight."

"She did exactly what every other person did, applying and receiving an appraisers license in the state of South Dakota.

"This is another political attack."

[...]

"While they completely ignore Hunter Biden, they're going after my daughter," she lamented. President Joe Biden's son has been accused of influence peddling and questionable dealings with foreign governments.
This is the only mention of this scandal on the Newsmax website, which means it has censored later deveopments such as hiding mention of a meeting with a state employee in charge of issuing appraiser licenses in a video defending herself, the employee's subsequent claim she was forced to retire over the controversy and receiving a $200,000 payout to drop further action against the state, and blocking the release of documents regarding Noem's daughter's license.
Newsmax seems to be doing a fine job of covering for a potential 2024 Republican presidential candidate.
Posted by Terry K. at 7:35 PM EDT