WND's Root Predicted Calif. Election Fraud -- But Can't Prove Any Fraud Happened
Topic: WorldNetDaily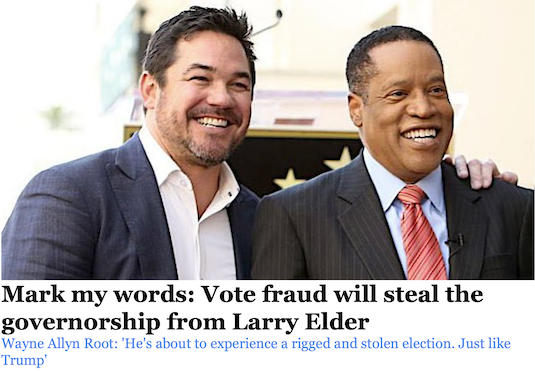 Wayne Allyn Root began his Sept. 13 WorldNetDaily column with a heavy dose of self-aggrandizement leading to a prediction:
Muhammad Ali once said, "It ain't bragging if you can back it up." So, I'm gonna brag. I've got the best track record of political predictions anywhere on radio or TV.

I talk three hours a day on the radio with my show, "Wayne Allyn Root: Raw & Unfiltered," on USA Radio Network. I also hosted 750 episodes of my own talk show for three years on Newsmax TV.

I've written literally thousands of newspaper columns and commentaries over the past decade. And I've written 14 books.

My 15th book comes out on Thursday: "The Great Patriot Protest & Boycott Book." My book gives away the hard-to-find contact info that will enable 80 million Trump voters to hound, protest and boycott the top 100-plus "woke" companies. With this book, if any company goes woke, we will make you go broke.

Altogether, I may be on the record publicly more than any political oddsmaker, analyst or host in America. I've made literally thousands of predictions. I'm batting at least .990. I've gotten maybe a half-dozen predictions wrong out of thousands.
Root didn't mention the fact that he lost his Newsmax gig for promoting scammy medicines that purportedly treat COVID. Anyway, back to his prediction:
So, here's my prediction for the California governor's recall election:

Gov. Gavin Newsom will be recalled, and Larry Elder will be the next governor of California. Except it won't matter. Because after all the massive Democratic vote fraud is factored in, Gavin Newsom will survive the recall and Larry Elder will lose.

[...]

How do I know? Let me count the ways.

irst, millions of people who have immigrated illegally are voting in California. When they get their driver's licenses at the Department of Motor Vehicles, they are automatically registered to vote. By law, no one is allowed to ask if they are a citizen. No one can ask for valid ID. Millions of such voters tip the scale for failed socialist Democrats in California. It's pretty simple – they vote for the party that won't deport them and will keep welfare checks coming from cradle to grave.

Second, California has sent out tens of millions of mail-in ballots. Just like the presidential election in 2020, there is no way to know who's who. There is no voter ID. There is no chain of custody. There is no signature verification. There is nothing but millions of fake ballots, signed with fake names.

Just one of my fans has received 16 ballots at his California home. He lives there with only his wife and two kids. Sorry Larry, Democrats and their flood of fake ballots will never allow you to win this one.

Third, California allows anyone to print out ballots on their home computer. That's pure insanity.

Fourth, California has ballot harvesting. Anyone can collect thousands of fake ballots, fill them out and hand them in. Democrats have perfected this art.

Lastly, the actual ballots were designed with a flaw. You must fold the ballot to mail it. Computers that scan the votes often auto-cancel the name checked on the fold. Guess whose name is on the fold out of 46 candidates? Larry Elder. What a coincidence. What a shocker!
If Root's prediction percentage is supposedly high, his average on repeating facts is much lower. Contrary to Root's assertions, voters were not required to fold the ballot any particular way, let alone a way that put Elder's name on the fold, a voter must have requested the ability to print a ballot at home at least seven days before the election (along with other safeguards to prevent fraud), and there have been no major issues with fraud in previous California elections where mail-in ballots have been used.
Root concluded by huffing: "So, I'm rooting for you Larry. I know you'd make a great governor. But sadly, I know it won't matter. The election is rigged. Your governorship will be stolen, just as Trump's presidency was stolen."
But then an interesting thing happened: nothing.Despite his love of spreading misinformation about about the presidential election to back up his claim that "Trump's presidency was stolen," Root has yet to offer any proof that the election was "stolen" from Elder. In his Sept. 20 column, he simply rehashed his earlier claims: "Exhibit A is the California recall election that just ended last week. It was rigged from the get-go. Larry Elder never had a chance. California Democrats just conducted a test run of the expanded plan. It worked to perfection." He offered no evidence to back it up. His columns on Sept. 27, Oct. 4 and Oct. 11 were all silent on the election.
Meanwhile, in the real world, there were few issues with the election, and even Elder gracefully accepted his decisive loss.
If Root can't come up with any actual evidence of election fraud, he will have to recalculated his prediction rate to lower it.
Posted by Terry K. at 3:07 PM EDT