CNS Columnist Is A Catholic Priest, But He Sounds Like A Right-Wing Activist
Topic: CNSNews.com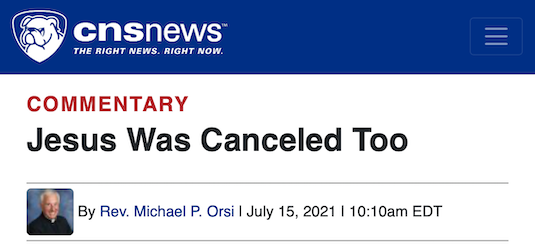 We've noted one instance in which CNSNews.com columnist Rev. Michael P. Orsi comes off as a right-wing polemicist instead of the Catholic priest he is supposed to be. There are more, such as a July 15 column headlined "Jesus Was Canceled too":
Our society is coming to resemble the world through which Jesus walked in many uncomfortable ways. We have an intellectual elite, including educators, media, and literary types, whose "correct thinking" and "settled science" are every bit as rigid as how the Scribes and Pharisees interpreted the Torah.

We have our masters of industry and technology who are as singularly focused on protecting their business interests as the Priests and Levites guarded the prerogatives of the Temple.

We have politicians and their operatives who are as obsessed with enlarging their sphere of control and protecting their power as were the Roman occupiers of biblical Palestine.

We even have our equivalents to the Zealots in today's various radical groups. Their devotion to transforming society is every bit as fanatical as that of those biblical revolutionaries.
Of course, he sees "cancel culture" as coming from the "progressive left," not from his fellow right-wingers.
In a July 23 column, Orsi managed to portraying critical race theory and questions of gender identity -- and, effectively merely not beoing heterosexual -- as thte work of Marxism:
The primary way in which Marxism operates is by co-opting, in a distorted manner, Judeo-Christian religious/political precepts. So, for instance, social justice is interpreted in the communist worldview not as human dignity, freedom, and equality before the law, but as redistribution of wealth, class warfare, and ongoing conflict between races and ethnic groups (as in critical race theory). These days, any aberrant forms of gender identity and sexual expression also seem to fall under the social justice label.

The religious root of this Marxist worldview is the assumption that humanity has nothing to do with the image and likeness of God, but rather is merely part of the material world. Therefore human beings can be reshaped in any way that suits current desires, attitudes, or expectations.
Orsi's Aug. 19 column appeased anti-vaxxer sentiments, arguing a right and duty to reject a COVID-19 vaccne because "It's your body, and you have the right to refuse accepting any chemical substance to which you object morally, or which you fear might injure or even kill you," adding tyhat "I have come to believe that there would be grounds for a faith challenge to an employer mandate." He went on to argue that "if the demands are reasonable, then they are appropriate, if only to ease any discomfort which others might feel at being in close proximity to an unvaccinated person," but then declared: "If you should find yourself under pressure to be vaccinated, I would suggest you contact the Pacific Justice Institute. Based in Sacramento, Calif. with other offices around the country, PJI could provide legal guidance and assistance in securing a religious exemption."
Orsi spent his Sept. 1 column trying to turn a right-wing rant about the less-than=smooth withdrawal into a call for "conversion":
Finally, what is the American Way at this point in our history? Surely not this.

Can we ever get back to some understanding of our country as place where there's a commitment to the rule of law and the biblical principles on which it was founded, as well as loyalty to those who have sacrificed on our behalf, and (at the very least) an intention to treat people fairly?

Will we ever again be a land Superman would have recognized?

It would take a lot. We've got quite a bit of lost ground to recover. Two small indicators: a recent commentary in The New York Times proclaiming "a more secular America" and a newly appointed chief chaplain of Harvard University who is a self-identified atheist.

Think of it. Our secular nation with a Harvard atheist chief chaplain has just experienced one of the most shameful failures in its history.

What is left for us to do?

Well, we can do what we've always done in moments of crisis. We can pray. And that's no small thing. It's brought us through conflict and national self-doubt before.

Pray for those we've left behind. Pray for the tortured people of Afghanistan, who are now reliving the nightmare from which they thought they had awakened.

Pray for repentance and conversion — for our own personal sins, for the sins of our leaders, for the sins of the nation. In fact, declaring a national day of repentance and conversion might be a timely idea.
Shades of Joseph Farah! Orsi doesn't say if he will ask for repentence for his eagerness to use his religious pulpit as a political soapbox.
Orsi started a Sept. 14 column reflecting on the 20th anniversary of 9/11, but eventually turned it into a rant that vaccine mandates are satanic:
In his recent address, Biden insisted that forcing people into vaccination "is not about freedom or personal choice. It's about protecting yourself and those around you — the people you work with, the people you care about, the people you love."

But this is not true. The issue is precisely about personal freedom and choice, the freedom to choose what we will accept into our bodies, a freedom protected by the Constitution, a freedom acknowledged and defended by the Church.

The government does not own our bodies. They are given us by God to use in glorifying him. We are not to be coerced or pressured into compromising them.

Biden's forced vaccine initiative contradicts this truth. As such, it's a violation of human dignity. And no amount of syrupy, guilt-laden appeals to conscience, to protecting "people you love," can mask the fact that it, too, is deception.

Such things are the work of the Father of Lies, the Prince of Darkness.
Yeah, he went there. How many people will die of COVID because of Orsi's extreme rhetoric?
Posted by Terry K. at 12:45 AM EDT
Updated: Saturday, February 5, 2022 1:16 AM EST