MRC Remains Weirdly Obsessed With Leana Wen's Former Job
Topic: Media Research Center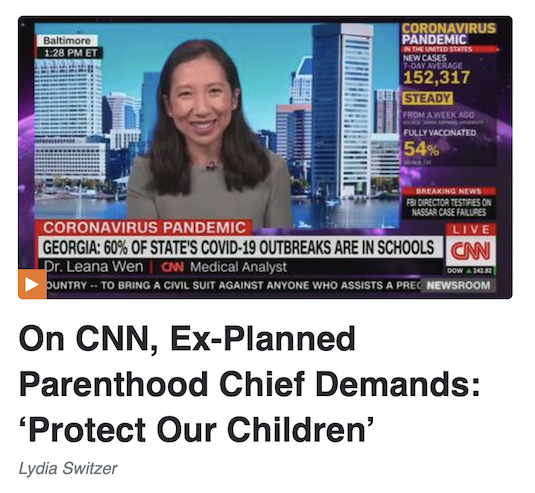 We noted last year how the Media Research Center has had a weird obsession with Dr. Leana Wen appearing on TV to discuss the coronavirus, raging that she wasn't being identified as the former president of Planned Parenthood -- despite that having no relevance to discussions of coronavirus and despite the fact that she held the position for only nine months. That never really stopped.
In April 2020, Curtis Houck did a follow-up on an earlier post ranting about the lack of mention ofWen's onetime affiliation with Planned Parenthood:
Throughout the coronavirus pandemic, CNN has shown perhaps the strongest inability to shy away from framing the pandemic through the lens of attacking President Trump and implicitly placing blame at his feet for the deaths of Americans.

Another tic has been their continued refusal to be honest with viewers about how frequent guest Dr. Leana Wen was a former president of Planned Parenthood. Since our first post the Media Research Center kept tabs on Wen's appearances and calculated her total airtime from March 2-April 2 as 150 minutes and 27 seconds across 44 appearances as a guest or soundbite.

[...]

CNN instead stuck to its usual script identifying Wen as either an "emergency room physician," "former Health Commissioner for the City of Baltimore." It was an intriguing choice of words for someone who also led an organization (albeit briefly) that aborted over 345,000 unborn children in fiscal year 2018.
As before, Houck didn't explain the relevance of identifying Wen as a former Planned Parenthood official when it has nothing to do with the subject of her TV appearances, despite asserting that CNN was exhibiting "no ethics" in not doing so.
But it didn't stop there:
Tim Graham devoted an entire July 30 post to whining that Wen promoting her new book didn't bring it up:
CNN medical analyst Dr. Leana Wen had a short and stormy tenure at top of Planned Parenthood, but CNN avoids mentioning it like the plague. They are not alone. Wen is now selling a new memoir called Lifelines: A Doctor's Journey in the Fight for Public Health, and the book information on Amazon doesn't include it.

On Tuesday, NPR's talk show Fresh Air interviewed Dr. Wen for 36 minutes (more than 6,300 words in the transcript, according to the Nexis data-retrieval system). Nowhere in there was the slightest whisper of her presidency of Planned Parenthood. NPR host Terry Gross read her bio four times, but it never came up.
Lydia Switzer turned a Sept. 16 post into an anti-Wen screed, ranting that she was a baby-killer who wants to keep children safe from COVID:
On Wednesday, CNN actually had the audacity to bring on the former president of Planned Parenthood to demand that public officials "protect our children" by backing draconian COVID regulations being pushed by the Biden administration. In the 1:00 p.m. ET hour, Newsroom host Ana Cabrera referenced the total COVID death count, noting that 1 in 500 Americans have died from COVID. She then brought on Dr. Leana Wen and Dr. Jeremy Faust to discuss.

Dr. Wen, who Cabrera introduced as "CNN medical analyst and former Baltimore health commissioner," was the president/CEO of Planned Parenthood from October 2018 through July 2019. During the 2018-2019 business year, according to their own annual report, Planned Parenthood facilitated 354,871 "abortion procedures," or, to be less euphemistic, killed 354,871 babies.

[...]

The irony of a former leader of Planned Parenthood, America's leading baby-killing regime, claiming to stand up for the health and well-being of children, is apparently lost on CNN. In fact, Wen's position at CNN as a medical analyst is disturbing, given her track record of violating the Hippocratic Oath. She has done inconceivable harm to hundreds of thousands of babies, along with their mothers – but CNN is perfectly fine with letting her accuse schools and viewers of not taking sufficient care of their own children.
So how does Switzer justify being anti-abortion while opposing any efforts to make them safe from COVID? She doesn't say -- that irony is apparently lost on her.
Posted by Terry K. at 10:11 AM EDT
Updated: Sunday, October 10, 2021 5:13 PM EDT