CNS Promotes Sheriff's Wild Anti-Vaccine Rant
Topic: CNSNews.com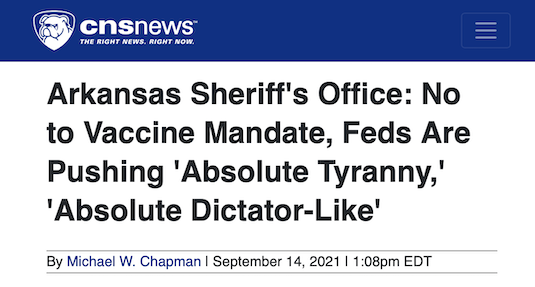 CNSNews.com managing editor Michael W. Chapman touted in a Sept. 14 article:
Arkansas Sheriff Chris Brown, head of the Cleburne County Sheriff's Office, issued a statement on Sept. 10 declaring that his office "will not mandate the COVID vaccine" for its employees. He also stressed that he was "appalled" by some of the "absolute dictator-like things we are seeing from the Federal Government."

"I am appalled at some of the absolute dictator-like things we are seeing from the Federal Government, and several of the State Governments," wrote Sheriff Brown. "It is absolute tyranny, and completely abhorrent."

"It flies in the face of everything our country has always stood for, and is only furthering the damage and division done to the people of this wonderful nation," he said.

"I am not pro-vaccine, and I am not anti-vaccine," said Brown. "I am pro-freedom, and I am for each person's ability and responsibility to decide for themselves (in conjunction with their doctor) whether or not to get the vaccine."
Chapman didn't mention, however, that Cleburne County has a low vaccination rate and a very high risk of its residents catching COVID -- which makes Brown irresponsible for refusing to do what he can to boost public health and safety in his county, which is supposed to be part of his job. (Also, if you are not pro-vaccine, it makes you effectively anti-vaccine.) It also makes Chapman irresponsible for hiding relevant facts that would demonstrate Brown's irresponsibility.
In other words, neither of these people are very good at their respective jobs.
Posted by Terry K. at 5:34 PM EDT