Fake News: WND Falsely Portrays Afghan Copter Photo
Topic: WorldNetDaily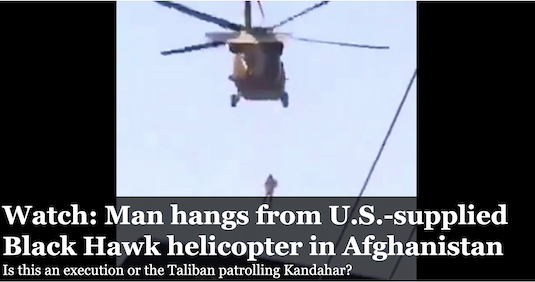 Joe Kovacs excitedly wrote in an Aug. 30 WorldNetDaily article:
Video emerged Monday showing a man hanging from a U.S.-supplied helicopter during what is being called an aerial "patrol" of Kandahar, Afghanistan.

The footage shared by the Talib Times, which calls itself the "English language official account of Islamic Emirate Afghanistan," shows the person dangling from what's thought to be a UH-60 Black Hawk chopper.

[...]

The reason for the man hanging was unclear, but the Right Scoop site suggested it may have been a gruesome, public execution.

"I can't imagine this could be anything other than a public execution by the Taliban," its report stated. "Why else would you hang a man from a helicopter like this? But I'm open to suggestions otherwise."

The unverified video was shared just one day before the remaining American troops were expected to exit Afghanistan.

Some online commenters noted:

"You folks just don't get it. The Taliban is in the White House. Taliban Treasonist Joe Biden! Wake up, this is no mistake but by design."
"Just wait till they start tossing their enemies out of the C130s we left them."
"I like how Talib Times Twitter account uses same logo as NBC. LOL."
In fact, as
actual
news
outlets
and
fact
-
checkers
reportted, the man hanging from the copter was wearing a harness, and he was trying to fix a flag on a building.
Kovacs simply chose to ran with a right-wing meme without bothering to fact-check first. Even though the Right Scoop story he cited eventually updated its post to note that a man was not being hanged, Kovacs couldn't be bothered to update his story with the truth.
That embrace of fake news is yet another reason why WND continues to circle the drain and perhaps doesn't deserve to live.
Posted by Terry K. at 4:38 PM EDT