CNS Can't Stop Promoting Boebert, Hiding Her Extremism
Topic: CNSNews.com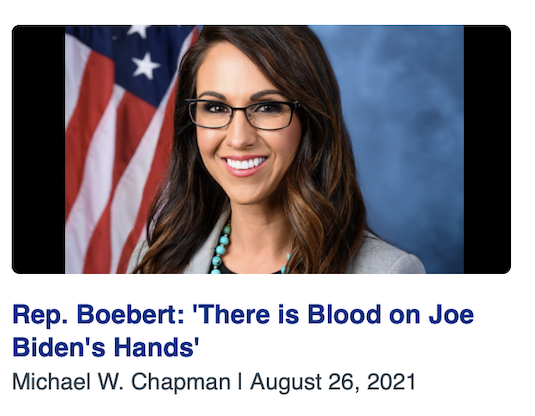 Lauren Boebert is one of CNSNews.com's favorite members of Congress -- though it has to hide her extremism in order to treat her as a normal politician. The gushing has unsurprisingly continued. Melanie Arter touted in an Aug. 13 article:
Rep. Lauren Boebert (R-Colo.) said Friday that she has introduced a resolution to censure President Joe Biden for his handling of the border crisis, and she supports her colleague Rep. Andy Biggs' (R-Ariz.) efforts to impeach DHS Secretary Alejandro Mayorkas.

"In my censure resolution that I introduced to censure President Biden for his dereliction of duty to secure the southern border, I called for the removal of Secretary Mayorkas, and I certainly support Chairman of the Freedom Caucus Andy Biggs' efforts to impeach Secretary Mayorkas," the congresswoman said told Fox News's "Mornings with Maria Bartiromo."
Managing editor Michael W. Chapman followed on Aug. 26:
In the wake of the bombing at the Kabul airport in Afghanistan that killed at least 12 U.S. soldiers and an unconfirmed number of civilians, House Rep. Lauren Boebert (R-Colo.) said President Joe Biden has blood on his hands for failing to competently plan and execute the withdrawal from Afghanistan.

"There is blood on Joe Biden's hands," she tweeted today.
While CNS was serving as Boebert's press office, here's what it didn't report:
But that's not news at CNS. Hating on Biden is, and it doesn't hare how extreme or marginalized the right-winger attacking him is.
Posted by Terry K. at 1:53 AM EDT
Updated: Thursday, September 23, 2021 12:57 PM EDT