Newsmax Pushes Martyr Narrative For Capitol Rioter Who Was Killed
Topic: Newsmax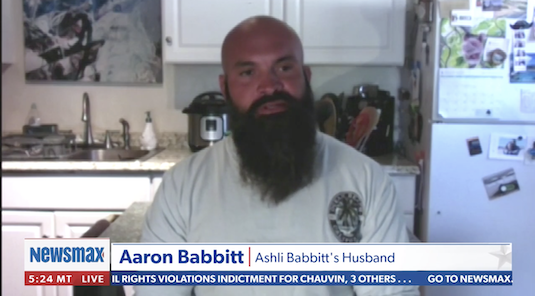 Newsmax has embraced the narrative that Jan. 6 Capitol rioter Ashli Babbitt is a martyr of some kind because she was shot to death by a police officer, even though she was arguably a domestic terrorist who was in the midst of committing a crime when she was shot -- with a big assist from her husband.
After authorities announced in April that the officer who shot Babbitt would not be prosecuted, Newsmax had on Babbitt's widower, Aaron Babbitt, to complain: "They're just lambasting her on social media and mainstream news. You know the term 'insurrectionist' keeps getting throwing around, 'rioter.' To me, she was just a blue-collar American veteran who wanted her voice to be heard and nobody was listening." He was also given a platform to tout the lawsuit he planned to file over her death. No mention, of course, of the fact that Ashli was a QAnon supporter and conspiracy theorist, which would seem to run counter to Aaron's description of her as someone who "loved talking to people with opposing views."
Indeed, the next month, an article by Fran Beyer touted the lawsuit Aaron Babbitt was planning to file "demanding accountability for her slaying," followed by an article in early June on the actual filing of the lawsuit.
Also in June, an article by Jeffrey Rodack touted Aaron Babbitt's demand that the name of the officer who shot Ashli be released, quoting him unironically stating: "It sickens me to hear what people say about Ashli. There has never been a person Ashli ran across in her daily life that didn't love her and wouldn't remember her in some way, shape, or form for the rest of her life," he said. "But this is the game. This is the social media craziness that people just run with a theory and just take off with it."
Later that month, Newsmax TV had on Aaron Babbitt again, and he was allowed to whitewash her again: ""If any of these people ever had the opportunity to be my wife, they fall in love with her, ... She was just a gem to be around. She was a beautiful person. She was an amazing patriot. She served her country from the age of 17. She did four tours overseas, you know, and I haven't mentioned this before, but she was scheduled for a fifth. So these people that are demonizing her from you know, the left and wherever else, they had no problem seeing her in the war four times, almost five, you know, and now they just wanted to demean her and kick her down and it's sad, it's disgustingly sad."
Newsmax touted how other right-wing activists got on the martyrdom bandwagon. Sandy Fitzgerald wrote in an Aug. 5 article:
Details about the shooting death of Air Force veteran Ashli Babbitt at the Capitol on Jan. 6 are being withheld to keep her killing from distracting from the Democrats' political agenda to use the events of that day to "attack their political opposition," according to Tom Fitton, the president of Judicial Watch, which has filed a lawsuit seeking information on her death.

"There's no law enforcement reason for the delay," Fitton told Newsmax's "Wake Up America" Thursday, later adding that "we know what the delay was. We know what happened to him (in) that period of time, which was the crazed impeachment of President (Donald) Trump."
Fotton, of course, offered no evidence to back up his claim. The same day, Fitton appeared on Newsmax again to talk about this.
Meanwhile, on July 1, Beyer declared that "Former President Donald Trump is looking for accountability" in Babbitt's death; in an Aug. 12 article, Charlie McCarthy hyped Trump's demand that "there must be justice" for Babbitt. Neither article, however, mentioned the inconvenient fact that Trump played a major role in instigating the riot that got Babbitt killed. A July 12 article by Eric Mack, meanwhile, promoted Rudy Guiliani's conspiracy theory (stated on Newsmax, of course) that the investigation into Babbitt's death was "completely phony" and that there is somehow a "whole plot behind" a video of Babbitt being shot was "taken by an Antifa member."
On Aug. 6, McCarthy touted another lawsuit Aaron Babbitt was planning, a wrongful-death suit against the Capitol Police and the then-unidentified officer who shot her.
An anonymously written Aug. 20 article on the officer's formal exoneration in Babbitt's death touted how "Trump has aligned himself with Babbitt and her family, urging justice in her shooting death" and complained that "Democrats have characterized those who breached the Capitol as intent on damaging democracy and obstructing the peaceful transfer of power." nWhen it was announced that the officer who shot Babbitt would reveal himself, Sandy Fitzgerald wrote on Aug. 25 that "The identity of the man who shot Babbitt has been demanded not only by her survivors but by Republicans including former President Donald Trump, who has characterized her death as murder."
After the NBC interview in which the Capitol Police officer Michael Byrd discussed the events that led up to Babbitt's death, Newsmax was not in a police-supporting mood. Newsmax had on Aaron Babbitt again to attack an officer doing his job and to sound like a right-wing Newsmax guest:
"He was complaining that he's getting threats. Join the club, bud," Babbitt told Thursday's "Greg Kelly Reports." "I've been getting them since Jan. 7, and the only thing I did on Jan. 6 was become a widower, and I've had death threats and the most hateful crap thrown at me every single day, sometimes five or 10 a day, so I don't have sympathy in that aspect."

Byrd's name was long held from being revealed as the officer who fatally shot Ashli Babbitt on Jan. 6, but Aaron Babbitt said the interview might have tried to be a distraction for Democrats and President Joe Biden.

"I had my suspicions when it first came out that it was possibly going to be a distraction from the dumpster fire going off in Afghanistan right now, but it seems like ISIS said 'hold my beer' on that one," Babbitt said, turning his sympathy to more than a dozen U.S. service members killed Thursday morning in Kabul.
Michael Dorstewitz devoted an Aug. 28 column to attacking Byrd as well -- demanding a show trial against him -- as whitewashing not only Ashli Babbitt but the entire Capitol riot:
Despite her stature (described as 5'2" and 125 pounds soaking wet) and the fact that she was unarmed (as were all the protesters) he believed that his actions were heroic.

"I know that day I saved countless lives," Byrd said. "I know members of Congress, as well as my fellow officers and staff, were in jeopardy and in serious danger. And that's my job."

There's no question but that he was frightened. Most people would be under those circumstances. But Babbitt clearly didn't even know Byrd was there. Had she known a gun was trained on her, it's doubtful that she would have taken another step.

[...]

Despite claims from Democrats and media that it was an "insurrection," the FBI found little evidence to indicate that the attack on the Capitol was coordinated.

"Insurrection" is defined as "an organized attempt by a group of people to defeat their government and take control of their country, usually by violence."

Accordingly, it was no insurrection. It was disturbing, it was frightening, and yes, it was wrong. But it was also "Ted Mack's Amateur Hour" — or in this case, three hours.

Any other officer working for any other agency under similar circumstances would have been indicted by now, and have been given a public trial.

[...]

Byrd shouldn't be given special treatment just because he works for Nancy Pelosi.
Actually, the Capitol police do not work for Pelosi
McCarthy returned on Sept. 16 to note that Aaron Babbitt "has requested there be no violence" at a Sept. 18 gathering of extremists purporting to "show support for people arrested after the Jan. 6 attack."
Posted by Terry K. at 9:04 PM EDT
Updated: Wednesday, September 22, 2021 11:09 PM EDT