CNS Is Mad COVID Vaccine Got Approved Because It May Lead To Mandates
Topic: CNSNews.com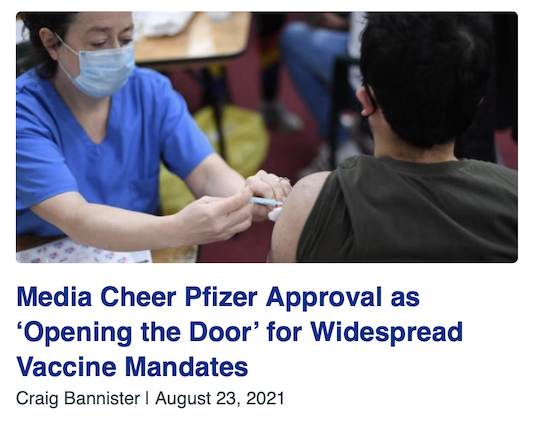 Only a highly biased "news" organization like CNSNews.com could see the unambiguously good news that a COVID vaccine received official approval as a bad thing. And that's exactly what Craig Bannister does in an Aug. 23 article:
On Monday, the FDA gave its stamp of approval to Pfizer's COVID vaccine – a move cheered by liberal media outlets as "opening the door" and "paving the way" for the government to issue a host of vaccine mandates.

The FDA approval is will make it easier for companies and universities to issue mandates, in addition to those imposed by the Biden Administration, the Associated Press reports:

[...]

Other media outlets with quick to produce headlines announcing that the FDA approval of the Pfizer vaccine ensures that a range of new mandates are coming:

CNN: FDA grants full approval to Pfizer/BioNTech Covid-19 vaccine, opening door to more vaccine mandates
Politico: FDA approves Pfizer-BioNTech vaccine, making way for more vaccine mandates
USA Today: Pfizer's COVID-19 vaccine becomes first to win FDA's full approval, paving way for boosters, mandates
Barron's: FDA Fully Approves Pfizer Vaccine, Opening the Door for Widespread Mandates

"Experts praised the decision, saying approval could help ease some vaccine hesitancy and pave the way for more vaccination mandates," NBC News reported.

"Pfizer's full and formal approval will now pave the way for further vaccine mandates in both the public and private sector, akin to existing vaccine mandates for other FDA-approved vaccines," ABC News agreed.
Bannister made sure not to mention that the Pfizer vaccine was among the vaccines developed with help from the Trump administration. That would have interfered with the right-wing agenda-pushing against vaccine mandates that he was pushing.
Posted by Terry K. at 3:53 PM EDT