WND Lets Ex-Reporter Push Claim That Pandemic Is Just A Big Propaganda Psyop
Topic: WorldNetDaily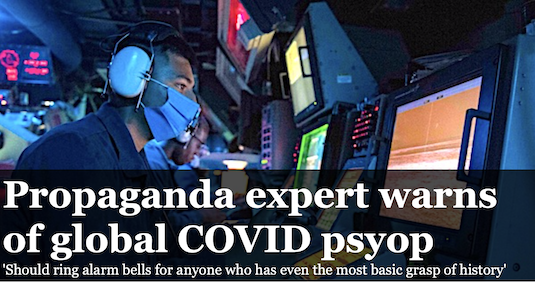 In July, WorldNetDaily allowed former reporter Leo Hohmann -- best known around these parts for bhating Muslims and for forcing WND to stealth-edit articles he wrote to remove claims in which he falsely accused yogurt maker Chobani of importing Muslim immigrants to work at a manufacturing plant in Idaho -- to return for the purpose of spreading misinformation about COVID vaccines. WND gave him another shot at misleading its readers in an Aug. 11 article, and he went full conspiracy theory.
Any student of military history will tell you: Wars don't just happen.

They are always foreshadowed by a propaganda operation intended to soften up the target, wear people down, weaken their resolve to fight.

Like any halfway decent misleader, Hohmann began by pumping up the credentials of the person he was invoking to help him mislead:

The most successful operations come down to this simple strategy: Identify your enemy, segregate, isolate, then annihilate.

Piers Robinson, co-director of the Organization for Propaganda Studies, is an internationally recognized expert on propaganda, but not just any propaganda.

His focus is on conflict and war and the role of propaganda within that framework. He is also an associate researcher with the Working Group on Propaganda and the 9/11 "War on Terror" and has served as an advisor to NATO leaders.

From 2016 to 2019, Professor Robinson chaired the department of politics, society and political journalism at the University of Sheffield.
That led to Robinson'swild claim that the entire COVID-19 pandemic has been one big propganda psyop:
"COVID-19 is probably one of the biggest propaganda operations we've seen in history because of the global nature and the resources put into it," Robinson said. "It was pretty clear from the beginning that propaganda was being employed."

In the U.S., one of the main spigots of propaganda has been Dr. Anthony Fauci and the media's elevation of him to god-like status, hanging on his every word and never pressing him to provide data to back up his constantly swerving pronouncements. Every Western government has its version of Fauci, spouting ever-changing, confusing information meant to keep the population off balance, afraid and confused.

A fearful, dazed and weary public is less able to resist the dizzying array of draconian policies coming from governments, from facemask rules and incessant testing to quarantines of the healthy and mandatory mass vaccinations.

In his latest effort to prepare Americans for even greater medical tyranny, Fauci went on national TV Aug. 8 and said "a flood" of new COVID vaccine mandates are coming down the pike as soon as the shots get FDA approval, which he expects to happen as soon as next month.

[...]

Fauci has continually frightened the American public for 18 months, wearing everyone down with a steady diet of propaganda.

Which brings the subject back to Robinson, who has decades of studies under his belt in the art of propaganda in war time.

Robinson documents how the British government sought expert advice from behavioral psychologists on how to use the media to manipulate public opinion by ratcheting up the level of fear surrounding the COVID pandemic.
Unsurprisingly, this leads to Hohmann spreading more COVID misinformation:
Blaming the unvaccinated for continued flare ups of the pandemic is everywhere.

"This should ring alarm bells for anyone who has even the most basic grasp of history. You start to talk about segregation, you start to talk about people who are unclean, unhealthy, unvaccinated versus vaccinated," Robinson said.

None of these policies is based on scientific data.

"All of the level-headed epidemiologists that I listen to are very clear that this idea that the unvaccinated spread the virus is not accurate scientifically, but that is the kind of message which is being communicated by people who have been pushing the agenda from the beginning," Robinson said. "And that will create divisions, and we've been in this kind of place in history and it ends very badly when we start segregating people and we start using that language. But, quite terrifyingly, this is the language which is being used by the people who have been pushing draconian restrictions, vaccines, for the last two years."
In fact, unvaccinated people not only spread the virus, they make it more likely for more virus mutations and variants to happen -- making the pandemic even harder to control -- and the unvaccinated are more likely to be affected more severely if they catch the virus. Robinson went on to whine:
"Very credible, eminent scientists, are now being smeared in the media because of their anti-lockdown views or for questioning the Covid vaccines. The casual smearing is certainly a big part of what's going on. This should be another warning sign to those who think everything is OK and there are no problems out there. People should ask themselves, why are very eminent scientists from the beginning [like Dr. Peter McCullough and Dr. Robert Malone] being smeared and being censored and shut down and shut out from debates? That tells you something. That tells you this isn't a rational response that's going on. This is a propagandized response. And it's being carried through by shutting people up, by humiliating them, smearing them and so on."
In fact, both McCullough and Malone have been caught pushing lies and misinformation about COVID vaccines.
By the end of his article, Hohmann and Robinson were throwing in other conspiratorial tangents into their argument:
"All the alarm bells are ringing with anyone who has a knowledge of history, and a knowledge of propaganda, how governments don't always operate in the best interests of their populations. All the alarm bells are ringing, and we are in extremely dangerous times, unfortunately, and very worrying for the future."
So what is the end game?

"There are some great investigative journalists out there, who have reported on the World Economic Forum and the idea that the end game is a restructuring of society which involves more control over individuals and their lives by the state," Robinson said.

"There are many theories out there. But one thing is clear; this all seems to be driving toward a real end to proper freedom. If you have a vaccination passport which you need to get into your supermarket, you're not actually free anymore."

Digital currencies are another thing that seems to be in the offing.

"This gives a tremendous shift in power to governments," he said. "This is all pretty anti-democratic. If you think democracy and freedom are generally good things, and I'm one of them who does, this is all extremely concerning.

"We are at a pivotal moment…it could go either way. That's why people must mobilize and realize something is wrong beyond COVID-19."

As for the QR codes on the vaccine passports, "we should have all learned a lesson after 9/11, with the Patriot Act, surveillance, monitoring everything, and governments, if they can get away with it, will exploit all of this."

Seeing the writing on the wall, some resisters are already talking about buying swaths of land and forming self-supporting communities that exist off the grid.

"Hopefully," Robinson mused, "it isn't coming to that."
Hohmann didn't mention that Robinson has a record of failure. When the pandemic first started, Robinson falsely insisted that it was a "low fatality virus" no different than the flu. He has also been accused of serving as an apologist for unsavory leaders like Russia's Vladimir Putin and Syria's Bashar al-Assad.
In other words, exactly the kind of shoddy source you'd expect Hohmann and WND to promote.
Posted by Terry K. at 3:03 PM EDT