CNS' Hateful Pride Month Meltdown
Topic: CNSNews.com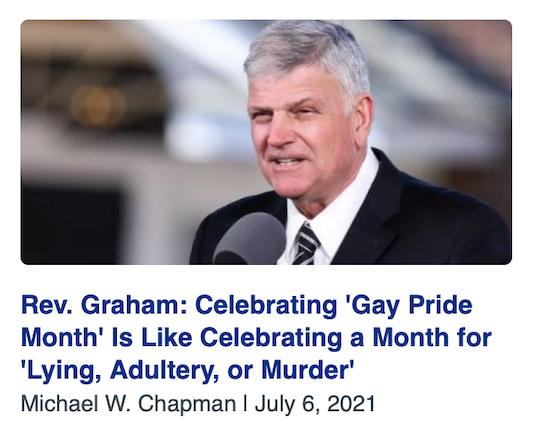 CNSNews.com led up to Pride Month by freaking out over plastic bricks and cereal. The rest of its Pride Month content was unsurpisingly just as anti-LGBT.
A June 1 post by Julie Johnson complained that "The U.S. Embassy to The Holy See (the Vatican), tweeted a photo of its building draped with a large gay-rainbow flag on Tuesday, the beginning of Gay Pride Month," making sure to add that "The Catholic Church teaches that homosexual acts – not the same-sex inclination – are 'intrinsically disordered.'" This was followed the next day with an anonymously written article grumbing that "House Speaker Nancy Pelosi (D.-Calif.) put out a statement on Tuesday—the beginning of LGBTQ Pride Month—to express her commitment to serving the LGBTQ community in the United States."
Johnson returned on June 7 to cheer that "A Pentagon spokesperson told reporters on Friday that they will not allow any 'unofficial flags,' including the Pride month rainbow flag, to be displayed on military installations in the month of June or any month thereafter. This is in keeping with a July 2020 policy regarding the display of any such flag." The same day, she groused that "GOP Chairwoman Ronna McDaniel sent a tweet wishing everyone a 'Happy #PrideMonth!'" adding that "The tweet was criticized by both the political right and the political left." A June 16 column by Star Parker complained about McDaniel's Pride Month tweet, declaring that it meant "she essentially waved a white flag, declaring Republican Party neutrality on a key issue of our cultural conflicts."
CNS saved its really hateful stuff for the end of the month, though. Craig Bannister huffed in a June 28 article:
In a video celebrating Pride Month, the National Football League (NFL) declares that football is all things LGBTQ.

On Monday, the NFL posted a video to its official Twitter page proclaiming in capital letters that "FOOTBALL IS," among other things:

"GAY"
"LESBIAN"
"BEAUTIFUL"
"QUEER"
"TRANSGENDER"
"BISEXUAL"
Bannister further complained taht the NFL invited people "to visit the website of a charity supported by the league's first openly-gay active player, Carl Nassib."
On June 29, Elizabeth Nieshalla was outraged that a public library in Virginia "offered a 'Drag StoryBook Hour' on June 26 with a target audience of 'babies and toddlers, preschoolers, and school age children.'"
She went on to insert the right-wing narrativef on LGBT history in a way designed to demean LGBT people and their "lifestyle":

According to the Library of Congress, "Lesbian, Gay, Bisexual, Transgender and Queer (LGBTQ) Pride Month is currently celebrated each year in the month of June to honor the 1969 Stonewall Uprising in Manhattan. The Stonewall Uprising was a tipping point for the Gay Liberation Movement in the United States."

According to PBS, at the time of the so-called Stonewall Uprising in 1969, when gay patrons fought back against a police raid, the Stonewall Inn was owned and operated by the Mafia. The homosexual bar was well known as a site for sexual immorality and general debauchery.

Today, the Stonewall Inn is a national monument that celebrates and promotes the LGBTQ lifestyle.
Nieshalla does not explain what the "LGBTQ lifestyle" is or is supposed to be.
It wouldn't be a Pride Month if homophobic managing editor Michael W. Chapman couldn't call on his favorite fellow homophobe to say a few words, though they (and Chapman's article) came days after the month was over:
In a message noting the end of June's "Gay Pride month," Rev. Franklin Graham said the month was set aside to celebrate what God defines as "sin," and is therefore similar to setting a month aside to celebrate other sins, such as "lying, adultery, or murder." In the Word of God, it is all sin.

In a July 3 post on Facebook, Rev. Graham wrote, "Gay Pride month has come to an end. BBC reported last week 'Pride has gone mainstream.'"

"This is an entire month set aside to celebrate a lifestyle that God defines as sin," said Graham. "It's like setting a month aside to celebrate lying, adultery, or murder (which includes abortion), or anything else that God says is sin."
Did anyone expect CNS to cap Pride Month any other way?
Posted by Terry K. at 1:06 AM EDT
Updated: Thursday, August 12, 2021 1:08 AM EDT